Unknown Pleasures – Inside Joy Division
By Classic Pop | September 27, 2012
Joy Division's legendary bassist Peter Hook tells the solemn story of the band in his new autobigraphy Unknown Pleasures – out 1st October. 
Unknown Pleasures tells the inside story of Joy Division for the very first time. In the short time the band was active (1978-1980) Joy Division developed a sound that represented a generation, capturing the bleakness of Northern England in a haunting sound defining pop music in a new shadowy light.
The Guardian's Andy Beckett describes Peter Hook's bass playing as "much louder and more melodic than in traditional rock, his touch-but-tender throb and hum was the heart of their sound". hook has been a leading keeper of the Joy Division heritage industry since the band's split in 1980 – after the death of frontman Ian Curtis. This means that Hook has been able to include a list of every show Joy Division ever played, including set lists for many of the songs.
Beckett goes on to say "The rock star as a fan writer about his own band is not, as you fear, going to be the most rewarding of literary enterprises" but goes on to say " Hook wants to show his band's rise and fall as messier, more collective and more human than the usual Curtis-dominated Romantic parable". Hook describes the band members in a different to the lyrics of Curtis, less romantic and more as a group of Northern lads with a "reputation for trouble". Hook recalls "kicking these kids from the stage" as fights broke out at Joy Division gigs and the fights that followed.
The book, inevitably, takes a sad turn when describing the end of Joy Division and Curtis ending his own life. In 1980 Ian Curtis' epilepsy worsened, often causing him to have intense fits on stage which left "some of the audience laughing, some scared, some cheering". Hook reminisces how he used to "look at Ian wondering if, or when, it was going to happen". Alongside his epilepsy, Ian lived with multiple personalities, with Hook describing him as a chameleon. He sadly writes "By the end, there were just too many Ians to cope with."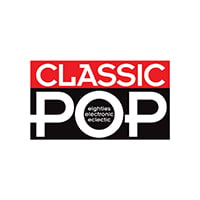 Classic Pop
Classic Pop magazine is the ultimate celebration of great pop and chart music across the decades with in-depth interviews with top artists, features, news and reviews. From pop to indie and new wave to electronic music – it's all here...