Classic Pop Issue 4 is on sale now
By Classic Pop | April 4, 2013
We're delighted to announce that Issue 4 of Classic Pop magazine is on sale today! Issue four features our first female cover star in the form of the indefatigable Annie Lennox – striking front-person of the Eurythmics, award winning solo artist and outspoken campaigner. We have an exclusive interview with Annie as well as a complete lowdown on the works of the Eurythmics and even throw in a poster for good measure.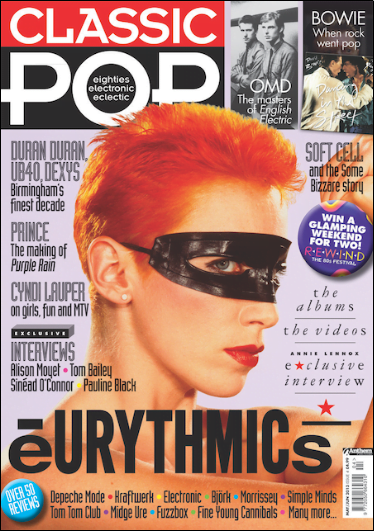 Plunge inside and you'll uncover more greatness:
Andy McCluskey talks us through OMD's new album English Electric, and we take a look back at their all-time top 25 tracks
UB40, Dexys and Duran Duran star in our musical trip back to 80s Birmingham – not forgetting The Beat, FYC and Musical Youth
Crossing the Atlantic, Cyndi Lauper recalls the creation of her unique image on the small screen and on New York's streets
While we're Stateside, we give Prince's Purple Rain the Classic Album analysis
Alison Moyet talks exclusively about her new electronic album, the minutes
There's the chance to win a glamping weekend for two at this summer's Rewind Festival
Depeche Mode's new Delta Machine heads up our 50+ review section including releases from Electronic, Fuzzbox, BEF, Giorgio Moroder, Simple Minds, Ricky Ross and ABBA…
And just to stir things up, Bowie, INXS, The Stranglers and ZZ-Top gatecrash the mag – When Rock Went Pop!
PLUS – there are Wendy James, Toyah, Boy George and Wham! posters; a cracking chart from June '84; the story of Some Bizarre records; Pop Art with The Cloth; Shock of the New; Tom Bailey, lyrics, live news and more.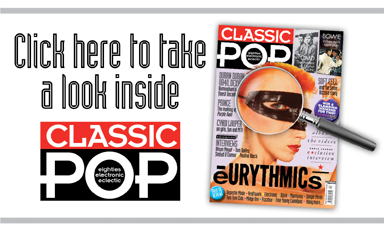 Classic Pop is on sale in WH Smiths and selected Sainsbury's, Tesco, Morrisons and Asda branches. It will arrive in European stores over the next two weeks, USA from early May and Australia at the start of June. Or you can buy direct from us, buy the app or get the desktop/Android version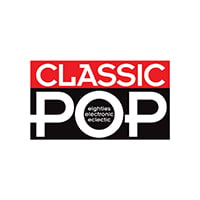 Classic Pop
Classic Pop magazine is the ultimate celebration of great pop and chart music across the decades with in-depth interviews with top artists, features, news and reviews. From pop to indie and new wave to electronic music – it's all here...