Popmaster Live returns for 2018!
By Classic Pop | January 23, 2018
Following the success of this year's inaugural Popmaster Live! Classic Pop is looking forward to the event's return on 3 March 2018. Once again we will be teaming up with BBC Radio 2's Popmaster himself Ken Bruce and Phil 'The Collector' Swern for a fun-filled night of pop trivia and top quizzing.
The DJ's weekday show regularly attracts a listenership of more than eight million, and this live version of his daily Popmaster quiz will be carefully crafted by Phil to test all levels of expertise.
Consisting of 11 rounds, including Intros & Outros, Guilty Pleasures and Missing Words, Popmaster Live! will test your knowledge on a wide-range of pop music from the late-70s, iconic 80s and early-90s.
Select a dream team
This year's event attracted quizzers from across the country and was hearlded as a huge success. A total of 32 teams went head-to-head with Neil Barker, from Manchester, and his team walking away triumphant.
Winner Neil said: "Popmaster Live was a thoroughly enjoyable and well-organised event. The team and I are all listeners to the Forgotten 80s radio show on Absolute 80s and I'd be lying if I said we didn't enjoy winning. However, I really wasn't expecting it."
With teams, such as the Revenge Of Table 13, already signed up for next year's event the competition for 2018 is hotting up.
So start selecting your dream team now and join us in London. Teams can feature up to eight people per table. You can also enter the quiz as an individual or a couple and we will allocate you to a team.
Eyes on the prize!
There will be many surprises and prizes up for grabs on the night, and it's not just the honour of walking away the winner at Popmaster Live! Each memberof the top team will receive a pair of Audio Technica headphones worth £169. The ATH-AR5BT headphones are Bluetooth®, high-resolution audio compatible, compact over-ear design and up to 30 hours battery life.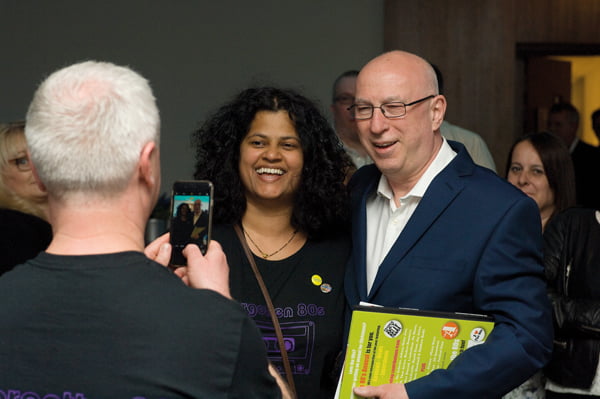 Get quizzing
Earlybird tickets are available now and cost £25. For those who want the full VIP treatment special earlybird tickets can be bought for £55. This VIP package gives you the opportunity to meet Ken and Phil in person at an intimate drinks reception before the quiz.
You will also receive a complimentary copy of the Popmaster Quizbook worth £9.99, which you can get signed on the night as well as front row tables.
Popmaster Live! takes place on 3 March at 155 Bishopsgate in London and runs from 7pm to 10pm. For further information and to book tickets visit popmasterlive.eventbrite.co.uk.
Comments
comments
Classic Pop
Classic Pop magazine is the ultimate celebration of great pop and chart music across the decades with in-depth interviews with top artists, features, news and reviews. From pop to indie and new wave to electronic music – it's all here...