Classic Album: Whenever You Need Somebody – Rick Astley
The musical merging of a northern soul boy with pop's hottest production team, Whenever You Need Somebody rockrolled the music business, defying critics to sell more than 15 million copies – though its success came at a hefty price…
Although Rick Astley had been in various local bands and joined FBI as a drummer before taking over as lead singer, it was his discovery by Pete Waterman in a Warrington nightclub in 1985 which set him on the path to making music his career rather than just a hobby.
Instantly impressed by Rick's soulful voice, Waterman offered him the opportunity to move to London to pursue a career in music – the only proviso being that it was as a solo artist. Although he initially turned down Pete's offer, a few more months of working as a delivery driver by day and singing on the laborious Northern pub circuit at night, he conceded it was ultimately too good an opportunity to turn down.
"[Stock Aitken & Waterman] were not yet this massive great big all- conquering entity," Rick later told The Independent. "They were just getting started. When I signed to them they were just about to have a No.1 record so for me it was a bit of an adventure really. I thought, I don't really know who these guys are or what they are doing, but they seem to be doing something right, so this might be my one and only opportunity within the music business, so I just kind of did it. I didn't really think that much about it."
Arriving in London, Rick was initially completely dependant on Pete Waterman, who assumed the role of mentor, letting him stay in his flat and giving him a job at the PWL Hit Factory studios as an assistant, where his jobs included everything from working as a tape op to making tea for acts recording there, an apprenticeship that lasted almost two years. "It did drag on for a bit!" says Rick, whose only singing experience during this time had been as an uncredited duet partner on Stock Aitken Waterman protégé O'Chi Brown's Learning To Live (Without Your Love) and a flop single When You Gonna with singer Lisa Carter.
"I was seeing other people have No.1 hits, and I'd think: 'Come on, boys'. But it wasn't that they had forgotten me, they just had a lot of records to make. I knew, though, that when I got my turn, it would be a big thing, because Stock Aitken & Waterman were becoming this big hit machine." – Rick Astley
By now dominating the charts with hits they had written and/or produced for Dead Or Alive, Bananarama, Mel & Kim, Princess and Sinitta, SAW were working hard behind the scenes on a sound they felt would highlight his talent.
---
THE PLAYERS
MIKE STOCK: "We didn't just write the songs – Matt Aitken and I were the band," Mike says. "We played drums, guitars, pianos, did string arrangements, everything. A lot of people don't realise that we were actually the band, and therefore the most successful band there's ever been!" Mike has continued to write and produce music. His most recent project was The Fizz's The F-Z Of Pop album.
MATT AITKEN: Together with Mike Stock, Matt Aitken wrote all of the SAW hits from scratch and between them, played every instrument heard on their hundreds of hits – with Matt particularly adept on guitar. He was the first to leave the trio in 1991 and largely retired from music. He returned to remix Kylie Minogue's Every Day Is Like Christmas with Mike Stock and Pete Waterman in 2015.
PETE WATERMAN: With five decades in the music business, the self-confessed Hitman has written, produced and managed artists – as well as TV work on The Hitman & Her and Pop Idol. He continues to work in music as a DJ, hosts radio shows and keeps the PWL legacy alive with reissues and live events.
---
Together with Mike Stock, Matt Aitken wrote all of the SAW hits from scratch and between them, played every was [The Temptations'] Ain't Too Proud To Beg and that's when I first properly heard his voice. I said to Pete and Matt that singing a cover would be to underplay and undervalue his undoubted vocal strengths and that we should write Rick his own song. That's when we came up with Never Gonna Give You Up."
With Pete privy to new sounds and club trends thanks to his ongoing DJ gigs as The Hitman, he brought records back to Mike and Matt as an indicator of what would be the next big thing. At the time they were looking for a style for Rick, the Hi-NRG sound that had proved successful on their earlier hits was being phased out by American house music teamed with a strong soulful vocal. Perfect for Rick, the trio looked to artists such as Steve Arrington and Colonel Abrams, with the latter's Trapped a key influence.
"The bassline for Never Gonna Give You Up is not a sample or a steal from Colonel Abrams but a remodelling of the syncopation and played by us in the studio using our own keyboards." – Mike Stock
Initial feedback to the song was overwhelmingly positive. Pete had been "testing" the record during his DJ sets and a one-minute excerpt on an Upcoming Things From PWL sampler sent to Capital Radio garnered instant airplay, leading to the single being released earlier than planned.
The release of the video perplexed those expecting a US soul singer, forcing the shy lad from Newton-le-Willows to repeatedly sing live to prove that his was the voice on the record.
---
THE VIDEOS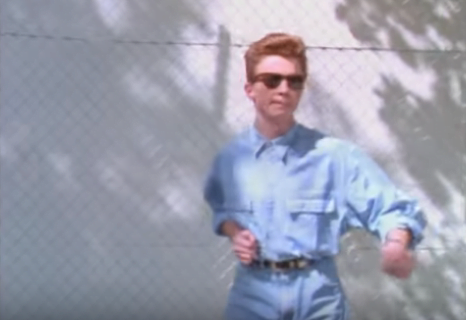 NEVER GONNA GIVE YOU UP
Rick's first video was a simple performance-led clip designed to help the shy star to be comfortable in front of the camera. Director Simon West, who went on to helm Hollywood blockbuster movies such as Con Air, The Expendables 2 and Lara Croft: Tomb Raider recalls he had one day and a miniscule budget to shoot the promo, fully expecting it to disappear without trace. With more than 350 million views, Never Gonna Give You Up is one of the most watched videos of all time, thanks to the 2007 Rickrolling phenomenon.
WHENEVER YOU NEED SOMEBODY
After the low budget introduction to Rick that was Never Gonna Give You Up, the decision (and budget) dictated that a more exotic location was required for the follow-up – namely the Las Canteras beach in Gran Canaria. Unfortunately Rick was grounded as he was too busy recording his album and instead had to film a straightforward performance in the recording studio which was screened on a TV set watched by his love interest on the beach and by the pool before she jumps on Concorde and the couple are finally reunited in the studio.
WHEN I FALL IN LOVE
Just as Rick's cover of When I Fall In Love stayed faithful to Nat King Cole's original, the video harked back to the Christmas TV Specials of the 50s and featured Rick in a number of clichéd 'Winter Wonderland' set-pieces, from a woodland to a performance in a sumptuous living room where he sang in front of a roaring fire – only missing the chestnuts. A video that could not be more Christmassy if it tried.
TOGETHER FOREVER
A colourful performance piece with three back-up dancers playing out a choreographed routine with Rick dancing his now-infamous "Rick Astley Shuffle" out front. After he had been denied the opportunity to accept his Best British Single BPI Award for Never Gonna Give You Up due to the show over-running, Radio 1 DJ Gary Davies presented Rick with his award on set and the presentation and speech was broadcast on Top Of The Pops prior to the video's premiere.
---
Released on 27 July 1987, Never Gonna Give You Up was an instant success. It was soon No.1 where it stayed for five weeks, going on to become the biggest-selling British single of the year and establishing Rick as pop's hottest property. While the public lapped up the fact that Stock Aitken & Waterman had made their "teaboy" a star, Rick was not happy at the perception that he was "a puppet" and, while recording his debut album, voiced concern at this perception and suggested he had some input into the LP that was to bear his name. Confident that they had already written a string of future hits for Rick, his request was not welcomed by Stock Aitken & Waterman.
"I was not happy with that arrangement and still believe this was a situation which should have been handled differently," Mike Stock says. "But I was very busy with other artists and it kind of slipped by me at the time." With a roster of artists awaiting the SAW treatment (including soap star Kylie Minogue), they compromised by allowing him to work on tracks with producer Daize Washbourne and PWL's 'B-Team' of Phil Harding and Ian Curnow, resulting in four of Rick's compositions making the album, though none were considered to be released as singles – understandably so given the string of hits the album would produce.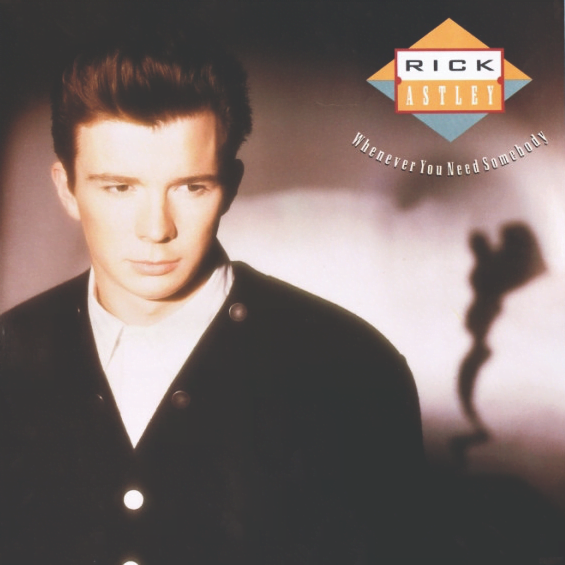 By the time Whenever You Need Somebody was released on 16 November 1987, Stock Aitken & Waterman were becoming victims of their own success – critically at least, with reviewers taking exception to what they deemed their "formulaic sound", something Mike Stock refutes.
"It may not appear so, but, we always tried sonically to make all our artists distinct from one another; Jason Donovan, for example, always had guitars featured, Kylie never had guitars – that changed later after the acts were established. A Rick record at 114 BPM was considerably slower than a Hazell Dean record at 130bpm, for example." – Mike Stock
Criticisms aside, if Stock Aitken & Waterman had stumbled upon a formula for Rick, it was a winning one. Their modern take on classic disco was the perfect match for Rick's deep soulful voice. The album shot straight to No.1 in the UK and Australia, spawning a record-breaking singles run of subsequent hits in the title track, When I Fall In Love (released as a double A-side with non-album track My Arms Keep Missing You) and Together Forever.
While the scale of Rick's success took many by surprise (including the perplexed star himself), its translation Stateside was even more noteworthy. With the exception of Bananarama's Venus, SAW hadn't experienced any real presence in the US so Never Gonna Give You Up's transition from underground club hit championed by Larry Levan during his legendary final sets at the Paradise Garage to Billboard US No.1 was even more remarkable. Together Forever followed it to the top of the US charts and his album also reached the Top 10. A further single, the soulful Motown-influenced It Would Take A Strong Strong Man completed a successful US album campaign.
As a devotee of American soul music, particularly Motown, Rick's popularity in the United States was his career highlight and offered him brief respite from the turmoil that success was causing him back home. Despite achieving a level of fame that far exceeded his wildest expectations, he was caught up in a whirlwind of travelling and promotion that took him away from his true passion, making music. Lonely, depressed and stressed, he compared his life at that time to being "more like a travelling salesman than a musician or performer".
As Stock Aitken & Waterman's chart dominance grew, so did the disdain for them within the industry. As their most successful artist at that time, Rick found himself a scapegoat for that criticism and scrutiny. Unable to find any dirt to dig up on the clean- cut star, the press branded him boring, nicknaming him Dick Spatsley and tracked down members of his old band to accuse him of selling them out.
In an interview with Smash Hits in February 1988, Rick told the magazine of his frustration and that he planned to "disappear for a while". "Looking back, I believe Rick would have preferred it if he'd had the support of a 'band' around him on stage," Mike says. "As a young 19-year-old, touring the world and appearing on big stages all by yourself was understandably challenging." Desperately unhappy with the level of fame that came with success, Rick recorded three further albums before "retiring" from music in 1993.
---
THE SONGS
1. NEVER GONNA GIVE YOU UP
"By popular demand" may be an oft-used marketing ploy to drum up public interest, but in the case of Never Gonna Give You Up, it was the truth. Rush-released on 27 July 1987 after a one-minute teaser sent to radio stations on an Upcoming Things From PWL sampler garnered heavy airplay, the single was put out earlier than planned. Signalling a sonic shift for Stock, Aitken & Waterman, the song moved away from the harsher Hi-NRG sound of their earlier hits to a more classic, disco-inspired feel with Colonel Abrams' hit Trapped and Steve Arrington as a blueprint. As well as topping the UK charts for five weeks and becoming the biggest-selling single of 1987, it reached No.1 in 25 countries – including the US.
2. WHENEVER YOU NEED SOMEBODY
After the runaway success of Never Gonna Give You Up , Stock, Aitken & Waterman needed a follow-up single for Rick – and quick. By this time busy churning out hits for Bananarama, Sinitta and Mel & Kim, they recycled an old song to follow it. Originally released as a single in 1985 by O'Chi Brown, Whenever You Need Somebody stalled at No.97 but Rick's version made it another Top 10 hit for the team. It wasn't Rick's first connection with O'Chi. While working at PWL's Hit Factory in 1986, he recorded a duet with her, Learning To Live (Without Your Love) for her album. He was uncredited on the album but her record company released the song as a single after his success, though it failed to chart.
3. TOGETHER FOREVER
Originally planned as Rick's second single, Together Forever was arguably the strongest track on the album. However, it was held back until later in case a 'big song' was required to prolong the album's lifespan. One of Stock, Aitken & Waterman's best tracks, Together Forever was eventually released as the album's fourth and final UK single on 12 January 1988. It peaked at No.2 though Stock, Aitken & Waterman were still celebrating as they were kept off the top spot by their own song – Kylie's I Should Be So Lucky. In the US, Together Forever was released as the follow-up to Never Gonna Give You Up and became Rick's second US No.1 single. "When we'd done all the other tracks, we listened to them and thought… people have already bought Never Gonna Give You Up ," Mike Stock says. "What else is there (on the album) that really does compare? We thought we needed Together Forever to get home to people what Rick could be."
4. IT WOULD TAKE A STRONG STRONG MAN
A long-time fan of US soul music, particularly Motown, It Would Take A Strong Strong Man was a homage to the legendary Detroit label (and Stock, Aitken & Waterman business blueprint), particularly the male vocal harmony groups such as The Temptations and The Four Tops that Rick loved so much. Stylistically different to the now classic SAW sound, it was decided to position Rick as a soul man in the style of Luther Vandross and Colonel Abrams in the US, and the song was released as a single in The States where it became a Top 10 hit. A video was shot featuring Rick performing in a smoky jazz club.
5. THE LOVE HAS GONE
Rick's major bugbear was that he was seen solely as a 'puppet' for Stock, Aitken & Waterman and insisted on having some of his own songs on the album. The Love Has Gone was the first track on the album penned by Rick. Though the song is credited to Rick and 'Dick Spatsley', this was a pseudonym was adopted by Rick as a riposte to the magazines that deliberately misspelled his name as a way of discrediting him. As Stock, Aitken & Waterman were increasingly busy and the demand was growing for new Rick material, the Hit Factory's 'B-team' of Phil Harding and Ian Curnow was enlisted to help out on production duties.
6. DON'T SAY GOODBYE
The one that got away – Don't Say Goodbye is the album's smash that never was. Bearing the hallmarks of classic SAW with a killer chorus, this would have been a huge hit had it been released as the final single from the album as considered. The release was pulled to move on to Rick's second album though it did unexpectedly receive a limited release as a 12" single in Italy at the end of 1988, mid-way through the singles run of the Hold Me In Your Arms album.
7. SLIPPING AWAY
Another self-penned track, produced by Harding/Curnow, Slipping Away is a more soulful sound for Rick, not a million miles away from the funk-influenced, rare groove of Stock, Aitken & Waterman's own hit Roadblock.
8. NO MORE LOOKING FOR LOVE
The weakest song on the album, Daize Washbourne's production replicates that of Whenever You Need Somebody , though that is not enough to disguise No More Looking For Love's weak melody.
9. YOU MOVE ME
The best of Rick's compositions on the album, You Move Me boasted a sexier, funkier direction for Rick and was featured as the B-side to It Would Take A Strong Strong Man in the US to capitalise on its inclusion as the soundtrack to the trailer of Tom Cruise's movie Cocktail.
10. WHEN I FALL IN LOVE
A faithful, yet ultimately pointless, cover of the Nat King Cole standard, When I Fall In Love does its job of showcasing Rick's soulful voice. Released as his third single, it was frontrunner to be 1987's Christmas No.1 until EMI intervened by re-releasing the Nat King Cole original in a bid to diminish his sales. Their ploy worked and their act, the Pet Shop Boys, landed the top spot with Always On My Mind – payback for Never Gonna Give You Up keeping What Have I Done To Deserve This? from reaching No.1. A double A-side, the far superior My Arms Keep Missing You was switched to the lead track after Christmas.
---
He was thrust back into the spotlight in 2007 as the subject of the "Rickrolling" internet phenomenon, leading to a performance at the Macy's Thanksgiving Parade in New York and an unexpected victory following an online voting campaign for the 2008 MTV Europe Music Awards to find the 'Best Act Ever'.
Rick's return to the spotlight, coupled with gigs on the popular retro tour circuit saw a renewed enthusiasm for the music business. Older, wiser and working on his own terms, the stage was set for 2016's comeback with his 50 album – his first No.1 album since his 1987 debut. Capping his comeback with an appearance at Radio 2's Festival In A Day in September, Rick ended his last live show of the year with 50,000 fans marking Never Gonna Give You Up's 30th anniversary singing the song back to him – a triumphant moment not only for Rick, but also the song's writer.
"We were a great team! We're lucky that we still have an artist like Rick to make these appearances and still sing the song – moments like that are still a great thrill for me." – Mike Stock
Comments
comments