Win 1 of 5 copies of Kirsty Maccoll's new collection
By Classic Pop | May 22, 2018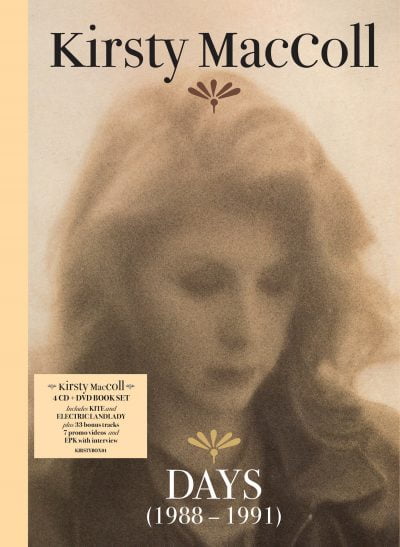 Celebrate the enduring legacy of Kirsty Maccoll with Days (1988-1991), a brand new five-disc set
She defied the conventional 'pop' category, yet Kirsty Maccoll embraced and defended the genre, wrapping her witty and literate writing in endearingly catch melodies.
Days (1988-1991) is a 4CD+DVD set that brings together the new double-disc deluxe editions of Kite (1989) and Electric Landlady (1991) and delivers 33 non-album B-sides and 12″mixes.
Both albums were produced by her husband Steve Lilywhite and delivered many great singles, although only Days from the former Walking Down Madison from the latter were proper hits.
Kirsty always attracted great musicians and during this period she worked with the likes of Johnnny Mar, David Gilmour, Mark Nevin , Pete Glenister, Elliot Randall and some acclaimed Latin musicians from New York.
A DVD completes this package and includes the seven promo videos Kirsty made for the albums. It's all presented as a 'media book' which boasts biographical information by Alan Robinson.
Classic Pop has five copies of Days up for grabs. To be in with a chance of winning, just answer this question…
Days was originally a hit for which 60s Brit beat combo?
A) The Kinks
B) The Hollies
C) The Animals
Comments
comments
Classic Pop
Classic Pop magazine is the ultimate celebration of great pop and chart music across the decades with in-depth interviews with top artists, features, news and reviews. From pop to indie and new wave to electronic music – it's all here...