The Godfathers Of Pop – Mike Edwards Interview
By Classic Pop | June 8, 2018
There was a time when electronic dance music and indie guitar rock lived in separate worlds. Jesus Jones helped to change all that when they spearheaded the alternative dance scene with such songs as Info Freako, Right Here, Right Now, which was  a huge smash in the US, and International Bright Young Thing, their biggest UK hit. The band's singer and songwriter Mike Edwards met drummer Simon 'Gen' Matthews when they were 12-year-old schoolmates in Bradford-on-Avon, Wiltshire, and the quintet's original line-up, completed by bassist Alan Doughty, keyboard player Iain Baker and guitarist Jerry De Borg, remains intact on their latest album, Passages. Interview by Douglas McPherson.
It's been 17 years since the last Jesus Jones album. Has Passages been in the works for a long time?
I was playing around with some stuff in 2003 and 2004 and the backbone of some of the songs was created then. When we made the decision a couple of years ago that we were going to put out some new music, I went back to those old songs, flayed the skin off the backbone, took them down to the basics and rebuilt them. Once I'd got up that head of steam, some new material flowed from there. So in a way it's been spread over the past 15 years, but really it's just in the last couple that it's taken proper shape.
Did Jesus Jones ever actually split up?
No, we've always carried on. We never had a reason to break up, we just had less and less reason to be making music together. After we lost our record deal at the end of the 90s, we just petered out. There was no real focus, but recording again has opened so many doors in terms of touring. You'll see a lot of Jesus Jones in 2018.
How would you describe the mix of personalities within the band?
In the past, it was always Alan and Jerry who were the party animals. If you wanted a big night after a gig you'd go to the room of one of those two. Iain has had a fascinating transformation from being very much on the party side and just out for the fun of it, and now being much more into the management side of things and being quite serious and responsible. It's a transformation that's astounded and impressed the rest of us. I was always the really boring one, because I had to look after my voice. I was always early to bed and didn't drink much. Gen, and I are quite similar characters, so he was always fairly straight as well. The butt of all the jokes tends to be Jerry.
When you started Jesus Jones, did you get any resistance to the idea of mixing electronic dance beats with an indie guitar sound?
There was a lot of resistance, particularly in America when we were using the influence of house music. A lot of Americans said: 'Oh, god, why are you putting disco with all these guitars?' In Britain, we got a lot of good press attention very early on, because it was a different sound and something new and exciting – people latched onto it quite quickly. But out in Audience Land when you're playing gigs in somewhere like Newcastle, there were people who didn't take to it at all. We did a six-week European tour with The Cramps and we were hated every night! I've still got dents in my guitar from the two-lira bits the Italians used to throw! But it was good. It made us quite spiky.
When you started, would you have imagined you'd still be doing it all these years later?
Not really, and I would have been really pleased if I'd thought that we would. I'd also be really pleased to know that we're doing it with such friendship. We all get on so well and when we tour it's like having a holiday with your friends. I would have been very pleased to know that we'd be able to maintain a band like that. I'd also be very pleased we're still making music that has something interesting to offer and haven't become just one of those straightforward guitar bands. I do think we've maintained the approach of trying something new.
Are you writing about different things these days?
As you get older, the things that move you are different. Not that I want to write songs about watching Game of Thrones, but I think you reflect on experiences. I also think you're aware of the songs you've written in the past and seek to avoid repeating them… or try to better them. On this album in particular there's quite a lot of considering, well, here I am over the age of 50 – how do I make exciting rock music but not pretend that I'm 24?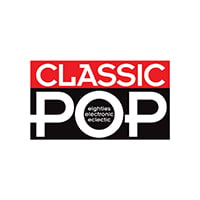 Classic Pop
Classic Pop magazine is the ultimate celebration of great pop and chart music across the decades with in-depth interviews with top artists, features, news and reviews. From pop to indie and new wave to electronic music – it's all here...