The Godfathers of Pop – Pat Kane interview
By Classic Pop | June 25, 2018
Pat Kane formed the jazz-infused Hue And Cry with his brother Greg in the mid-80s. Hailing from Coatbridge, near Glasgow, the duo scored their biggest hit in 1987 when Labour Of Love reached No.6 in the UK charts. Further success followed with the singles Looking For Linda, Ordinary Angel and the Violently EP. By the end of the 90s the pair decided to concentrate on their solo projects, before reconvening in 2005 for the ITV1 show Hit Me Baby One More Time. They released their latest album, Pocketful Of Stones, at the end of last year and are about to embark on a tour with The Christians. Written by Douglas McPherson.
In 2015, you released an album of Frank Sinatra material called September Songs. Was Ol' Blue Eyes a big influence on you?
Inescapably… almost neurologically. What I mean by that is my father used to sing me to sleep as a baby by crooning Sinatra songs straight into my temple. It was the only thing that would quieten me down. That's how deep me and Frank go!
Was it obvious growing up that you and Greg would form a musical partnership?
Gregory was heavily involved in the punk and post-punk scene. He was always forming or joining bands, playing saxophone and keyboards. One day we all started to play in our mum's front room. I think the song was Start!, by The Jam, and it sounded like my voice would work in a group context. Eventually we decided that we should form a band that was just a partnership. That was 1985 or '86, and it all went crazy from there.
Did you think Labour Of Love would be your big breakthrough when you wrote it?
I argued that it shouldn't come out as a single. I said: "This is too complex for the mainstream." It's an industrial metaphor – withdraw my labour of love – and I thought nobody would get the hook. I thought the beat was too complicated and that nobody would be able to dance to it. I thought it would be a terrible mistake. As a result, nobody has ever listened to me since, when it comes to what singles should be released off a record – and who could blame them? I'm incredibly proud of the song, though, and that's the thing about our relationship with our back catalogue. We were listening to our idols like Steely Dan, Scritti Politti and Elvis Costello and we tried to reach those heights. It's in the ear of the beholder whether we did so or not, but we can go back to our songs from 30 years ago and still be delighted to sing them because they were the best that we could make them.
A lot of sibling acts have fallen out badly. How have you and Greg managed to stay together?
We've kept it together because we admire each other's musical talents and instincts. There's nothing more exciting than when a bit of telepathy happens between two brothers making music. We did some growing up in public and we were in that adolescent state of mind where everything was extreme. We had our disputes, but they were mostly hormonal rather than anything that really mattered, and now we're literally the best of friends.
Why did you decide to reform the duo on the TV show Hit Me Baby One More Time in 2005?
One factor is that I'm the Liza Minnelli of the partnership and Greg is the Kurt Cobain. I'm always up for a bit of showbiz and he's up for living in the studio and making records. So, I wanted to do it because I thought it would be a lot of fun, which it was. Secondly, around that time, YouTube was kicking off and we discovered that there had been 100,000 views of old videos of us on Top Of The Pops. I said to Gregory that this could be a great way to reconnect with the community of fans that were evidently still out there and then, using all this new digital technology and social media, maybe find a way of putting albums out in our own way without being beholden to any corporate entity. It's been a very interesting ride this past 10 or 11 years.
Your most recent album, Pocketful Of Stones, includes a duet with your daughter on Let Her Go – a song about her leaving home to start drama school. Are you happy to her following you into the entertainment business?
I am. I have a theory that in the next 20 to 30 years most routine jobs are going to be done by algorithms or robots, so the roles they can't do will be the things that you should push your children into. There's a line in the song about triple threat performers – they dance, act and sing – and that's what Eleanor is. She's just scored a lead part in the Young Vic's new musical, Fun Home. So, she's on her way.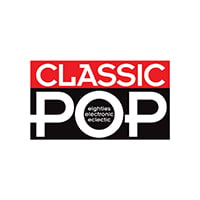 Classic Pop
Classic Pop magazine is the ultimate celebration of great pop and chart music across the decades with in-depth interviews with top artists, features, news and reviews. From pop to indie and new wave to electronic music – it's all here...