You've Come a Long Way, Baby! Jaki Graham interview
By Classic Pop | September 18, 2018
She was the first black British female solo artist to bag six consecutive Top 20 hits and conquered charts around the world. Now the Birmingham-born soul queen Jaki Graham is back with a brand new album. But as Classic Pop discovers, she never really went away… Written by Darren Scott.
Keeping up with Jaki Graham is something of an undertaking… a conversation with her, by her own admission, just doesn't stop. She leaps from subject to subject, back and forth – round and around, even – forgetting to finish sentences, while grabbing your hand, shouting "oh my god!" and calling you "baby boy" (even when said boy might have to admit to being in his early 40s). And that's all before we even get talking about rubber outfits. But, since we last saw her in the UK charts, where has she been?
"I've been travelling the world darlin'. After the 80s, when I suppose everybody sort of got to know me, I ended up going to Japan with the label AVEX in the 90s."
Record scratch. Freeze frame. Before we get on to anything else, how did her post-EMI signing to AVEX come about?
"I was working with these people and they were a Hi-NRG pop kind of thing. When they got talking to the Japanese label they mentioned my name and their response was: 'what, the Jaki Graham?' It turned out I was like an icon to them. Breaking Away had been mega over there… absolutely mega… I didn't have a clue. I knew it went international – Europe, Scandinavia, those sort of territories, and had also touched base in the States. I didn't know that they had heard of me in those parts of the world. Well, let me tell you, they were absolutely fabulous and really looked after me. Fans galore! And when a tour was arranged it sold out within 20 minutes. I went to the other side of the world and couldn't believe it. I just embraced it all."
E-Sensual Selection
So, while the Brits were largely ignoring Jaki's 90s piano-based dance tracks and R&B grooves, she was enjoying her success elsewhere. In 1994, she released her Real Life album and had international hits with You Can Count On Me (For Love), Absolute E-Sensual and the song that would be Jaki's biggest international single to date, Ain't Nobody. She enjoyed further global triumphs with albums such as Rhythm Of Life and My Life.
She pulls a very telling face when asked why EMI hadn't informed her that 1986's Breaking Away album was doing so well abroad.
"Baby, did they tell me anything? They didn't like Breaking Away, they didn't like Set Me Free, they didn't like Round And Around. I'm telling ya.
"Basically, EMI was a rock and pop-oriented record label. God love them, but they really didn't know what to do with me. All this stuff was coming out and they were going: 'nah, it's only soul/disco kind of stuff, it'll sell itself'. But when it started to chart within a couple of weeks of being out, all of a sudden management wanted a video.
"Back then, when you were selling records, you had to sell something like 250,000 to get into the Top 40. You're selling, like, 14,000 a day.
"When I look back now, because I didn't understand the stats and stuff back then, I'm thinking: 'Is that the kind of sales we were doing?'"
---
Rubber Soul
Jaki certainly had a distinct look in her early days. Does she think being on Top Of The Pops in a variety of rubber and leather outfits was an awakening for gentlemen of a certain age in the 80s?
"Oh. My. God," she laughs. "There were some other artists wearing rubber, like Haywoode, and I was thinking how uncomfortable it must be. I was advised to put powder on… But my stuff was really cool to wear."
Did she and Haywoode exchange tips on rubber?
"Every now and again. But by the mid-80s, Denise [Jaki's stylist] had got it sussed. It had to be comfortable. Especially doing the video in Cala d'Or where it's hot and you're in the rubbers!
"I would never have put myself in them." So, a stylist is worth their weight in gold. What happened to these iconic pieces of pop history?
"I'm a hoarder at the best of times! I packed them in a suitcase and put them in the loft. There's a lot of things I kept from video shoots, from all sorts of things."
Do you have to store them in a special way to keep them?
"Back then I didn't realise that. So, part of it's disintegrated. Because it was zips and stuff… You can't just fold them and pack them and put them away. There's a process. Although I have them, I couldn't wear them now because they'd just fall apart!"
---
She says she doesn't get the current set-up for selling music, but realises it's working. "The days when the A&R guys used to go to gigs and see what they're looking at are long gone. So, it's another world to me."
Joining the Jet Set
She did, however, enjoy success with EMI on three albums, until parting ways with them after 1989's From Now On. When did she realise she was living the pop star life?
"When we had the Heaven Knows album," she replies, of her 1985 debut. "To be fair, it was the soul charts that picked it up. I did well in the soul charts. I come from the Midlands darlin', and it's great that all of a sudden you're getting recognition. I'm thinking: 'I may only be here for five minutes, I may only be a one hit wonder, but I'm just going to enjoy the ride…'
"Don't get me wrong, I wanted to have longevity, but what will be, will be. Once it started to take shape and you're going to New York and they're hiring Learjets for you, I realised then that I could be sticking around a little while longer."
She thinks for a second, taking a rare breath. "Looking back, it really was a whirlwind. It's only now, that I can maybe embrace it. It was all so hectic. I always had my family on the road with me, which I think helped keep me grounded."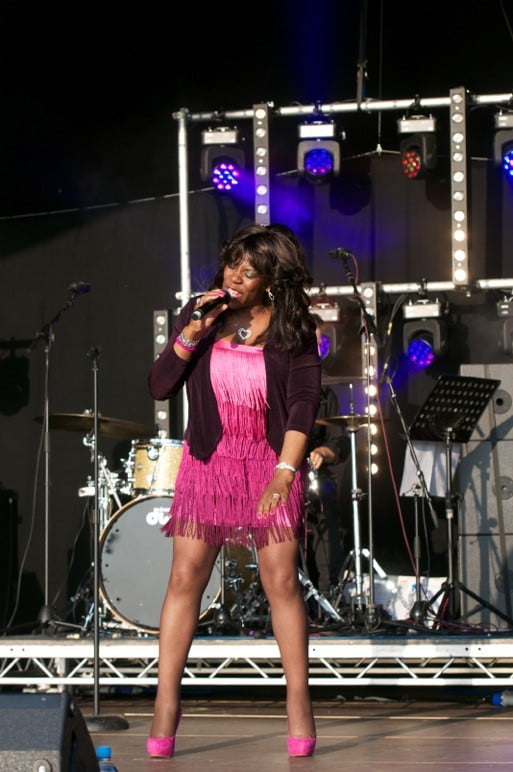 Speaking of the soul charts that originally got her started, what does she make of today's soul scene?
"There's some talented people in all genres of music and my kids are turning me on to a lot. But you have to download stuff… I want a physical copy of a CD! But the talent is there, baby. So, in that respect I think it is quite healthy. But I also think there's a lot of stuff out there that I don't think will stand the test of time. It's great for now, but will the kids be listening to it in another 10 or 15 years?"
Speaking of longevity, she says she still sees people from those 80s pop days, mainly due to the retro festival circuit. But there's one person that's always been there..
"I saw that Michael McDonald was touring the UK and was going to be playing in my hometown. I desperately wanted to get tickets for the concert.
"Michael had a hit back in 1986 with Patti Labelle [On My Own] and, unbeknownst to me, he was looking for somebody to join him on stage to perform the song as a guest vocalist. Well, Tony [Jaki's husband] knew the promoter and apparently they asked if I'd like to sing with Michael? Before I know it, they're telling me that I was going to be singing with Michael McDonald!… Baby, I can't sing like Patti Labelle! You couldn't possibly imagine the nerves. I never slept that night.
"I went to meet Michael and saw him soundcheck. Now, I don't know what key I sing in, all I know is I can't sing like Patti Labelle! Michael asked me if the key was alright for me. So, I just started singing and, well their faces suggested that the key was just fine."
The rest, as they say, is history. Jaki has been touring with McDonald ever since and he recently contributed to her new album. "He's Uncle Mike to my kids," she beams.
---
Breaking Waves
If you can find Jaki's videos online these days – and it takes some searching – you'll be reminded of her biggest and most ambitious offering to date, Breaking Away…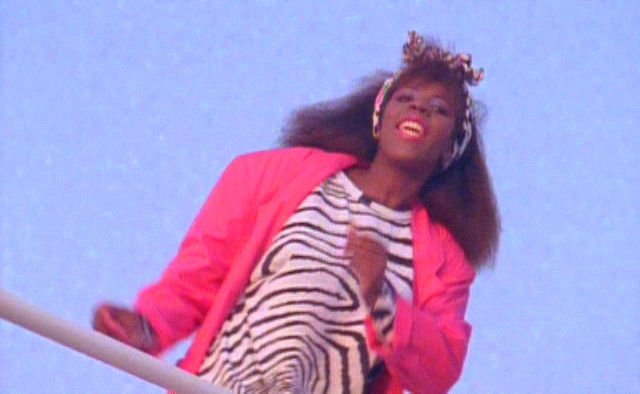 "When I felt I'd really, really, made it is when they sent me on a location video. They sent me to Cala d'Or in Majorca. The director at that time was Dieter Trattmann. All the hits that I did, Dee was the director.
"They put me out on the sea in a boat. I still think of it fondly. When I saw dolphins, I yelled: 'Dee! Dee! Film that for me!' I wanted the footage to be a keepsake just for me, but he put it in the video. It's like a mini fi lm. All the videos are, of course, but this one was something else.
"There's a shot of me driving down the mountain. We had met a gentleman who had this awesome car… now, I'm not very good with cars, all I know is it was an old classic. They'd seen that car parked somewhere and gone up to the owner and said: 'Would you like your car to be in a video'. So that's how all these things came about and I turn up and it's like 'wowww'. How wonderful."
---
More than a Disco Diva
That new album, When A Woman Loves, is a very different record from 2012's predecessor, For Sentimental Reasons. "It's a departure," she agrees. "But I like to appeal to everybody. Because everybody just sees you as a disco diva…" How awful for you! Classic Pop interjects and the singer howls with laughter: "I love it, I love it! But there is another side to me and I want to appeal to all sorts."
Which she has done, moving on from the Gershwin-inspired previous album that came about as a result of working with the BBC Big Band for radio shows.
"But now I've gone back to my roots. This album is a return to what people know me for. It's got more of an old, poppier, soul feel.
"I'm kind of nervous about it darlin', But I'm so excited. It's retro today, but we're upgrading the retro for now."
She talks about how her husband nearly dying made her take stock of life and how the album tackles that, among other things.
"But it's all positive stuff. All the tracks have got something to say and it's all feel-good stuff. There's some dance stuff on there as well as the more mid-tempo tracks. I'm still trying to do my thing, and I'm trying to give back all the love that you've given me throughout the years.
"The youngsters now are growing up loving all the 80s stuff. I'm doing shows and it's the younger generation that is there. I'm going: 'aw bless you, have you come to see your Auntie Jaki? Because this stuff was out before you were even born!'
"I'm just embracing it all this time around, darlin'… every step of the way. I'm going to savour it all while I'm doing it. You understand me?"
Actually, yes – after an hour in the world of Jaki Graham, we understand it just perfectly.
When A Woman Loves is out now. For further information, visit jaki-graham.com.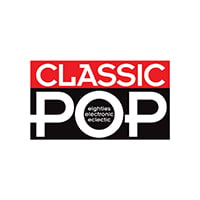 Classic Pop
Classic Pop magazine is the ultimate celebration of great pop and chart music across the decades with in-depth interviews with top artists, features, news and reviews. From pop to indie and new wave to electronic music – it's all here...