Forever Free: Toyah interview
By Classic Pop | November 14, 2018
Bringing the punk aesthetic into 80s pop music with her radical sense of style and kinetic personality, Toyah chalked up a succession of memorable hit singles. Four decades on, she's determined to look back with satisfaction on a job well done.
Written by David Burke.
When Toyah Willcox celebrates 40 years of making music with a short series of UK dates over the coming months, she'll not only be asserting her longevity, but also her artistic evolution. "There are some people who think marking time is a waste of time, but when you get to somewhere after 40 years of dedicating your life to it, it's a really good thing to let people know what that 40 years means and how you've developed in 40 years," she tells us. "I think that is beneficial, not only to your fans, but to younger generations who are always made aware that life is an ongoing journey. It doesn't finish when you hit 25. So, I think it's really important to wave your banners."
Quite right, too, especially since the Birmingham native has several significant banners to wave, including eight Top 40 singles and 17 albums, a number of collaborations and three albums as part of The Humans with ex-R.E.M. drummer Bill Rieflin and Chris Wong.
"When I started as a singer, I didn't know how to listen. About 60% of being a musician is how you listen and how you perceive. So my relationship with basic 4/4 timing was quite strange at the beginning. One thing I couldn't do really, until about 16 years ago, was sing and count at the same time. I was an instinctive singer, who knew when changes were coming because the drummer did a drum fill. Technically, that alone has been a major change.
"My acoustic show, which I started four or five years ago now, has actually taught me more about singing than anything in my career. Because of that, we try to put as many of those in a week as possible, – it really connects you to the music. You are not surrounded by huge amounts of volume. You're in an intimate space where your relationship is purely with tonality and timing."
Bitsa History
Before she secured a deal with Safari Records in 1979, Willcox was already a rising star in theatre and on both the big and small screens. After attending the Old Rep Drama School in Brum, she bagged roles at the National Theatre, and featured in the BBC play, Glitter, as well as Derek Jarman's seminal British punk movie, Jubilee. "I think the acting was an escape. I love acting and I'm not trivialising it, because I actually can't live without, either. What I love about acting is no one is interested in me. The whole thing is about being anything other than the person you were born. I find that helps to refresh my soul and to see through someone else's eyes. Psychologically, acting is incredibly important to me. Does it inform me as a singer? Well, yes, purely because I can step away from the kind of expectation of predictability within the music industry. It just allows me to reboot the computer, I suppose."
Creative Creature
This compulsion to create, whatever the medium, is what impels Willcox – even if she admits craving stardom in her formative years. "When you're young, ambition is stronger than quality. So, for me, it's taken me a long time to realise why I do what I do. And it's the process of living. I want a creative life.
"When my career started, I was having to write to order, because you had to have so many projects a year to have visibility. I don't think that's what matters so much, having reached 60 and knowing I can't sustain that kind of thing for a commercial market. But you can live a creative life.
"I hate being seen through a clichéd eye. I think we are naturally, all of us, individuals, creative creatures and we live in a controlled environment of advertising and hard sell. It really narrows down our potential to live by what we're given through the media. I just want a creative life, living for my own growth and my own opinion. It might be a selfish attitude, but I don't care. I disagree with so much that I see, I just can't be part of it. We're all treated as automatons. We have a monetary value and I think that's wrong.
"I was seven when I knew I didn't want that ordinary life, but I wanted fame. I wish I'd had Twitter and Facebook then. Now I'm not interested in that, because I'm not interested in promoting the person. I just want the work to be seen. But at seven, I would have loved it!"
Born with a twisted spine, clawed feet, a clubbed right foot, one leg shorter than the other and no hip sockets, Willcox endured bullying at school. A pocket-book psychologist could, of course, identify a correlation between the experience of being bullied and Willcox processing that experience through her art. But it's a correlation she dismisses, if only because she wasn't conscious of what was happening to her at the time. "As a child, I didn't know I was being bullied. Even though I was unhappy and I felt under pressure, I didn't understand the aggression that I was always up against. What I did learn was to use that energy.
"Even today, if I'm in a situation where someone's harassing me, it does nothing but double my energy. I don't know if that's a strategy I developed over time, or if that's a strategy that started at school. But I did realise if I didn't stand up for myself and show myself to be stronger than those accusing me, then I would have no hope. So, I've always believed with any kind of bullying, you just go back to it tenfold. Just turn the power up.
"I find that when I'm faced with any kind of negativity from another human being, the power switch goes up to a hundred. If someone's a shit to me, I'm just going to say: 'I'm a hundred times better than you'. It just turns my power on. That might just simply be my survival tactic, but it's a very effective one. When I was a child, bullying didn't exist as it does today. You didn't have social media to justify and help bring others' voices to help you. You were out there alone. Bullying was something that parents never talked about, so there was no one I could ever turn to and say: 'I think I'm being bullied'. This just happened in the classroom and on the street, so you're on your own. I realised I didn't like the people that were treating me that way, so I just thumped them to survive. I also realised I wasn't interested in the people who were treating me like that. They just had nothing that interested me. So, I think it makes you a very independent individual."
Bard as Nails
Such singularity was what kept the predators at bay when she entered the music industry. "When I was young, it was very sexist and very driven by sexual attraction. I was never available as a sexual being to anyone. I was deliberately asexual, which was probably a massive problem to my career. I think I entered the business at a time where, if you had relationship with men, you would have got more done – certainly in the film world. There's absolutely nothing new about that. But I think my choice to be asexual was a problem for many people. Also, being a punk rocker made people instantly aggressive towards you, because they thought you were the aggressor."
Willcox was very much in the vanguard of the punk revolution, fronting her own band and, as already mentioned, appearing in Jubilee. It was Derek Jarman who enhanced her knowledge of the man who would become Willcox's punk hero: a certain William Shakespeare. "Shakespeare is a glorious rebel. The fact he lived to an old age is a miracle. He broke every rule in the book, he exposed every Illuminati secret, he exposed every Freemason's secret. He was just absolutely amazing, and if more people knew about his life and his attitude, I think more people would be interested in his work. When I was at school, I certainly wasn't interested. Then Derek Jarman taught me about his life and I thought, 'my God, this man was great!' And how he did what he did in a world without technology is just absolutely extraordinary… He was a travelling minstrel and yet he managed to put this body of work together. That man was a punk."
The year after Jubilee wrapped, while filming Quadrophenia with the likes of Phil Daniels, Phil Davis, Ray Winstone and Gordon Sumner, alias Sting, she signed her Safari deal. "I was playing to massive audiences right from 1977 through to when we were signed. You could tour the pub circuit then. That was a healthy career. We had 2,000 people turning up trying to get into a pub and I still wasn't signed.
"When I started Quadrophenia, Sting was ascending like a rocket. He's also a really great person – a people person. We used to sit in his room and he'd teach us harmonies to Roxanne and the songs. He was very generous as a teacher, and obviously he was a teacher. We used to discuss how amazing it was that I wasn't signed, when literally every punk who announced they were a punk band were signed. I always put it down to the fact that I was just too musical. Also, I was a public schoolgirl.
"I got called to do a showcase for Safari while making Quadrophenia and Quatermass. It was a really, really busy time. I had 24-hour shifts sometimes. We went and did the showcase and Safari said: 'Yes, we'll sign you on the spot'. I was just elated. I went back and said to Sting: 'I got the contract' and he was genuinely happy for me. He's a good man."
Easy as ABC
Willcox made chartland in 1981, with the Four From Toyah EP, including her most successful single, It's A Mystery – a track she was initially wary of recording. "It's a vulnerable song and that's not what I was presenting about myself. I worked very, very hard to present myself as a person, as asexual, not as a woman. I felt the song was about a vulnerability I wasn't showing in my work. It wasn't a conscious kind of thing I wanted to show. I showed everything but vulnerability. So, I had my doubts about it.
"The original was about a 12-minute vocal intro and a 12-minute instrumental at the end. So, we had to format it into what's called an 'ABC' format. It had to be under four minutes for radio play. So, I had my doubts, but because I didn't want to piss the label off, I agreed that we would go in the studio and demo it. I wrote the second-verse lyrics. We put it down and I still felt, 'oh, God, it's just vulnerable – it's not my kind of thing'.
"But it just took off. The radio agreed to play it, the pluggers agreed to take it. It actually sold out so quickly that we had a very tense time when we were told the factory had run out of vinyl, so we couldn't keep the demand up for the Saturday. You needed the Saturday sales for your chart placement on the Sunday, which means you'd get Top Of The Pops. We had a terrifying 48 hours of thinking, 'are we going to lose Top Of The Pops because we'd run out of vinyl?' But we managed to do it."
Debuting on Top Of The Pops, corny as it sounds, was the realisation of a childhood dream. "It was everything I'd ever wanted. I'd watched it all my life. The family would time their meals so that we would be ready and all in front of the telly for Top Of The Pops. It was just extraordinary. I think my first time, Adam Ant was on, which made me feel that perhaps the music industry has accepted me. It was very, very exciting, although I found the discipline surprising.
"You're in at 10:30 in the morning. You rehearse on-camera at least five times and then you go out live in the evening. Because I'd already made costume dramas for the BBC at that point and been at many theatres, I knew that discipline. But I think for a musician, it drove them bloody mad!"
This heralded the beginning of her halcyon period, during which Willcox reached the Top 10 with I Want To Be Free and Thunder In The Mountains, and enjoyed five other Top 30 entries. The hits may have dried up since 1985's Don't Fall In Love (I Said), but you won't find her indulging in wistful nostalgia for those days.
"I'm living it now and it's fantastic. I've played to more than 100,000 people in the past four days and the majority were under 25. This is what's so extraordinary, because to them, it's not nostalgia. Why is this happening to the 80s at this particular period in time? Someone said: 'Is this the last time when artists were seen as individual?' Something is going on that is actually beyond what we're even intending today. There's a momentum happening on its own. I look out at the audience, they're under 25, and they know every word of every song. They've got the albums, they found the vinyl. I'm playing to more people now than what I did in my 'purple' period. I'm doing more concerts now than I did in that period. And I'm doing it without having to release an album.
"What messed up the perception of the 80s, musically, was the politics of the time," she concludes. "The politics were so bad and there was so much injustice going on, so for a time, the music was a memory of that. I think now that that's gone, the music is seen as the music."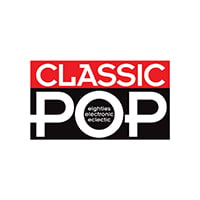 Classic Pop
Classic Pop magazine is the ultimate celebration of great pop and chart music across the decades with in-depth interviews with top artists, features, news and reviews. From pop to indie and new wave to electronic music – it's all here...