The Godfathers of Pop: Jeffrey Daniel interview
By Classic Pop | January 4, 2019
Douglas McPherson chats to Jeffrey Daniel, who came to fame as part of R&B group Shalamar, but went on to have further success as a choreographer and stage performer…
Jeffrey Daniel came to fame alongside Jody Watley and Howard Hewett in soul and R&B sensation Shalamar. The vocal group grew out of US music show Soul Train in the late 70s and enjoyed particular success in the UK with early 80s hits including A Night To Remember, I Can Make You Feel Good and Dead Giveaway. During a memorable appearance on Top Of The Pops in 1982, Daniel introduced Britain to the backslide – a dance that inspired Michael Jackson's moonwalk. Daniel went on to choreograph and appear in Jackson's videos for Bad and Smooth Criminal. He also starred in rollerskating musical Starlight Express.
Was dancing on Soul Train your first professional job?
It was one of my first appearances, although it didn't pay, so I'm not sure if it qualifies as a job! My middle sister and myself always danced together. If we got in a dance competition in school, we would always win. So when I saw Soul Train on television and saw kids my age, looking good and doing what I loved the most, which was dancing, it blew my mind. I was like: 'I have to be on that show!'

How did Shalamar develop?
Don Cornelius, the producer of the TV show, started the Soul Train record company with Dick Griffey. They started a group called The Soul Train Gang. I auditioned and didn't make it, which bummed me out, because I was one of the most recognised dancers on the show. I still wasn't getting paid, but everyone knew who I was, even if they didn't know my name. For a long time, my name was 'the tall skinny guy with the big afro!' Eventually, one of the Soul Train Gang members dropped out and they put me in the group at the last minute, but by that time, they'd decided the group wasn't going anywhere. That's when Don called me and said: "I want to build a new group around you. Do you know a girl who can sing?"
And the girl was Jody Watley?
Jody had been my dancing partner since I stopped dancing with my sister. We became one of the most recognised couples on Soul Train, but she had never sung before. I had to teach her to sing. I guess she had it in her all along, though.
Did you expect Shalamar to be such a long-running group?
When Shalamar started there was no MTV, so it wasn't like we put out a video, were seen by the nation and, bam, we were popular. We had to go out and tour on what they called the Chitlin' Circuit, down South in cities I'd never heard of. The first real sense of accomplishment was when we toured the UK. At the end of the tour, they added Wembley Arena and it sold out. When Jody, Howard and I stood on that stage, it was so emotional. That's when it finally felt like, 'I guess we did something!'
When you did the backslide on Top Of The Pops, did you expect it to get the reaction it did?
That came about because Jody was pregnant. We couldn't go over as a group, so they said: "Let's send Jeffrey over." In my hotel room, I put a cassette on and worked out the dance steps in front of the mirror. I'd been doing the backslide since 1978, on Soul Train, so I didn't expect it to have the impact it did. I flew to Amsterdam to carry on promoting A Night To Remember and suddenly, the publicist was banging on my hotel door, saying: "We've got to go back to the UK, everybody's talking about you!"
How did you come to work with Michael Jackson?
That goes back to Soul Train when I was doing the backslide with the RCA dog! I grew up watching Charlie Chaplin and Fred Astaire, so I always wound up doing things that made people go: "What the heck is that?" Michael was fascinated by the backslide, as was everyone, because it's not so much a dance step as an illusion, and people couldn't figure out how it was done. They thought I had wheels on my shoes or a rope was pulling me across the floor. He got in touch and wanted me to show him how to do it.
How is it being back on the road with Shalamar, with Dick Griffey's daughter Carolyn in Jody's role?
Carolyn is part of the Shalamar family. Her mother sang on the first album. We're really enjoying reconnecting with our audience. It's like a reunion. People are bringing their kids and grandkids – and their original albums for us to sign, so you know they've been fans from Day One. They're singing, they're dancing… it's like a celebration of the Shalamar legacy.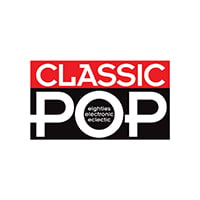 Classic Pop
Classic Pop magazine is the ultimate celebration of great pop and chart music across the decades with in-depth interviews with top artists, features, news and reviews. From pop to indie and new wave to electronic music – it's all here...