Reissue: Ian Dury & The Blockheads – Do It Yourself
By Classic Pop | July 30, 2019
As punk rock morphed into post-punk and new wave at the end of the 1970s, disco remained the shaping force of the Top 40. It was to attract some highly surprising converts.
Not only did ABBA's Voulez-Vous embrace the post-Saturday Night Fever dancefloor revival, but so did the album that it kept off No.1. On his previous album, New Boots And Panties!!, Ian Dury's music had been a maverick mix of pub rock, punk and ye olde music hall.
Those traits remained intact on this bizarre follow-up, yet tracks like Don't Ask Me threw lop-sided disco shapes beneath lines like "'Ere I stand, with a doughnut for a brain."
The album was big fun and The Blockheads remained unlikely to be mistaken for Shalamar: Cockney imprecations such as "Spread your chickens" and "What the Dickens?" (Inbetweenies) and "Fill a Durex full of water!" (Mischief) made sure of that. "Shitters are a wank!" grunted Dury, on Uneasy Sunny Day Hotsy-Totsy.
Dury always operated a strict policy of not including singles on his albums but this 40th anniversary deluxe multi-format reissue makes up for that.
Alongside the original album on magnolia vinyl and on CD, a second CD revisits What A Waste, Hit Me With Your Rhythm Stick and Reasons To Be Cheerful, Part 3 as well as various demos.
A bonus DVD features the videos for those three singles, plus a 1979 Rock Goes To College gig in Belfast, and Phill Jupitus and Kosmo Vinyl supply extensive sleevenotes. The whole package is a tremendous celebration of one of the most downright curious albums ever to scale the giddy heights of No.2 in the UK albums chart. 
8/10
Ian Gittins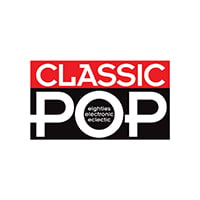 Classic Pop
Classic Pop magazine is the ultimate celebration of great pop and chart music across the decades with in-depth interviews with top artists, features, news and reviews. From pop to indie and new wave to electronic music – it's all here...