40 Years Of 2 Tone Records: Half-Speed Master of Specials
By Classic Pop | August 14, 2019
To honour the 40th anniversary of 2 Tone Records, Chrysalis Records have announced a year of special releases. Kicking it off: a half-speed master of Specials.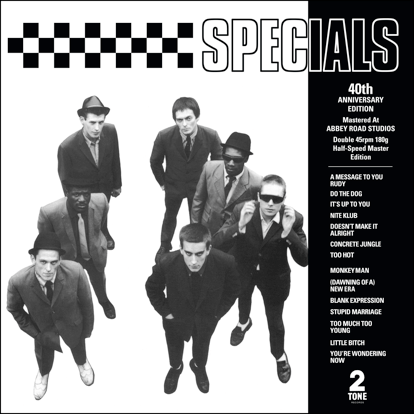 To celebrate 40 years since the launch of one of the UK's most important and influential record labels, starting in October Chrysalis Records will begin a campaign of 2 Tone special remasters and reissues. This will include rare and unreleased material, much of which has not been available for several decades.
The recently resurrected Chrysalis Records was the original home of the 2 Tone label. Founded by The Specials' Jerry Dammers, the label's first album release was The Specials self-titled debut. 
Formed in Coventry in the mid-1970s, The Specials (formerly Coventry Automatics) was Dammers' vision, who brought together an eclectic array of individuals to fulfill his vision of a multi-racial band, fusing the energy of punk with the legendary but, at the time, often overlooked, sound of Jamaican ska. This was a fusion which proved to be explosive on their debut album, Specials. 
The seven individuals – Dammers (keyboards), Terry Hall (vocals), Neville Staples (vocals), Lynval Golding (rhythm guitar), Roddy 'Radiation' Byers (lead guitar), 'Sir' Horace 'Gentleman' Panter (bass) and John Bradbury (drums), along with legendary Jamaican ska trombonist Rico Rodriguez and trumpeter Dick Cuthell – not only fully realised Dammers' vision, but their exuberant, uncompromising sound and 'message' reached the top of the charts. 
The album reached number 4, and their third single, Too Much Too Young, was amongst a tiny handful of live recordings that have ever reached no 1 on the singles' chart – a testament to the phenomenal excitement and energy generated by their live shows. The resulting popularity of the band and its music was considered by many, to have a hugely positive influence on race relations in late '70s/early '80s Britain, helping to create unity amongst disaffected youth. 
Mastered at Abbey Road Studios by Miles Showell, this special edition of one of the most important British debut albums of all time, is a straight half-speed vinyl cut from the original master tapes, split over two 45RPM 12" vinyl, housed in wide spine LP. It will be released on 11 October, almost 40 years to the day of its original release.
Side One
A Message To You, Rudy
Do The Dog
It's Up To You
Nite Klub
Side Two
Doesn't Make It Alright
Concrete Jungle
Too Hot
Side Three
Monkey Man
(Dawning Of A) New Era
Blank Expression
Stupid Marriage
Side Four
Too Much Too Young
Little Bitch
You're Wondering Now
This release signals the beginning of a 2 Tone Records release campaign, with more news regarding future releases to be announced in the next few weeks.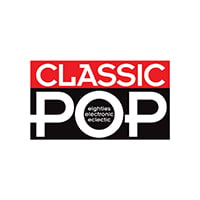 Classic Pop
Classic Pop magazine is the ultimate celebration of great pop and chart music across the decades with in-depth interviews with top artists, features, news and reviews. From pop to indie and new wave to electronic music – it's all here...