Toyah Interview: 'I'm not boasting, but I'm an athlete on stage'
By Classic Pop | August 19, 2019
After more than 40 years in the music business, Toyah Willcox is as creatively hungry as she was in her teens. Classic Pop chats to the high priestess of punk and her long-time collaborator, Simon Darlow, about their bold reimagining of 2008 album In The Court Of The Crimson Queen, and why the material deserves a second outing…
On the cover of new double album In The Court Of The Crimson Queen, Toyah Willcox is shown seated on an elaborate velvet throne, her head surrounded by a crown of silver thorns. While the title is a not-so-subtle nod to her marriage to King Crimson's Robert Fripp, you might assume that the choice of royal imagery is also proof that Toyah – once punk rock's princess – is now acknowledging her status as a musical monarch. However, turn the sleeve over and you'll see that the throne has been kicked away.
"I wanted a suggestion of rebelliousness, so I introduced the idea that falling off the Crimson Queen's throne is liberating and the only way to gain true personal power," Toyah explained on her website earlier this year. "Pedestals are always troubled by expectation. It's not about a fallen queen – it's about a liberated queen."
Taking a popular concept and flipping it on its head is what we should have come to expect from the multi-talented star, who has spent her career experimenting and undergoing regular musical makeovers. In fact, the album is itself a work of reinvention, having initially been released in 2008 and now reimagined and expanded with new material.
But as Toyah reiterates throughout her interview with Classic Pop, the record is not quite a solo effort. Both the original version of Crimson Queen and its 2019 successor are the fruits of a creative partnership with Simon Darlow – a songwriter and instrumentalist with a string of 80s hits to his name, including the Grace Jones classic Slave To The Rhythm. It's a friendship that goes back more than 40 years.
"When I was 17," says Simon. "I had a manager who also happened to manage the embryonic Toyah, and one day he just said, 'You have to come and meet this artist I've got – she's going to be massive. So eventually she came down to my flat in Putney and we started writing songs."
'I'm not boasting, but I'm an athlete on stage. I do over 150 shows a year.'
Toyah has fond memories of those early days. "The first song we ever wrote was called Sky Lullaby, and I think Simon would agree it was truly awful!" she laughs. "However, it was the beginning of the most wonderful relationship."
Back Together
As Toyah ascended to stardom, the pair drifted apart, only to meet by chance during the recording of fourth LP The Changeling, when Simon was drafted in for keyboard duties by producer Steve Lillywhite. He then played on Love Is The Law and Minx, as well as penning singlesRebel Run and Don't Fall In Love (I Said).
The collaborations slowed until the mid-noughties, when Simon happened to move a short drive from Toyah's Worcestershire home. Keen to rekindle their partnership, the duo soon found themselves writing and recording in Simon's studio. It was as though they had never been apart.
"I always say it was a garden hut, but it was a very sophisticated one!" says Toyah. "We ended up writing our first song in years – Latex Messiah – and it just felt so right. I remember taking it back home to my husband, who said it was the best pop song he had ever heard. So we kept at it."
Soon, the pair had recorded the 10 songs that would make up the original incarnation of Crimson Queen: a sophisticated mixture of glam rock and pop wizardry that was unveiled in September 2008. But despite winning praise from Toyah's loyal fanbase, the LP struggled to find the mainstream traction they had hoped.
"In the end, we decided to put it out ourselves because we simply couldn't get a record deal," explains Simon. "We were both around 50 at the time, which was considered very unhip! It was a great shame, because the songs sounded so timeless. We used to look at each other over the years and think, 'This is a good record, it's mad that nothing's happened to it.'"
Another Chance
The pair continued working together whenever their schedules allowed. But it wasn't until last May that the present chain of events kicked off with the release of air guitar anthem Telepathic Lover, which soared straight to the top of the Amazon rock chart on Toyah's 60th birthday. Written in much the same vein as the Crimson Queen material, the single's success proved that the original album deserved a proper outing.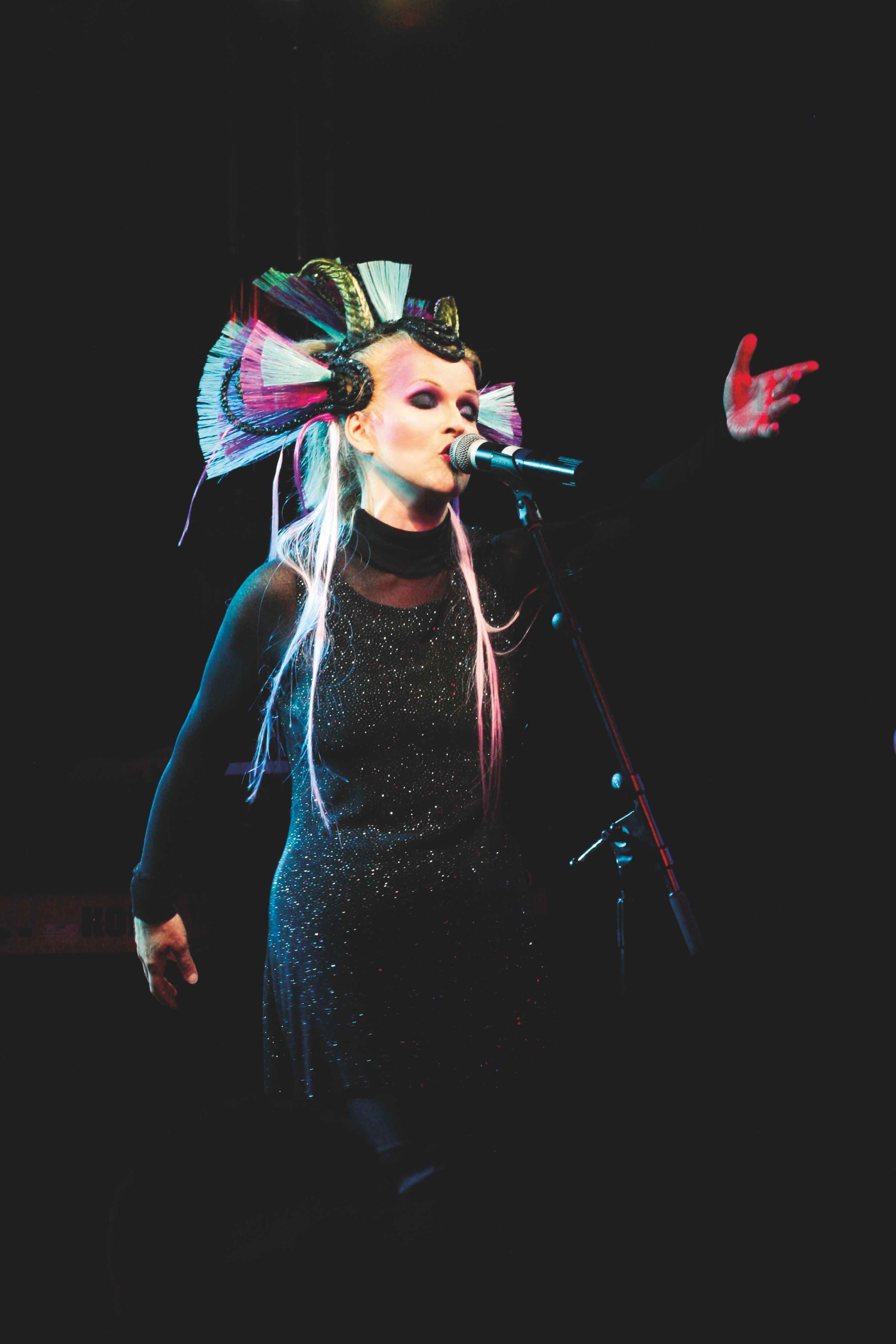 Thankfully, the bosses at Demon Music Group not only believed in the pair's vision, but agreed to put out a fully remixed and remastered version of Crimson Queen. Already a gutsy production upon its first release, Toyah and Simon went back into the studio and turned things up to 11.
"It was very exciting, because we pulled things out that got lost in the original mix," says Toyah. "We'd be able to say, 'OK, we've got to strengthen that backing vocal' and make edits to the arrangements."
The key difference between the 2019 release and its predecessor is the addition of live drums. The rifftastic Lesser God now boasts beats to rival John Bonham, while Latex Messiah and its equally filthy cousin, Come, both benefit from an additional thrust to complement their raunchy lyrics. As well as Telepathic Lover, Crimson Queen 2.0 features four further tracks that weren't present on the 2008 release, each of which have their own unique backstory. For example, punk-pop stomp 21st Century Supersister – which now opens 'Act II' of the album – dates back to the earlier sessions. The song subsequently appeared on a 2011 film entitled The Power Of Three, in which Toyah played a leading role.
By contrast, Who Let The Beast Out has its roots in a stage adaptation of Fyodor Dostoevsky's Crime And Punishment, which premiered at London's Scoop Festival back in 2016. Dreamed up by theatre impresario Phil Willmott, the so-called 'jukebox' musical incorporated an array of songs from the Willcox/Darlow back catalogue, including Toyah classics such as I Want To Be Free. "A week before it opened, we were told that they needed another song, so we went straight into the studio and wrote Who Let The Beast Out on the spot," says Toyah. "But what is amazing is that all the older tracks slotted into the story so neatly."
In fact, some songs worked better than the pair could have ever anticipated. Even when transplanted to 19th century St Petersburg, Crimson Queen ballads Bad Man and Legacy left theatregoers weeping in their seats. "I had men coming up to me afterwards in floods of tears saying that I had given a voice to their feelings."
But it is the opening and closing tracks that have the most emotional resonance for Toyah and Simon. Beginning with a monologue read by Robert Fripp, lead single Dance In The Hurricane deals with the need to be defiant and "a queen of your domain", even when suffering the pain of losing loved ones.
'We have our own sense of the ridiculousness and always try to keep it as fun as possible'
"The song was very much written from the perspective of both of us – me being in my 60s and Simon approaching 60 – and staying in contact with the people that put us on the planet in the first place," explains Toyah. "My mother was not a kind woman and neither of my parents were encouraging. But now they are in the ether, they are free from restraint and can encourage. I don't believe the bond is ever broken."
Completed in January, the track went through a number of guises before the duo agreed on a formula that worked. However, laying down the vocals proved to be the biggest hurdle. "The first time Toyah sang the opening line, she burst into tears," reveals Simon. "We ended up doing the song in lots of little bits, but in the end, I actually kept that first take because it just hits you straight away as being totally real."
Likewise, haunting album closer Our Hearts Still Beat is also rooted in the experience of bereavement. Written for the closing credits of indie horror flick In Extremis (in which Toyah has a small role), it was recorded shortly after Simon's father passed away. "We both stood in front of the microphone for four days, crying," says Toyah. "There were times where we just could not physically do it."
Back On The Road
With the second incarnation of Crimson Queen now on the shelves, Toyah is keen to showcase the material to as many people as possible. Despite her hectic itinerary, she doesn't sound phased by what is set to be one of the busiest years of her career. "I'm not boasting, but I'm an athlete on stage," she laughs. "I do over 150 shows a year, so I've got the stamina for touring!"
Simon is also being coaxed out of the studio and will join Toyah's band for several shows. Following a cameo appearance at the O2 Academy Islington last November, he is looking forward to being back on the live circuit after more than 30 years: "I'd forgotten what it was like. I used to play keyboards with Toyah back in the day, but I'm doing guitars this time. It's much more fun!"
But with such busy diaries, will there be any time to record more material?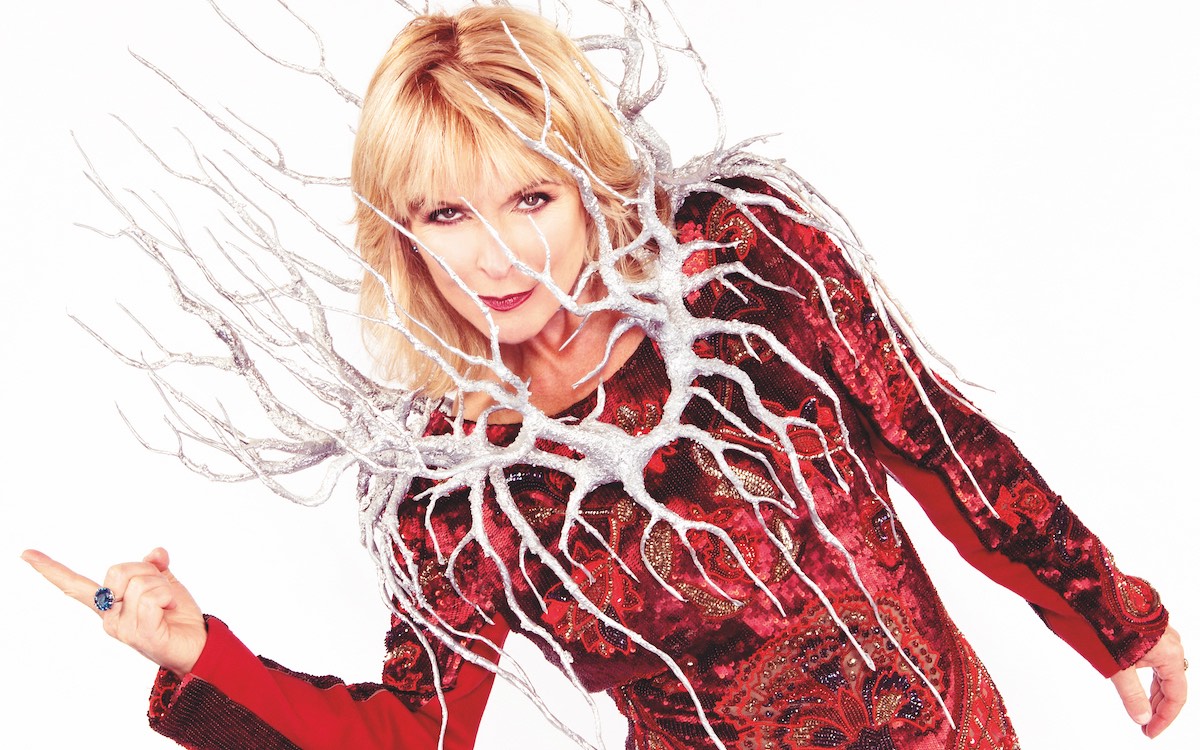 "I'm not going to do any other releases this year, as that would be to the detriment of Crimson Queen," explains Toyah. "I think this album has an international audience, and we want to push that with singles and radio play. However, I love working with Simon and will keep writing with him. When you find those kind of relationships, you should treat them like gold."
Simon heartily agrees: "We have our own sense of the ridiculousness and always try to keep it as fun as possible – because you know, we're getting on a bit! We love dancing around the studio and having a giggle, and we will never dwell too much on something if it's not working. It's always been the way."
If the results of the partnership to date are anything to go by, we can only hope it continues for many years to come.
Jon Bauckham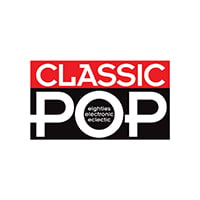 Classic Pop
Classic Pop magazine is the ultimate celebration of great pop and chart music across the decades with in-depth interviews with top artists, features, news and reviews. From pop to indie and new wave to electronic music – it's all here...