Richard Marx to release new album 'Limitless'
By Classic Pop | January 23, 2020
For the first time in six years, Richard Marx is set to release a new album of original songs…

The new album, Limitless, will lift Marx through to a new chapter in his music career. Released internationally by BMG on 7 February, the album will hit the UK on 3 April when Richard will be playing concerts in the UK.
Produced in part by Richard and featuring co-written pieces with Sara Bareilles, Richard's son Lucas Marx and his wife Daisy Fuentes, Limitless represents a new beginning for the celebrated singer-songwriter. While his last album Beautiful Goodbye closed the book on one chapter of Richard's life, Limitless opens a new one. After falling back in love, remarrying and settling into a new home in LA. "I've never felt so intrinsically strong and optimistic about my future," he's said, and the bright, heartfelt pop of Limitless reflects that feeling.
Current single, the explosive Front Row Seat—co-written with Matt Scannell (Vertical Horizon) and Darrell Brown (Dolly Parton, Mavis Staples, Keith Urban)—is fuelled by guitar-driven melodies and Richard's dedication to his wife Daisy Fuentes. "And the firelight's got nothin' on you and me," Marx sings, "Look around, it's all we could ever need." Front Row Seat follows the album's lead single Another One Down, his highest-charting single at US Adult Contemporary radio in 8 years, which is co-written by Richard and his son Lucas Marx.
"I wasn't really sure what making a new album meant for an artist like me," Richard says of the creative process behind Limitless. "All I knew was that I still write songs all the time and I realised I had a collection of songs I really liked. In my past, my only criteria were to write and record songs that pleased me, and hopefully other people would like them, too. So I returned to that ideology and dismissed any concerns of stylistic consistency and the next thing I knew, I had recorded a diverse album I really liked."
Limitless will be released in the UK 3 April. Click here to pre-order and view tour dates.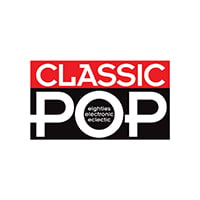 Classic Pop
Classic Pop magazine is the ultimate celebration of great pop and chart music across the decades with in-depth interviews with top artists, features, news and reviews. From pop to indie and new wave to electronic music – it's all here...