Celebrating the first 10 singles of his solo career with a new boxset, Johnny Marr tells John Earls he won't be looking back for long…
It's rare that Johnny Marr takes time out of his perma-busy schedule to look back. But, as a dedicated singles devotee, reaching the 10th of his solo career was a landmark that even Johnny felt needed commemorating. With the sumptuously-packaged Single Life boxset rounding those up, it's time for Marr to reflect on his solo life to date – and give a few indications about what's next, as well as the lowdown on some of his upcoming collaborations…
Why did you decide to release Single Life now?
Well, 10 is a good number, and a boxset of 7″s is a no-brainer for me – I love 45s. I was talking to my art director Mat Bancroft, who has ideas for my videos. I can't remember who had the idea, but as soon as it was mentioned, it felt an incredibly obvious move. It's a lovely artefact to have, and there's something new coming, too, so the time is right.
Not all of the singles have been released physically until now…
No, and I'm really pleased that The Messenger in particular has finally become a physical 7″. It was the first song I released as a solo musician, so in my mind it's always been a "proper" single. But it was only meant for the radio – to introduce people to my voice, my band, my new music. I didn't want to be presumptuous in releasing a 7″ single straight away but, for me and my band, The Messenger has always been a single that just didn't physically exist. Starting off Single Life with The Messenger is finished business – I love that it's the first thing in the box that you see and touch.
The other singles that are new as a physical entity are Armatopia and The Bright Parade – they're packaged together on one 7″. They're the songs I've released since my last album Call The Comet and, for me, it means the boxset has everything a single lover could want, including a double A-side 7″. That feels really appropriate for The Bright Parade. I wrote that song as a single, but one that's off the beaten track, like the best double A-side songs. It's deliberately showing my darker side.
Just how important are physical singles to you in the days when most people stream music?
The 7″ single isn't as culturally relevant now, and that's totally fine to me. Things need to move on, people need to consume music and culture in a different way. That's great. But, aside from the fact I grew up learning how to play, write and arrange music from 45s, the 7″ is still a wholly valid device for thinking about how to write songs. If you compare it to a painter whose work is going to be released online, they might still want to create it on a canvas. A great 7″ single is like hanging paintings on a wall and people coming to see your exhibition, versus looking at a jpeg on your phone.
Speaking of the traditional side of things, in an era when most musicians save their extra songs for deluxe editions of albums, Single Life has a bunch of great B-sides. What's so important about them for you?
Before I formed The Smiths, I saw B-sides as an opportunity, ever since I got into Roxy Music and their singles. B-sides still work for me as a format. I divorce the fact that fewer people might own or care about a physical B-side from the fact it excites me artistically, that it gives me a canvas to work on. Some of my favourite songs I've released, like Struck, Use Me Up, Psychic Beginner and Spectral Eyes, were written specifically to be B-sides. Jeopardy, on the B-side of Hi Hello, is one of the coolest songs I've ever made. I'm very proud of how the band sound on Jeopardy because, if you want to hear how my band sound, you particularly hear it on that song and Armatopia. Me and the collection of musicians I play with have a sound which you only hear in my solo stuff. You don't hear it in The Smiths, Electronic, The The or The Cribs. Jeopardy is glam for the new century – you can hear the 12-year-old me in Jeopardy.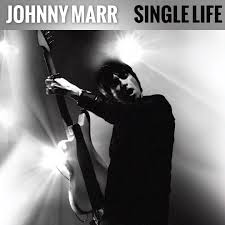 Is it true you penned Spectral Eyes for Blondie when you were writing songs for their Pollinator album?
Yeah. I wrote it for Blondie but, once I got into it, I thought, "I'm having this!" I'd already written My Monster for Blondie anyway, so I didn't feel too bad about it. Writing for Blondie was such an honour, man. Debbie Harry is a great pop writer. If we're talking singles, it doesn't get much better than Union City Blue. Spectral Eyes is a fans' favourite.
As well as Single Life, Electronic's first album was reissued on vinyl last month. Could you and Bernard Sumner ever do anything together again? Maybe a one-off single?
I last saw Bernard when he came on and sang Get The Message with me in Athens last year. He was on great form and New Order were fantastic. I've seen them a few times recently and they've hit a really good creative scene. We've certainly got no problems in our relationship, as we've got a really tight friendship, but I'm really happy to say Bernard is busy in his band and I'm busy in mine, so I don't really see it. There's a thing Bernard and I do that, dare I say it, we'd probably do even better now.

You always have plenty of collaborations under way. You made some great spoken-word music with the actor Maxine Peake…
Me and Maxine are always trying to get together, but she works even more than me. I'm really trying to make that happen. I see a lot of Bryan Ferry – that's an ongoing creative relationship where he's always working and he gets me to play on things. I'm writing my new record and I'm making two new film soundtracks with Hans Zimmer.
Yes, you're currently working with Hans on the new Bond movie. Why does your partnership work so well?
We've become really good friends since we started working together 10 years ago, so it's very natural with Hans. He gets me in for very specific things. There's a certain intrigue and beauty he expects from my music. The word he's used recently is "proud" – he wants a proud sound from me, which I hadn't been aware of. I know this sounds immodest, but thanks to Hans I've brought guitars back into movie soundtracks. For the longest time, it was a no-no to have guitars on movie soundtracks. Inception was a gamechanger.
How is work going on your new LP?
I'm about to find out what it is. Call The Comet taught me to allow myself to do that. On my first two records, I had a real concept of how they should be. While I was making The Messenger, I told the band, "Alright, fellers, when we start touring The Messenger, I'll start writing the second record midway through touring." That became Playland. The paradigm in rock culture is "the difficult second album", which I don't agree with. I don't remember The Only Ones, Buzzcocks or Talking Heads' second albums not being good. The idea that you've got all your good ideas as a youngster and you don't know how to write songs on the road? I don't go with that. I wanted Playland to be a classic second album, because, if you get it right, you've got the energy of being a live band. You're awake and alert. So the first two records were planned out, but Call The Comet revealed itself five songs in and I'm really happy for this next record to do the same.
John Earls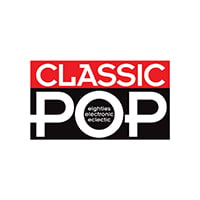 Classic Pop
Classic Pop magazine is the ultimate celebration of great pop and chart music across the decades with in-depth interviews with top artists, features, news and reviews. From pop to indie and new wave to electronic music – it's all here...