Marc Almond: "I'm on this constant merry-go-round – I'm scared to step off!"
Recently, Marc Almond has been talking of retirement. Are we really about to see one of our best-loved stars stride towards the exit? Marc's thrilling new album could be seen as a definitive summary of his career – and it also sees him open up about the lasting effects of his motorbike accident on his capacity to love.
The fate of Marc Almond is perfect material for one of his torch songs: the singer who wanted to quit music, but is in love with performing too much to step off the entertainment carousel. Last year, Marc hinted on Twitter that he was about to begin a prolific spell of work over the next two years and then it'd be a case of "Goodbye, wasn't it all marvellous?" as he slipped off quietly into the sunrise.
Asked whether his dramatic new album Chaos And A Dancing Star really is the beginning of the end and Marc laughs ruefully. "Oh, I've been talking about retirement for ages," he smiles, waving a hand dismissively. "I can't really leave music behind, and I've come to terms with that. I do sometimes think I'd like to live a little more life. I was thinking, 'I've not got enough of a life to write about in songs.' I had the bucket list of places I'd like to go, things I'd like to do, and wondering if I was going to get the time. I'm constantly working."
In a previous Classic Pop interview as a solo artist for his 2015 album The Velvet Trail, Almond talked about his work with Chris Braide, the pop titan who's produced Sia, Lana Del Rey, Beyoncé and any other recent megastar you can think of. Their collaboration resulted in Marc's best pop songs in years, and he's stayed busy since: covers LP Shadows And Reflections, making an album with Jools Holland, the small matter of reuniting Soft Cell… Marc could be forgiven for wanting to slow down. "I don't know what else I'd do," he admits. "As an older artist, I realise if I sit down for too long, I won't stand up again. The worst thing I could do now would be to take a big break, because I'm on this merry-go-round that's so constant, it's hard to step off. And I'm scared to step off because, if I try, it'd be really hard to step back on again. You've got to keep working.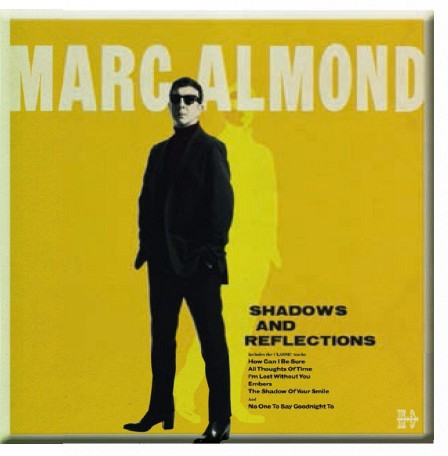 Marc's talk of being "an older artist" at 62 is at the heart of Chaos And A Dancing Star. Death has been a constant theme in Almond's work, but in the gothic maelstrom of Soft Cell and his dark and deviant side-project Marc And The Mambas, mortality mainly came out in a whirlwind of narcotics and toxic sex. On the new record, Marc addresses being in, as he terms it, "my final decades". Opening ballad Black Sunrise is a post-apocalyptic love song; melancholic finale The Crows' Eyes Have Turned Blue has Almond questioning, "Was it all for nothing?" as he informs a lover that "Our time comes to an end, there's no time for me and you."
The end of days
In person, Marc is remarkably cheery about it all. He's always been a delight to interview – attentive, trying to find the right words, honest but also quick to laugh at himself and the world around him. In a suite at boutique hotel L'oscar next to Holborn tube station, Almond is dressed casually in a black fleece, looking well for someone facing up to his own mortality. "There seems to be an end-ofdays feeling around," he ponders. "That's both generally and for me personally.
"In these new songs, I'm looking at the world around me and myself in the mirror and, really, I'm dancing through the chaos of it all."
The title of Chaos And A Dancing Star is taken from a quote by the philosopher Friedrich Nietzsche: "One must still have chaos in oneself to be able to give birth to a dancing star." It's mentioned in the album's near-title track Chaos. "I love that quote," Marc smiles. "I see it as meaning 'out of turmoil comes creativity', so I think it's a positive statement. It's how I feel about myself; dancing through chaos, hoping something positive will happen. Anyway, I'm happy that I must be one of the first people to put Nietzsche into a pop song!" Chaos is a remarkably catchy pop gem for one based around nihilism, but that sums up the album: for all its post-apocalyptic landscapes, there are some absolute bangers on there, too. "It was important not to just get too doomy," says Marc. "I didn't want it all to be emotionally gothic and dark."
If it's not all gothic and dark, those elements are certainly there on the record. Chevrolet Corvette Stingray sees Marc fall for a sociopath, a classically handsome guy but one with all the emotional capacity of an automobile. "Oh, it's total autoeroticism," laughs Almond delightedly. "They say the car industry must have got poets to think of the names of those old American cars: Chevrolet, Corvette, Stingray, Buick, Electra, such fantastic names. As for the sociopathic element? I'm very good at spotting them, though I do seem to attract them. Maybe that's because I'm a little bit of a sociopath myself. I'm definitely narcissistic, which is one reason I find getting old so hard. Fighting a war with ageing and losing it, that's a hard thing for a narcissist to contemplate."
He's laughing as he says it, but Marc quickly turns more serious. He sees the anti-hero in Chevrolet Corvette Stingray as "an idealised version of myself" – and that includes the emotional coldness. Marc hasn't spoken about it publicly before, but one of the lasting effects of his near-fatal motorcycle accident in 2004 was a dampening down of his emotions. "Ever since the accident, I've had a great battle with emotions," says Marc. He says it calmly enough, as if he's been wanting to talk about the effects for some time. "I have trouble trying to locate my emotions and I have a lack of empathy in how I feel towards humanity. I've always been a little bit like that, but the accident messed up a lot of my emotional feelings. The legacy it's left is constantly trying to find the emotion in anything. I get emotional about things I shouldn't get emotional about, but I have a lack of empathy for the things I should feel empathy for. I've a big lack of empathy towards people, but if I see a little dog being hurt, I can cry for hours."
Asked how it's affected his relationships, Marc freely admits: "I find relationships very hard, to be quite honest. Not friendships, because the friends I've always had, they know what I'm like. The way I feel now, it's something I've tried to put into these songs – the coldness I sometimes feel about things. There's a fake emotional coldness in me."
At peace with solitude
Marc's attitude to love is summed up in new single Slow Burn Love. One of his finest pop waltzes, it's got a chorus as irresistible as anything he's ever crafted. It describes wanting a lover who doesn't get too close, happy to instead always be on the edges of proper commitment. It's essentially autobiographical. "For me, the best relationships are ones that almost never happen," Marc smiles. "You never quite get there, but you always have it as a presence, as something exciting." Another conspiratorial laugh.
"The best relationships I've had are always with someone in another country, because you barely ever see them! Seeing someone once in a while, that's enough for me. I'm very much a person who likes to be on their own. I like the idea of a relationship, but the reality is different, so I like a slow burn love that's so slow it almost doesn't happen."
Marc is frustrated about one aspect of Slow Burn Love, however, confessing: "There's a deliberate mistake in the lyrics, which I thought was a very good idea at the time, but it looks like everyone just thinks I've messed up. The line 'The sun flies around the earth until it dies' is meant to highlight how impossible the relationship is and that it couldn't possibly happen. But, so far, people have just said to me, 'Oh, Marc, you've made a huge cosmic mistake here.' For the record, I know it's the earth that goes around the sun, thanks everyone!"
The song that ties the threads of darkness, love and romance together on Marc's new album is the sumptuous ballad Hollywood Forever. It's named after a cemetery in Los Angeles, where celebrities including Judy Garland, Rudolph Valentino and Cecil B DeMille are buried. Marc wrote the song while working in California with Chris Braide at his studio near Malibu. "Hollywood Forever is a suicide song about the yearning for nostalgia," Almond explains. "The golden age of Hollywood is certainly lost, and the Hollywood Forever graveyard is my favourite place to go in Los Angeles. It's a beautiful place, and I wrote the words while walking around the mausoleums of all these great stars."
Comments
comments