One Hit Wonder: Edie Brickell & New Bohemians– What I Am
By Classic Pop | June 19, 2020
The tuneful hoarseness of Brickell's vocals on What I Am are so good that they manage to stand out on an upbeat song that works on every level.
Edie Brickell joined the band of college acquaintances after a successful spontaneous open spot as lead singer.
New Bohemians subsequently bequeathed her top billing and their debut album, Shooting Rubberbands At The Stars, was released in 1988.
What I Am became a Top 10 hit in the US shortly afterwards, giving her instant star status.
The fuzzy guitar, aided by a wah-wah pedal usually adopted on funk and disco tracks, gave what was otherwise a breezy chunk of alternative rock a distinctive edge while Brickell's excellent, playfully strained vocals really are a joy.
The lyrics are intentionally vague; an aim to chill out, live a quiet life. They have the feel of a first draft good enough to survive a rewrite.
In a house music-obsessed UK, a No.31 peak in early 1989 was admirable. By now, Brickell had met Paul Simon and after two albums, she left the band to marry him and subsequently raise their three children.
The band reunited in the late 90s and Edie Brickell continues to play with them, as well as indie outfit The Heavy Circles.
Emma Bunton's Tin Tin Out-assisted cover of What I Am, her first post-Spice Girls single, reached No.2
Matthew Rudd is the host of Forgotten 80s on Absolute 80s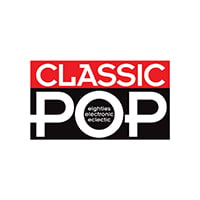 Classic Pop
Classic Pop magazine is the ultimate celebration of great pop and chart music across the decades with in-depth interviews with top artists, features, news and reviews. From pop to indie and new wave to electronic music – it's all here...