Classic Pop Issue 64 is on sale now
We're back with a bang with our latest issue of Classic Pop magazine. Inside, we find out how Sparks have coped with lockdown and delve into the array of exciting new projects featuring the Mael brothers – apart from new album A Steady Drip, Drip, Drip there's an Edgar Wright-directed documentary and Hollywood musical on the way.
We also catch up with two icons of electronic music as they release new studio LPs, John Foxx tells us about his latest work with The Maths and Neil Arthur gives us the inside track on Blancmange's Mindset.
Celebrity fans remember The Stone Roses' Spike Island gig 30 years on and we wax lyrical about REM's mainstream breakthrough, Out Of Time, for our Classic Album feature.
Adamski tells us about falling in love all over again with his biggest hit Killer and we take an in-depth look at the back catalogue of the wonderful Nick Heyward in our Album By Album feature.
We also have Q&A chats with Wham! bassist Deon Estus, The Cure's Roger O'Donnell, ex-Fleetwood Mac guitarist Billy Burnette and track down New Romantic legend Sal Solo to Florida.
In the absence of live reviews, we've expanded our new albums and reissues section. This issue we check out new releases from The Psychedelic Furs, Paul Weller, Sparks, Blancmange, The Pretenders, Peter Gabriel, The Streets and much more. On the reissues front, we serve up a selection including Depeche Mode, Pet Shop Boys, Goldfrapp, Whitney Houston, Jimmy Somerville, The Beloved, Dead Or Alive and The Blue Nile.
Steve Harnell
Editor, Classic Pop
Get your copy of the new issue of Classic Pop
Order Classic Pop issue 64 online
Get the magazine delivered direct to your door by ordering your copy of Classic Pop issue 64 directly from us today for just £6.99 (inc. P&P) at https://shop.anthem.co.uk
Download the digital edition
Get the digital edition from Pocketmags. Or find the new issue in the Classic Pop app.
Not downloaded the free Classic Pop app yet? Find out more about the app here
Find Classic Pop issue 64 in stores
Available from WH Smith and WHS Travel and in supermarkets – Tesco, selected Sainsbury's and selected independents – priced £5.99. Use our handy Store Locator to find your nearest Classic Pop stockists.
Subscribe to Classic Pop and save!
Get Classic Pop delivered every month and never miss an issue.
We have a great comeback subscription offer for you. Get 3 issues of Classic Pop for just £5. Sign up today at bit.ly/31VJKHZ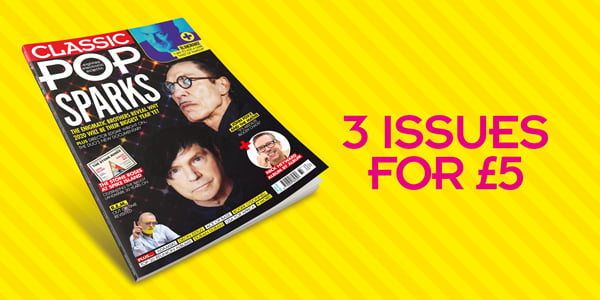 Complete your collection!
Are you missing an issue of Classic Pop magazine? Click here to browse all of our back issues.
Comments
comments