Issue 66 of Classic Pop is on sale now!
In the latest Classic Pop we have an exclusive interview with Tears For Fears' Roland Orzabal and Curt Smith as they look back on the extraordinary story behind their 1989 album, The Seeds Of Love – now reissued in expanded boxset form.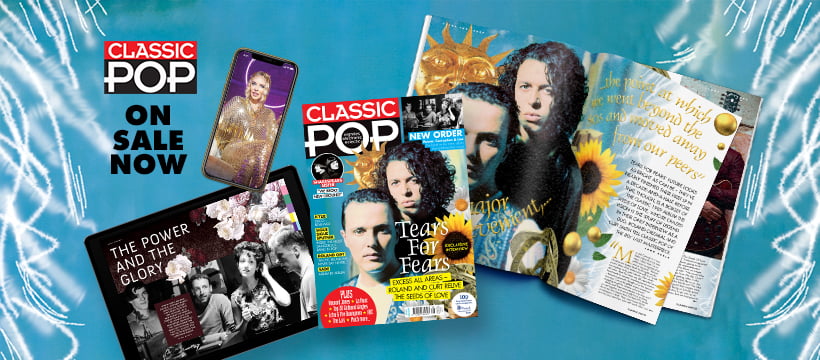 Also, given the boxset treatment, New Order's Stephen Morris and Gillian Gilbert take us inside the transformational Power, Corruption & Lies LP and we meet Shakespears Sister's Siobhan Fahey and Marcella Detroit as they release their career retrospective collection, Our History.
We reappraise ABC's How To Be A… Zillionaire LP and take an in-depth look at the back catalogue of Sade via our Album By Album feature.
Kylie Minogue's team of songwriters tell us how the star made new album Disco during lockdown and we also chat to Roland Gift, Howard Jones and La Roux.
The La's legendary eponymous debut is our classic album, Tony James and Neal X reveal all about their time with the most dangerous band in pop, Sigue Sigue Sputnik, and we also count down our pick of the Top 20 80s girlband singles.
In our expanded reviews section we have new releases including Kylie Minogue, Gorillaz, Elvis Costello, Bruce Springsteen, Melanie C and Faithless, while our packed reissues section features Tears For Fears, New Order, Depeche Mode, Soft Cell, ABBA, Fine Young Cannibals, Sade, The Style Council and The Specials.
Steve Harnell
Editor, Classic Pop
Get your copy of the new issue of Classic Pop
Order Classic Pop issue 66 online
Get the magazine delivered direct to your door by ordering your copy of Classic Pop issue 66 directly from us today for just £6.99 (inc. P&P) here.
Download the digital edition
Get the digital edition from Pocketmags. Or find the new issue in the Classic Pop app.
Not downloaded the free Classic Pop app yet? Find out more about the app here
Find Classic Pop issue 66 in stores
Available from WH Smith and WHS Travel and in supermarkets – Tesco, selected Sainsbury's and selected independents – priced £5.99. Use our handy Store Locator to find your nearest Classic Pop stockists.
Subscribe to Classic Pop and save!
Get Classic Pop delivered every month and never miss an issue.
Subscribe to Classic Pop today and get a free exclusive record bag PLUS the full Bowie Years collection, and 30% off the in-store price. Get this great offer here.
Complete your collection!
Are you missing an issue of Classic Pop magazine? Click here to browse all of our back issues.
Comments
comments