One Hit Wonder: Rob 'n' Raz Featuring Leila K
By admin | October 27, 2020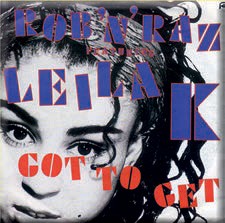 ROB'N'RAZ FEAT. LEILA K
GOT TO GET
While purists of hip-hop and house music were appalled on principle when the two disparate genres were blended together, there's little doubt that some ecstatic tracks were made when it was done properly. Swedish duo Rob'n'Raz achieved just that in 1989.
Despite their long history as scratchers and remixers, Robert Wåtz and Rasmus Lindwall composed the vast majority of Got To Get using only one mild sample from a song written by Prince for his all-female side project Vanity 6.
The intro consisted of a three-note hook, irresistible from first hearing and used throughout each chorus, putting a pure pop element into what was very much a track designed to appeal to all clubgoers. Laila El Khalifi, a teenage Swede of Moroccan descent, was the artist renamed Leila K whom they recruited from a talent contest to write and perform a rap, at a time when female MCs were especially germane.
It entered the charts in November 1989, stuttered in the Top 20 over Christmas and eventually peaked at No.8 in January 1990. It made the Top 10 in six other European countries as well as the Top 50 in the United States.
A follow-up, Rok The Nation, stalled at No.41 and their eponymous debut album didn't chart. Leila K moved on to other projects, while Rob'n'Raz maintained a following throughout the 90s in Sweden.
Matthew Rudd is the host of Forgotten 80s on Absolute 80
Comments
comments
admin