Limahl gets festive with new song One Wish For Christmas
By Classic Pop | November 19, 2020
Christmas is definitely on the horizon, and Limahl's in the festive mood, as he releases his brand new song, One Wish For Christmas.
Filmed in Watford, in the town's historic Palace Theatre, the video for One Wish For Christmas features Limahl performing the song with a septet of musicians adding the orchestral flourish. 
"Like most venues, it is currently closed due to COVID and on filming day, we all had to wear masks between takes," explains the 61-year-old singer. "Filming took place over two days, first at the theatre with musicians and then on location in London two weeks later when the Christmas lights had been switched on. The department store Selfridges is name-checked in the song verse so it only felt right to get some shots outside of the store on Oxford Street."
A melding of performance with romantic choreography, One Wish for Christmas is a reunion of sorts for Limahl. "One of the song's co-writers, Jon Nickoll of London's Savoy Hotel, plays piano in the video as he did on the recording," he says. "The Bashford Twins were on board again as directors after they did such a great job on my Still In Love video. It felt important to reflect today's integrated/multi-racial society and we made a conscious effort to try and represent other ethnic groups. In the video story, two people imagine their possible romance as a series of dances which are old Hollywood in their choreography/style – performed beautifully by Grace Loader and Reece Darlington-Delaire."
It appears recording a Christmas number was a long-held ambition for the former Kajagoogoo frontman. The track has been produced by Ian Curnow who was the sound genius behind another Christmas classic, East 17's Stay Another Day. "I love Christmas and some of the great holiday songs like Have Yourself A Merry Little Christmas and The Christmas Song," Limahl says.
One Wish For Christmas is available now and is available to stream on Spotify.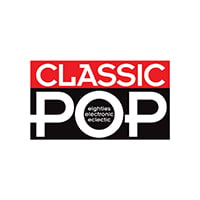 Classic Pop
Classic Pop magazine is the ultimate celebration of great pop and chart music across the decades with in-depth interviews with top artists, features, news and reviews. From pop to indie and new wave to electronic music – it's all here...