The pull of star power can be undeniable so it's no surprise that some dream team hook-ups have made a major splash in the charts over the years. By Jon O'Brien
The star-studded collaboration may have become de rigueur in the Spotify era. In fact, nearly half of 2019's 40 biggest-selling singles were duets or artists "featuring" another. But in the days of Bruno Brookes chart countdowns, the union of two different acts was a rarity rather than a regularity. Here's a look at 20 team-ups which suggest that the 1980s was the true golden age of the pop collab.
20 – UB40 & Chrissie Hynde: I Got You Babe
Almost 20 years to the day that Sonny & Cher flower-powered their way to the UK top spot with I Got You Babe, Birmingham's premier soft-reggae collective repeated the feat, with a little help from another self-described hippy. Ali Campbell and Chrissie Hynde are no match for the ultimate husband-and-wife entertainers and are on extremely low-key form on this lead single from UB40's LP Baggariddim. However, their lovers' rock treatment of the iconic love song still manages to retain some of the original's unashamedly corny charm.
19 – Kim Wilde & Junior: Another Step (Closer To You)
Chiswick's finest formed pop's other Mel and Kim when she teamed up with the grumpier half of Smith & Jones for a cover of a Brenda Lee classic. But Rockin' Around The Christmas Tree wasn't Kim Wilde's only duet of 1987. Junior Giscombe hadn't troubled the UK Top 10 since 1982's Mama Used To Say. But the British soulman fully grabbed his chance to re-enter the spotlight on a sprightly synth-rock duet which, in the wake of You Keep Me Hangin' On, gave Wilde her first back-to-back UK Top 10s since the turn of the decade.
18 – Robert Howard & Kym Mazelle: Wait
From ABC to The Style Council, 1989 saw several artists abandon their trademark sophistipop sound for something a little more hedonistic. But Dr Robert was perhaps the only name who pulled off such a reinvention convincingly. In an inspired move, The Blow Monkeys frontman called upon the talents of Kym Mazelle, the powerhouse diva who'd previously worked with Marshall Jefferson. And the resulting Wait was the kind of joyous dance-pop anthem you could imagine blasting out at the clubs of Chicago.
17 – Kylie Minogue & Jason Donovan: Especially For You
The most obvious pairing on this list, Kylie Minogue and Jason Donovan had just pulled in an astonishing 20 million UK viewers for their Neighbours wedding when they dropped this Hit Factory duet in late 1988. Oh, and they were a real-life item at the time, too. Sickly-sweet cash-in or charming display of puppy love, whatever you think of Especially For You, it's impossible to deny its pop cultural cachet, boosted further by the memorable Top Of The Pops performance in which Kylie leaps into Jason's arms.
16 – Annie Lennox & Al Green: Put A Little Love In Your Heart
With Dave Stewart on production duties, Annie Lennox's first solo outing was essentially still a Eurythmics number in all but name. It was the pair's third collaboration with a soul legend, after working with Stevie Wonder on There Must Be An Angel (Playing With My Heart) and Aretha Franklin with Sisters Are Doin' It For Themselves. Just as she did with Aretha, Lennox more than holds her own against the inimitable Rev Green on a cover of Jackie DeShannon's late 60s hit. So feelgood even Bill Murray couldn't help but sing along to it in Scrooged.
15 – U2 & BB King: When Love Comes To Town
One of three tracks (the others being Angel Of Harlem and Love Rescue Me) recorded at Memphis' historic Sun Studios for the divisive Rattle And Hum, When Love Comes To Town was one of U2's more successful attempts to emulate the classic sound of American roots-rock. Of course, it always helps when you have the undisputed King of the Blues at your disposal. BB King's stinging solo and impassioned vocals instantly gives this Top 10 hit the sense of credibility that Bono and co. seemed so transparently desperate to chase elsewhere.
14 – Marc Almond & Gene Pitney: Something's Gotten Hold Of My Heart
A cross-generational duet between a melodramatic crooner who seemed out of place even during his 60s heyday and a pop provocateur whose previous album opened with an ode to self-pleasure. Something's Gotten Hold Of My Heart didn't exactly scream four-week chart-topper. And yet the UK couldn't get enough of Gene Pitney and Marc Almond doing battle on a fabulously kitsch cover of a theatrical showstopper they'd both previously recorded separately.
13 – The Art Of Noise & Tom Jones: Kiss
Tom Jones showed he could still have his finger on the modern pop scene's pulse long before teaming up with Robbie, Cerys et al for the career-rejuvenating Reload. This big and brassy take on Prince's Kiss arrived just two years after the original and, perhaps surprisingly, even ended up peaking one place higher in the UK. The Welshman, wisely not even attempting a piercing falsetto, sounds like he's having a ball as The Art Of Noise throw everything from vintage cop show themes to Steely Dan into their typically postmodern mix.
12 – Michael Jackson & Paul McCartney: Say, Say, Say
Recorded a year before The Girl Is Mine but only released as a single a year after, Say Say Say is the more memorable of the two duets between the respective pioneers of 60s and 80s pop. McCartney and Jackson still aren't firing on all cylinders here – its six-week stint atop the US Hot 100 can perhaps be more attributed to star power than anything else – but the pair play off against each other well on a lightweight but hook-laden piece of funk-pop.
11 – Diana Ross & Lionel Richie: Endless Love
Bringing together two Motown greats, Endless Love made far more of a pop cultural impact than the same-named Franco Zeffirelli-directed romantic drama it was composed for. Lionel Richie and Diana Ross' impossibly slushy duet spent more than two months at the US No.1 spot, picked up an Oscar nomination and kickstarted the ex-Commodores frontman's solo career. Luther Vandross and Mariah Carey also gave it a new lease of life in the mid-90s, but it's the original that remains one of pop's ultimate guilty pleasures.
10 – Fun Boy Three & Bananarama: It Ain't What You Do (It's The Way That You Do It)
Terry Hall reportedly chose then-relative unknowns Bananarama to guest on Fun Boy Three's second single solely for their visual appeal after spotting them in a copy of The Face. Luckily, Siobhan, Keren and Sara all shared the same detached and monotone style of singing that had helped position Hall as pop's most sullen poster boy. The two dungaree-clad trios therefore gel perfectly here, transforming a 1930s jazz standard into a new wave singalong.
9 – Philip Bailey & Phil Collins: Easy Lover
Earth, Wind & Fire's Philip Bailey has embraced jazz, gospel and, of course, disco during his enduring career but he achieved his biggest solo success with the MOR soul-pop of 1984 album Chinese Wall. Phil Collins, who also knew a thing or two about taking over as leader of a flamboyant 70s outfit, not only served as producer but also lent his vocals to its lead single. Bailey and his four-octave range inevitably steal the show but Collins' stadium pop sensibilities ensure both parties bring something special to the table.
8 – Aretha Franklin & George Michael: I Knew You Were Waiting (For Me)
George Michael was reportedly so awestruck by his musical hero Aretha Franklin that he once turned down the chance to write a song for her, describing such a scenario as "ludicrous". Thankfully, Climie Fisher's frontman had no such qualms and gifted the pair an uplifting gospel-pop duet in which Michael's nerves appear to have been replaced by sheer joy. Incredibly, I Knew You Were Waiting (For Me) was the only time that the Queen of Soul hit the top spot of the UK singles chart.
 7 –Prince & Sheena Easton: U Got The Look
Who could have predicted that the demure girl-next-door discovered by Esther Rantzen would later transform into a sexually-charged pop diva mentored by Prince? Easton isn't officially credited on the third single from the seminal Sign O' The Times LP – she was initially only invited to provide back-up duties before the Purple One saw potential for a duet. But her assertive vocal interplay with Prince, whose familiar tones gradually evolve into those of his female alter-ego Camille, is integral to the electro-funk banger's sex appeal.
6 – Peter Gabriel & Kate Bush: Don't Give Up
It's hard to imagine anyone else stepping into Kate Bush's comforting shoes on this tender duet inspired by the economic deprivation of both the Great Depression and the height of the Thatcher era but Peter Gabriel initially had Dolly Parton in mind before turning to his longtime friend. So impressed was he by his second choice, the ex-Genesis frontman later admitted that he was glad that Parton rejected him. And it's not hard to see why. Don't Give Up remains one of Bush's most highly affecting and resonant vocal performances.
5 – Run-DMC & Aerosmith: Walk This Way
Contrary to popular belief, Walk This Way wasn't the first time that the worlds of hip-hop and rock had collided. Its producer Rick Rubin had previously sampled AC/DC's Back In Black on Beastie Boys' Def Jam debut, for example. But whereas Angus Young and co. had been sampled without their knowledge, Aerosmith were willing participants. Both Steven Tyler and Joe Perry headed back into the studio to re-record their riotous 1977 hit and later joined the Adidas-loving trio in an innovative MTV staple that literally broke down barriers.
4 – The Pogues & Kirsty MacColl: Fairytale Of New York
The annual furore over that other F-word can often detract from just how magical The Pogues' blend of traditional Celtic folk, witty repartee and degenerate charm sounds over the festive period. Shane MacGowan originally traded insults with bassist Cait O'Riordan before her sudden departure allowed the irrepressible Kirsty MacColl to play the caustic "old slut on junk" with relish. Despite recording their parts separately, the two leads share an undeniable chemistry on a sozzled singalong that continues to be the nation's favourite Christmas song.
3 – Giorgio Moroder & Philip Oakey: Together In Electric Dreams
The godfather of EDM and the frontman of the synth-pop scene's premier chart act were such a natural fit that they ended up recording an entire album together, inspired by a sci-fi rom-com directed by pop video director extraordinaire Steve Barron. Reportedly recorded in just 10 minutes, Together In Electric Dreams became one of the decade's most glorious soundtrack hits – like most great electro-pop it somehow manages to sound both joyously uplifting and beautifully melancholic at the same time.
2 – Queen & David Bowie: Under Pressure
David Bowie's 80s collabs often veered more towards the ridiculous than the sublime – see his much-derided karaoke duet with Mick Jagger, for example, or even more bizarrely his ill-advised effort with Mickey Rourke, Shining Star (Makin' My Love). But Under Pressure saw both the Thin White Duke and Queen at the top of their game. From Bowie and Freddie's chest-beating sing-off to John Deacon's brain-lodging bassline, the stadium pop anthem sounds meticulously crafted but was actually born from an entirely spontaneous jam session.
1 – Pet Shop Boys & Dusty Springfield: What Have I Done to Deserve This?
Two years before helping to reinvent Liza Minnelli as an unlikely synth-pop diva, Neil Tennant and Chris Lowe first brought another troubled legend out of the career doldrums. Dusty Springfield's best days were long behind her when Pet Shop Boys came calling – she hadn't scored a Top 40 hit since 1970 and the resulting years were plagued by drug and alcohol abuse, mental health issues and turbulent relationships that she kept firmly out of the public eye. Undeterred by her difficult reputation, longtime fan Neil Tennant persuaded Dusty to guest on what would become the second single from their second album, Actually. What Have I Done To Deserve This? is still very much in Pet Shop Boys' sonic domain – there's the gleaming synths, the arch lyrics and the kind of deadpan half-rapped vocals that positioned West End Girls as hip-hop's first No.1 back in 1986. But a rejuvenated Springfield elevates the break-up anthem into the realm of all-time classic with a vocal performance that evoked the purity and grace of her 1960s heyday. The two parties would go on to create further magic on Dusty's 1990 comeback long-player Reputation, and its majestic lead single Nothing Has Been Proved (taken from the soundtrack to 1989's Ian McKellen-starring Profumo drama, Scandal), in particular. But What Have I Done To Deserve This?, famously kept off the UK top spot by Rick Astley's Never Gonna Give You Up, remains the prime example of two pop generations becoming one.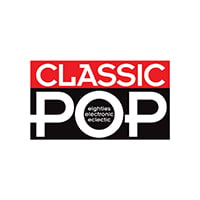 Classic Pop
Classic Pop magazine is the ultimate celebration of great pop and chart music across the decades with in-depth interviews with top artists, features, news and reviews. From pop to indie and new wave to electronic music – it's all here...