Making Frankie Goes To Hollywood: Welcome To The Pleasuredome
By Classic Pop | July 12, 2021
Mark Lindores looks back at Frankie Goes To Hollywood: Welcome To The Pleasuredome, a double album that sold a quarter of a million copies in its first week…
Exploding onto the music scene in late 1983 amid a wave of controversy not seen since the filth and the fury of the Sex Pistols fuelled them to infamy six years earlier, Frankie Goes To Hollywood, a masterclass in marketing with an arsenal of killer tunes, dominated the musical landscape during a year-long reign before imploding in as grandiose a style as they had arrived – but not before they delivered a trilogy of the decade's defining hits.
Having formed in 1980 at Liverpool's Bridewell Centre – a former police station used as rehearsal spaces by the city's countless fledgling bands – Frankie Goes To Hollywood (named after a newspaper headline depicting Frank Sinatra's migration to La La Land) went through a number of line-up changes comprising figures from Liverpool's punk scene before settling on Holly Johnson, Peter 'Ped' Gill, Mark O'Toole and Brian 'Nasher' Nash with Paul Rutherford completing the group. 
After establishing a solid live reputation and playing at venues such as The Warehouse in Leeds and Liverpool's mecca for untapped local talent, Eric's, they landed a John Peel session where they played the majority of the tracks that made up their live set and the demo tape they'd been shopping round labels to little interest. 
A controversial performance of Relax on The Tube in February 1983 (for which they wore S&M fetish gear and were accompanied by two PVC-clad females who dubbed themselves The Leatherpettes) proved a major turning point, landing them features in NME, a second John Peel session and most significantly, brought them to the attention of producer Trevor Horn, who had just founded the ZTT label with his wife Jill Sinclair and journalist Paul Morley. Frankie were secured as the label's first signing.
Frankie Goes To Hollywood: Welcome To The Pleasuredome Two Tribes video
"We signed to them because they were the only label that was interested in the band," Brian Nash told Penny Black Music in 2012. "Our manager had been to see a lot of labels and, although some were interested, I don't think they fancied wrestling with a band with two openly gay singers. 
"Although the 80's were seen as liberated times there were still a lot of people who had no time for homosexuals, let alone ones running around in leather knickers and thigh pads. 
"We were left with the choice of going back to Liverpool and regrouping for another assault, or taking the contract that was on the table. 
"Our lawyer told us that the contract was crap, but it was the only crap on the table and, despite the poor deal, we would get to work with Trevor Horn."
Realising the potential of Relax, Horn knew it was the obvious choice for the first single – it just needed some work. Though he was producing an album for Foreigner at the time, he took a break from it to produce Relax. 
"It sounded terrible when they played it – they couldn't play it in time," Horn said in 2014. "When we signed the band they never told me that the guitar player that they had couldn't play – the guy that had played on the demos had left to go into plumbing. So the band couldn't play – the bass player and the drummer were good, the singer was brilliant, and the track was great, but it was an unusual track. It was like a jingle – obviously about sex."
With the foundation of a great song in raw form, it was left to Horn to transform Relax into the chart-friendly monster it became. After repeated attempts to get it right, it was the fourth version that everyone was finally happy with.
"I thought Holly's voice on the track was really good," Horn said. "But I just didn't know how to make the record out of it, and we tried. I tried with the band, I tried with Ian Dury's band The Blockheads; I tried getting them to play it. Then I realised we'd been wasting our time and started from scratch. It was a case of 'let's have one more go.'"
Frankie Goes To Hollywood: Welcome To The Pleasuredome Relax video
Locked in SARM Studios with guitarist Steve Lipson, keyboardist Andy Richards and banks of samplers and sequencers, Trevor's fourth and final version of Relax came to fruition in one, inspiration-filled night. "There were four or five of us in the control room, nobody from Frankie, unfortunately, and
we spent the next four or five hours working up this quite complex arrangement of the tune. Holly and Paul arrived about 11pm and I played it for them and they loved it and started dancing around the studio. Holly couldn't wait to sing it. I eventually went home about five in the morning satisfied that we had cracked it."
Released in October 1983, Relax was initially a slow-burner, garnering minimal success or attention. It wasn't until the record cracked the Top 40 and landed them a Top Of The Pops slot that it started climbing the charts.
Five days after their performance, announcing their Top 10 breakthrough, Mike Read unceremoniously pulled the song mid-play in protest at its sexual overtones, earning it a ban from all BBC stations with immediate effect, the aftermath of which sent it to No.1.
As well as the up-front lyric, Relax's immersion in gay culture, from the pounding hi-NRG track to the Robert Mapplethorpe-influenced leather bar imagery and depraved fetish-filled video, Frankie's blatant sexuality was groundbreaking, dangerous and exciting.
"The interesting thing about Frankie Goes To Hollywood was that it wasn't 'lock up your daughters, Frankie are in town.'
It was 'lock up your daughters and sons,'" Holly Johnson recalled in an interview with The Guardian about Frankie Goes To Hollywood: Welcome To The Pleasuredome. "It was challenging people's narrow-mindedness in terms of open homosexuality. That was quite an exciting thing to do. Without that element
I think we might have appeared less exciting. It was important in the whole atmosphere of Frankie – people didn't know who was straight or gay.
Frankie Goes To Hollywood: Welcome To The Pleasuredome Power Of Love video
No one else was really being so open about themselves in that way – apart from maybe Jimmy Somerville from Bronski Beat. Neither of the Georges [Boy and Michael] were publicly out at the time.
Although they were more obviously gay, they were less forthcoming about it because they were signed to proper record labels that had publicity departments who guided them into trying to sell the most records that they could sell."
The overt sexuality of Frankie did little to diminish their sales; if anything it had the opposite effect. With Relax holding firm at the top of the charts for five weeks – helped by the release of a series of remixed 12″ singles, the band were forced to think about following it up. 
"We had to work on Two Tribes while Relax was No.1," says Horn. "When a record is that big you have to have something ready to follow it up with to keep the momentum going. I listened to the tracks they had written and that was the only one I saw working."
Two Tribes, a song opposing the probable outbreak of nuclear war at the time, entered the chart at No.1 and stayed there for nine weeks. With Relax climbing back up to No.2, Frankie achieved the feat of being the first band since The Beatles to occupy the top two positions of the UK singles chart simultaneously, establishing them as 1984's biggest success story.
Week after week, as the band performed the song on Top Of The Pops, the platform was used to incite controversy (brandishing guns) and settling scores (Holly tore up a copy of The Sun in retaliation to them hounding his parents for interviews about his sexuality), only increasing their notoriety.
As advance orders for their debut album topped the one million mark, the band had to get in the studio to finish the record.
With ZTT deciding that Frankie's debut would be a double album, the band exhausted their repertoire of original material and were forced to include a handful of diverse covers from Edwin Starr, Bruce Springsteen and Burt Bacharach to complete Welcome To The Pleasuredome, which was released on 29 October 1984.
Frankie Goes To Hollywood: Welcome To The Pleasuredome video
As the year drew to a close, Frankie cemented their hectic year with a No.1 album and a third No.1 single, The Power Of Love, a tender ballad that showed another side to the group. However, Paul Morley had devised a marketing strategy for the band based on the idea of using sex, war and religion as shock tactics.
As the single was shock-free, it was decided to stoke the fires of controversy by making a video based on the Nativity for the song. With Frankie promoting their album in the US, a video was shot, with the band added in later. 
Despite their absence, Frankie's presence was felt across the country thanks to their music and videos dominating radio and TV, and their infamous T-shirts (based on designer Katharine Hamnett's trademark shirts) emblazoned with slogans such as 'Frankie Say Relax', 'Frankie Say War – Hide Yourself' and 'Bomb Is A Four-Letter Word' were snapped up by fans.
With the Nativity video an obvious aim at the Christmas No.1 spot, only the might of Band Aid dislodged The Power Of Love from the top position, but not before Frankie had become the first act since Gerry And The Pacemakers to reach No.1 with its first three singles, capping their extraordinary year.
The success of Frankie Goes To Hollywood: Welcome To The Pleasuredome
By the time 1985 dawned, the Frankie story had already reached its zenith. Advertising their fourth single as "their fourth No.1", Welcome To The Pleasuredome stalled at No.2, thus beginning a downward spiral that continued with diminishing record sales, in-band fighting and court cases, leading to the implosion of the group.
Like gatecrashers at a party they hadn't been invited to, Frankie rocked up, did what they came to do and disappeared again, leaving a trail of mass destruction in their wake. 
Frankie Goes To Hollywood: Welcome To The Pleasuredome: The Songs
The World Is My Oyster (including Well and Snatch Of Fury)
A burst of opera and crashes of percussion serve as an intro to the album while a smug proclamation that "The world is my oyster" from Holly Johnson continues the swaggering self-assuredness that the band were known for.
Welcome To The Pleasuredome
Tropical birdsong, tribal chants and an altered recitation of Samuel Taylor Coleridge's Kubla Khan leads into an expansive version of the title track clocking in at almost 14 minutes in length that fills the entire Side One of the double album. The sprawling track was edited down to four minutes for its single release in 1985. Arrogantly advertised as "their fourth No.1 single", it stalled at No.2. Such was Frankie's reputation for behaving badly, the song's message warning of the dangers of a hedonistic lifestyle was misinterpreted as an endorsement of that way of living.
Relax
Quite simply, one of the greatest singles of all time and a debut which still sounds as exciting and fresh today as it did when it was released 36 years ago. The undoubted genius of Trevor Horn is at play here, taking the germ of the track performed in the upstairs room of a Liverpool pub for The Tube, and transforming it into a pounding, hi-NRG monster extolling the virtues of anal sex which earned them a ban from the Beeb and a lifetime of notoriety. It remains the sixth biggest-selling single of all time in the UK.
War
From killer to filler, a percussion-heavy cover of Edwin Starr's War featuring a funky bassline and Spitting Image comedian and Red Dwarf actor Chris Barrie doing an impersonation of Ronald Reagan preaching love and quoting Hitler's speech from his 1924 Beer Hall Putsch trial. 
Two Tribes
One of the first songs written by the band in 1982, Two Tribes is an exhilarating thrill-ride of a track, warning of the serious threat of nuclear warfare. Taking its name from a quote in George Miller's Mad Max 2 ("For reasons long forgotten, two mighty warrior tribes went to war"), it merged a relentless bassline drawn from American funk with a rich, Russian-influenced orchestration, the only understated aspect of the track, which enlisted Patrick Allen to replicate his infomercials instructing what to do in case of nuclear attack. Released in a variety of remixes, Two Tribes sold over 1.5 million copies and stayed at the top of the charts for nine weeks.
For The Victims Of Ravishment
A skit in which Chris Barrie mimics Prince Charles pondering orgasms over a classical fanfare.
Ferry (GO)
A track that embodies the sentiment of home, Ferry (Go) is a sombre interpretation of Gerry And The Pacemakers' Ferry Cross The Mersey. Their cover of the Liverpudlian anthem wasn't Frankie's only association with the band. The Power Of Love saw them equal Gerry And The Pacemakers' 20-year record for having their first three singles top the charts, while Holly also appeared on the 1989 cover of the track which raised funds for the charity set up to aid those affected by the Hillsborough football disaster.
Born To Run
A song as synonymous with its author's hometown as Ferry Cross The Mersey had been to Liverpool, an ill-judged cover of Bruce Springsteen's Born To Run is a perfect example of what happens when a band decides to release a double album and doesn't have enough material to fill it.
San Jose (The Way)
See above. After the momentous first two sides of the album, Side Three can be a chore to get through. A campy take on Burt Bacharach and Hal David's 60s classic Do You Know The Way To San Jose completes a trio of pointless covers.
Wish (The Lads Were Here)
With the straight contingent of the group commonly known as The Lads (and the name they gigged under professionally after Holly Johnson left the group in 1987), the white-boy funk of Wish (The Lads Were Here) comes off like an exercise in letting that faction of the group flex its musical muscle. A largely forgettable song until the last minute sees the tempo pick up to a rhythm reminiscent of the title track.
The Ballad of 32
A New Wave take on prog rock, lengthy instrumental The Ballad Of 32 recalls Pink Floyd until Frankie stamp their personality on it by including female moans of ecstatic pleasure. At the time, Frankie folklore credited the moans as being the result of an encounter between an unidentified female and drummer Ped, but it was later revealed to be sampled from Henri Pachard's erotic 'classic', Babylon Pink. 
Krisco Kisses
Tribal chants and a funky bassline open a track which compensates for its lack of a tune by returning to the sexually-charged pomp of Relax for its lyric, which references fisting ("You fit me like a glove, my love/ My little puppet glove") and using margarine as an anal lubricant. 
Black Night White Light
By far the strongest track on the album outside of the singles. As atmospheric as its title suggests, the bass-driven dance track with crashing drums hints that Frankie's love of early Depeche Mode extended further than a shared interest in S&M garb.
The Only Star In Heaven
A bizarre track which can't decide if it wants to be a pop/rock/funk or rap track, The Only Star In Heaven can only be described as all over the place before it culminates with an a cappella chorus.
The Power Of Love
A bloated album with more than its fair share of filler, Frankie reward those that stuck around until the end with a majestic opus which makes it all worthwhile. "This time we go sublime," Holly sings and he's right. Despite a lyric which could come off as cheesy – "Make love your goal" – the sentiment and unabashed romanticism work thanks to a sublime sweeping string arrangement. The third single from the album, it completed their hat-trick of chart-topping 7″s. Holly Johnson re-recorded the song in 1999 for his third album, Soulstream, reaching No.56, while in 2012, Gabrielle Aplin's version of the track reached the No.1 slot after it was featured in a John Lewis advert.
Bang
A coda rather than a song, Bang ends the album with Chris Barrie returning as Ronald Reagan to announce "Frankie say no more."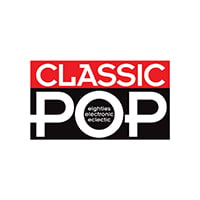 Classic Pop
Classic Pop magazine is the ultimate celebration of great pop and chart music across the decades with in-depth interviews with top artists, features, news and reviews. From pop to indie and new wave to electronic music – it's all here...