Review: Steven Jones & Logan Sky – The Electric Eye
By Classic Pop | October 26, 2018
As with Hans Und Lieselotte, released earlier this year, The Electric Eye finds Logan Sky (keyboardist in Visage's final line-up) and Steven Jones further refining their once unmodified penchant for 80s pop. Nonetheless – betrayed by sultry title track No Way Out and crooning torch song Christmas In The Machine – their Depeche Mode affinity remains intact. Voltage, however, suggests a latex-clad Pet Shop Boys, while Blood Moon ups the Vangelis quotient. Additionally, Black Clouds adds a S U R V I V E-like dystopian malevolence.

Written by Wyndham Wallace. Released on Etrangers Musiques.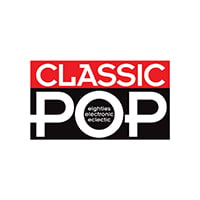 Classic Pop
Classic Pop magazine is the ultimate celebration of great pop and chart music across the decades with in-depth interviews with top artists, features, news and reviews. From pop to indie and new wave to electronic music – it's all here...