Making Vienna – Ultravox
By Classic Pop | April 24, 2020
John Foxx was out, Midge Ure was in for Ultravox: Vienna… By Mark Lindores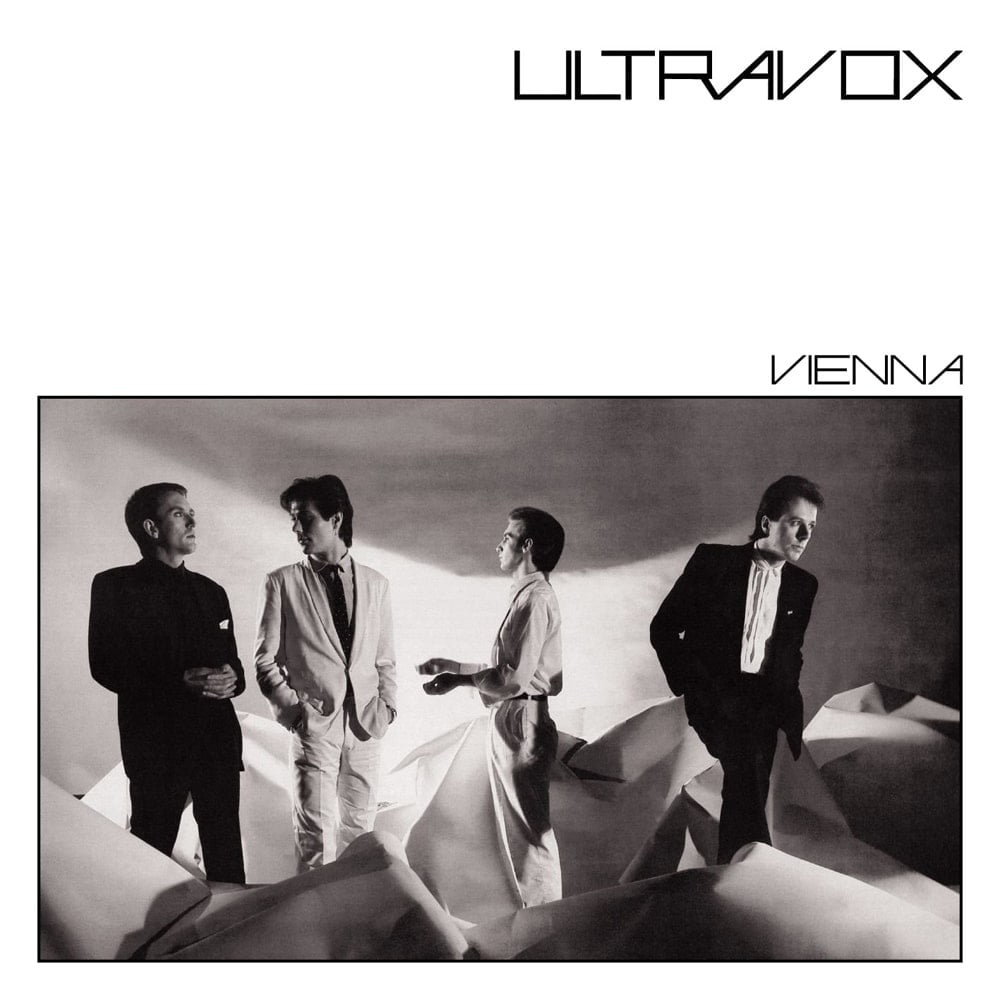 Were it not for Ultravox: Vienna sleeve designer Glenn Travis' bold typography reassuring fans that the stark monochromatic cover photo by Brian Griffin was indeed Ultravox, the band's fourth album could well have escaped the attention of their fanbase, such was the radical change of direction of the group with new lead singer Midge Ure.
The stylish image overhaul reflected the musical shift on the encased record, with the glam-influenced art-rock of the band's previous three albums replaced by sparse synth-pop and killer melodies resulting in a less pretentious entity that was capable of breaking them to a mainstream audience.
As the 70s drew to a close, the disarray within Ultravox at the time made the break-up of the band a very real prospect. The lack of commercial success for the John Foxx-fronted five-piece had led to them being dropped by Island Records and a last-ditch attempt to save the group with a US tour instead led to its implosion.
Foxx and guitarist Robin Simon departed the group, leaving remaining members Warren Cann, Chris Cross and Billy Currie with little more than debts, doubts and dilemmas.
Facing an uncertain future and financial ruin, the remaining trio were forced to seek session work with other artists in order to generate some money. Chris played with James Honeyman-Scott, Warren with Zaine Griff and The Buggles and Billy performed on Gary Numan's The Pleasure Principle album and tour before working on Visage's debut record.
It was during the latter that he was introduced to Ure by Rusty Egan. Egan knew that Midge had been a fan of Ultravox and that they were looking for a singer and a guitarist – Ure was both, therefore Rusty was convinced they'd be the perfect match.
With his eclectic musical background, Ure was feeling limited by Visage. Though he enjoyed and was proud of the work he was doing with them, the group was a studio-based project with the sole purpose of creating dance music for London's club kids to pose and preen to at the nightclubs Egan was running with Steve Strange.
Prior to joining the synth-pop outfit, Ure had a No.1 hit with Slik, turned down an offer from Malcolm McLaren to front the Sex Pistols, co-written a track with Phil Lynott for Thin Lizzy and enjoyed moderate success with the Rich Kids. While writing the latter's second album, Midge and Rusty had expressed their desire to incorporate electronic elements into the group's sound having bought synthesisers and been influenced by Kraftwerk and Can, but were vetoed by the other members, thus literally splitting up the Rich Kids.
'We were now a four-piece, we thought things through differently and we reacted to each other differently.'

Midge Ure on Ultravox: Vienna
As a tsunami of synthesised soundscapes eradicated the guitar-driven dominance of the pop scene, Ure carried forward his idea of a fully-functioning group that would record and play live and incorporate elements of rock and electronica, thus tying together all aspects of his musical history to date.
The outcome of an initial meeting between Midge and Ultravox to discuss whether their musical aspirations were compatible was overwhelmingly positive. Ultravox loved Ure's vision for the group and their only condition was that they craved more creative input following Foxx's dominance and wanted to work as a unit.
Ure agreed and a decision was reached to split everything – accreditation and money – equally between the four members, eschewing any arguments over cash or superiority. The union was sealed with a jam session which was, Midge later told UK Music Reviews, "the most glorious noise that you have ever heard".
"[Ultravox] knew all about synthesisers, they knew about drum machines, they knew about clicks and samples, so it really was amazing. From that moment on it was sealed in stone, and that was it," he said. "I joined Ultravox after John and Rob left, which totally changed the dynamics of the band. I think that musically, we all knew that whenever you take elements of anything new it is like playing musical Jenga; you take certain things out and put certain things back in again.
"It is a different beast and it takes on a different form. That's what happened when I joined – I didn't make it better, I didn't make it worse; it was simply different because I was now in the band, we were now a four-piece, we thought things through differently and we reacted to each other differently."
---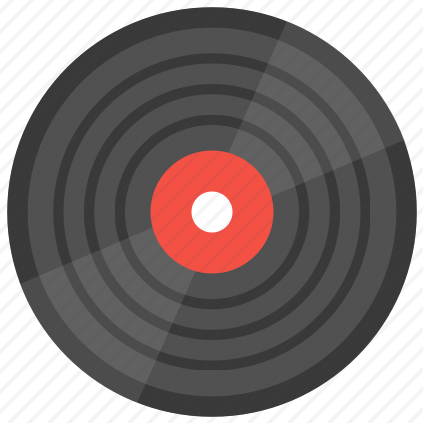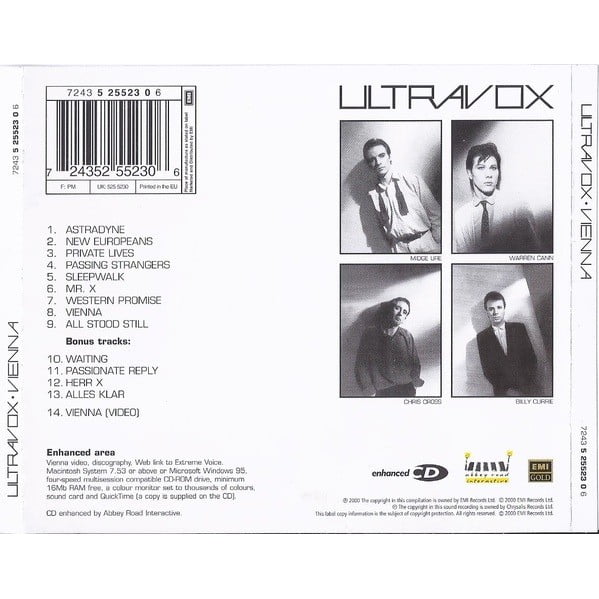 With the dynamics of the band in place, they began writing and rehearsing, settling into their new roles and adjusting to each other's ways of performing and the obvious differences between Ure and Foxx.
Almost instantaneously, a batch of songs were written that would form the basis of what would become the Vienna album. Astradyne, New Europeans and Mr X all came from their first sessions with Warren Cann contributing to the bulk of the lyric writing – clearly relishing his newfound authority and creative license within the group.
As the new line-up experimented and combined their influences and tastes to formulate a musical identity, tracks were discarded or repurposed for other artists or projects. One of Midge Ure's first compositions was deemed unsuitable for the band but was later reworked with Phil Lynott for Thin Lizzy and became Yellow Pearl – the theme to Top Of The Pops between 1981 and 1986.
His association with Thin Lizzy also temporarily halted Ultravox's progress when he was offered the chance to replace Gary Moore on a month-long US jaunt with Journey in 1979. He accepted the job having decided that the money he earned from it could be used to buy equipment and studio time for Ultravox.
Upon his return, the band continued writing and rehearsing, the sessions producing Private Lives, Passing Strangers and All Stood Still.
'Every track was for a movie that didn't exist'

Midge Ure on Ultravox: Vienna
Formulating a loose theme for the record, they decided it should have an epic, cinematic feel.
"Every track was for a movie that didn't exist," Midge later told The Guardian. With almost enough material for an album or EP complete, the next step was to play live, a process which would not only solidify the band's new line-up, but also attract interest from prospective labels as they were still without a record contract.
Aware that they would be scrutinised and compared to their previous line-up, Ultravox decided to tour the US where they wouldn't face so much pressure and would be able to adjust accordingly.
Before heading to America in December 1979, they embarked on a handful of secret warm-up shows in the UK partly to assure fans that the band was continuing post-Foxx and also to drum up some interest within the industry – something they used as a foundation on their return with a showcase gig at London's Electric Ballroom on 1 February 1980.
The gig secured interest from Chrysalis, who financed studio time to record some demos. A unanimous decision was reached for the group to reunite with Conny Plank, who had produced the previous Ultravox album Systems Of Romance. They'd enjoyed that previous working process and hoped to continue it.
Rather than record the standard three tracks, the band and Conny instead decided to use the time to work on one and produce it to master standard. The gamble paid off handsomely and Sleepwalk secured them a record deal.
With their deal signed and Midge's legal issues pertaining to his contract from the Rich Kids settled, the band was free to proceed with the creation of the album. They began again in rehearsal rooms where a routine way of working would be to set a tape recording and start long jamming sessions.
They'd then listen back to them picking out ideas on which they could build and would construct a song from that – with the music often dictating the lyrical content.
With Passing Strangers, Western Promise and Vienna, they had their album and moved into London's RAK Studios to lay down the tracks. The recording process was completed in just 10 days, before the band relocated to Plank's studio in Germany for two weeks to mix it.
Just four months after signing to Chrysalis, Ultravox released their first single for the label on 16 June 1980. Sleepwalk had been the first song they recorded with Midge and the track that had secured them their deal, so it was a natural choice for the album's lead single.
Although pleased with the material the band had produced, Chrysalis were hesitant to plough money into the quartet and wouldn't fund a video to promote the single. Despite this, Sleepwalk reached No.29 in the UK, giving Ultravox its first chart hit.
Naming Ultravox: Vienna
Throughout the writing process, the album had a working title of Torque Point, but by the time it was released on 11 July 1980, the band had renamed it Vienna after their favourite track on the LP and the song that had garnered the best reception when performed live.
The group pushed for it to be a single but were faced with opposition from the label who stated it was too long, too experimental and too overblown.
The band refused to re-edit the song, citing Bohemian Rhapsody and Wuthering Heights as examples of successful longer hit singles but their argument fell on deaf ears; Chrysalis decided to release Passing Strangers instead, agreeing to fund a video as a way of appeasing them.
After the song stalled at No.57 in the UK charts despite heavy promotion, the label was concerned about the lukewarm sales of the album and agreed to release Vienna in its original form in January 1981.
Spending a month at No.2 in the charts and selling more than 500,000 copies, the mammoth success of the single completely reversed the fortunes of the album, propelling it up the charts to a peak position of No.3.
A fourth and final single from the album, All Stood Still, gave Ultravox their second Top 10 hit in May 1981, proving that any purist fans who'd deserted the group because of its new incarnation had been suitably replaced.
With Ultravox: Vienna going on to become one of the best-selling albums of 1981 and Midge and Billy's concurrent success as part of Visage, the reconfigured Ultravox found themselves auteurs of the new decade.
Ultravox: Vienna – The Songs
Astradyne
Such was the shock of the new with regards to the fresh line-up and the invigorated sound that came with those changes, many Ultravox devotees of the John Foxx era were vocal about the group's more mainstream direction, some even branding them 'sell-outs'. Ultravox addressed their critics head on with the album's opening track, delivering a sprawling, experimental instrumental number which clocked in at more than seven minutes.
Making use of the state-of-the-art kit they'd bought with the proceeds of their session work for other artists, the track uses a Roland CR-78 drum machine, Yamaha CP70, Yamaha SS30 string machine, Yamaha CS8Q and a Minimoog. Originally titled Ad Astra (To The Stars), the name was changed during recording to Astradyne, a combination of the Royal Air Force's Latin motto, 'Per Ardua Ad Astra' (Through Adversity To The Stars) and an aerospace company called Rocketdyne.
New Europeans
Having settled into a way of working which consisted of creating a piece of music first, then writing the lyrics depending on the emotions and moods that the melody evoked, New Europeans was an anomaly in the Ultravox discography as it's one of the few tracks that had a title first. They already had the phrase, they just needed a song. In Japan, New Europeans was released as a single after it was featured in a whisky ad, becoming a sizeable hit there.
Private Lives
With an ill-judged working title of Hollywoodammerung, Warren Cann, who wrote the bulk of the lyrics on the album (Midge took over on subsequent LPs) swiftly changed it to Private Lives. John Foxx previously had a dominant role in the band and all of the members were inspired by the increased creative input they had after his departure. As they were reluctant to hand over complete control to Midge with him still being the new boy, Warren had the majority of input on the Vienna album.
Passing Strangers
Ultravox had favoured releasing Vienna as the second single from the album but Chrysalis refused to put out an unedited version as they felt it was too long to be played on the radio. When Midge and the boys resisted making any changes to it, the decision was made to release Passing Strangers in its place. The song failed to match or build on Sleepwalk's success despite being the band's first to be released with an accompanying video.
Sleepwalk
The first track recorded by the new-look Ultravox and one which, when recorded as a demo, earned them their record deal, Sleepwalk was released as the album's lead single in July 1980. Although it didn't come out as a 12″, it was released on a limited edition 7″ clear vinyl single, setting a tradition for future releases.
The B-side of the single was non-album track Waiting. Warren Cann said that the band recorded the album first, mixed it, then went back in the studio for further sessions to lay down tracks specifically for B-sides. Waiting has long been regarded as one of the band's best and remains a fan favourite. Sleepwalk was Ultravox's most successful single to date reaching No.29.
Mr X
Kraftwerk looms large over Mr X, a sparse analogue synth track with a robotic vocal. Subject to intense speculation from fans over the true identity of Mr X, the band have refuted claims that it's about John Foxx or David Bowie, the two candidates most often put forward. As a tribute to the German bands that inspired them, Ultravox recorded a Teutonic-style version of the track called Herr X, with producer Conny Plank and his wife Krista helping out Warren Cann with translating the lyrics and pronunciation. Herr X was included on the 12″ single of Vienna.
Western Promise
An electro-rock track with squelching synths and vocals almost veering into raps, the foundation of the song is its crashing live drums. In order to get the drum sound right, the band recorded it in the foyer of the studio complex, an area that was built from glass and marble and provided the perfect acoustics.
However, as it wasn't soundproofed, the police were called by nearby residents in London's St John's Wood when the quartet were recording during the night, earning them a cease and desist order. The following night they had to set up the drums and recording equipment in order to get a take of the drums before the police arrived once again.
Vienna
Ultravox's signature song and one of the definitive synth-pop singles, Vienna was inspired by a holiday romance, despite the group offering up more highbrow explanations when it was originally released to make them sound more interesting. The band had never been to Vienna and chose the destination as the song's title after a friend misheard the title of Fleetwood Mac's Rhiannon.
Billy Currie wanted to include some of his classical training in the band's music and was inspired by composers Greig and Elgar as well as German composer Max Reger and included a violin solo. Midge thought the song was sounding overblown and pretentious, telling producer Plank "this means nothing to me", a line which became the song's vocal hook.
Spending 14 weeks in the charts, including four at No.2, it was blocked by John Lennon's posthumous re-entries of Imagine and Woman as well as Joe Dolce's Shaddap You Face.
All Stood Still
The fourth and final single from the album, All Stood Still was the first Ultravox track to be remixed for release as a 12″ single. The band embraced the format as it gave them an outlet to release more music, often showcasing a more experimental side – in this case Alles Klar – another homage to their love of German music and Keep Talking.
As Vienna had given the band its commercial breakthrough, All Stood Still followed it into the Top 10, reaching No.8 in May 1981, sustaining steady sales of the album nine months after its release.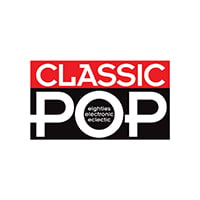 Classic Pop
Classic Pop magazine is the ultimate celebration of great pop and chart music across the decades with in-depth interviews with top artists, features, news and reviews. From pop to indie and new wave to electronic music – it's all here...