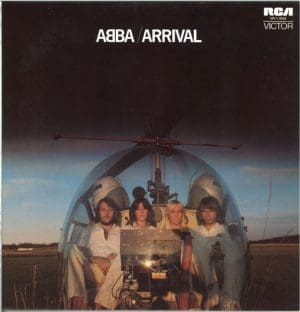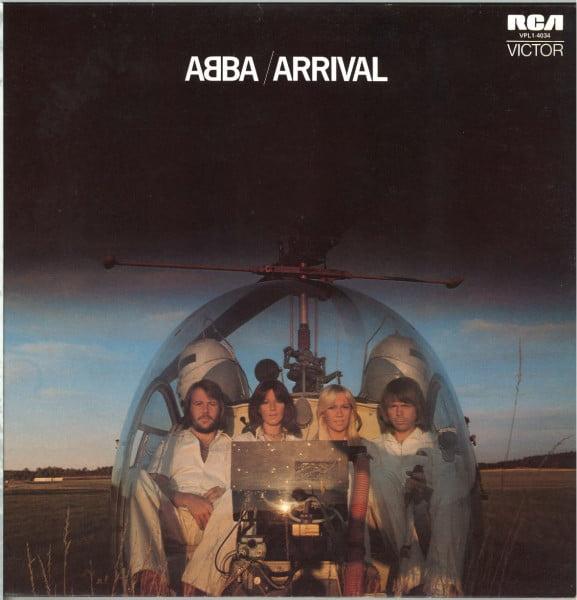 Transformed into a slick hit-making machine, ABBA: Arrival found the band at the peak of their powers across a landmark album that can be seen as a benchmark for great pop… By Mark Lindores
If ever an album cover embodied the record it contained, it is 1976's Arrival. Featuring the group posing confidently inside a helicopter in a Stockholm airfield, the shot captured ABBA, primed for lift-off, transcending them to the upper reaches of the pop echelon where their success proved limitless.
Almost a year in the making, Arrival was the point at which ABBA discarded the Eurovision, novelty pop tag and fashioned themselves into a sleek hit machine. Short on 60s-inspired schlager influences, they displayed a knack for churning out complex slices of pop perfection, taking elements of Philly Soul, Fats Domino and folk to create a more expansive sound that would become quintessential ABBA. 
Originally intended for release in the spring of 1976, ABBA had begun work on their fourth album in August 1975, when they had created a groove called Boogaloo, inspired by George McCrae's Rock Your Baby. 
However, the album was delayed by the runaway success of previous singles SOS and Mamma Mia, both of which had become huge hits for the group, forcing them to leave their creative hub on the island of Viggsö, where all of their material was crafted, to fulfil touring obligations throughout Europe and UK, the United States and Australia, where they were fast becoming one of the biggest names in pop. 
Their appearances in those countries proved an invaluable part of the ABBA success story, not only because of the huge sales their visits had generated but also because of the outside influences the group absorbed and incorporated into their music which only served to enrich their sound, marking Arrival as their first great album and one which still stands out as one of their best.
By the time the album was released in October 1976, the aforementioned Boogaloo had metamorphosed into Dancing Queen, a complete game-changer for them, which became a No. 1 hit around the world – including in their sought-after markets of the UK and the US (it was their only US No. 1 single).
It had originally been mooted for release in March 1976, but was postponed in favour of Fernando (a re-recorded version of a song which had appeared on Frida's solo album), as ABBA didn't want to follow-up Mamma Mia with another upbeat song. 
With ABBA's fame on the ascent and their eagerly anticipated fourth album now due out later than planned, ABBA released a Greatest Hits compilation to satiate fans with Fernando appearing on that compilation as opposed to their next studio LP, meaning Dancing Queen would now be the lead single.
40 years later, the song is still regarded as their greatest, though it faced stiff competition from other tracks on the album, singles or otherwise. A globe-conquering triumvirate of hit singles which was completed by Knowing Me, Knowing You and Money, Money, Money ensured that Arrival became the pop juggernaut which would establish ABBA as an international success story, though Dancing Queen's gargantuan success overshadowed some of Arrival's other highlights.
Money, Money, Money, a Cabaret-inspired number in which Frida laments her busy work life and lack of finance and longing for a rich man to help her out was released as the second single, though it failed to top the charts in the UK due to the prolonged success of Dancing Queen.
Like many of the songs on Arrival, the lengthy gestation period between its early recording sessions and eventual release, Money, Money, Money took on various styles and titles before arriving in its finished version. The song started out as Been And Gone And Done It, before evolving into Gypsy Girl and then Money,
Money, Money. 
Completing Arrival's trilogy of hits is Knowing Me, Knowing You, an even stronger track than Dancing Queen, and the first of ABBA's bitter break-up songs. Comparing a shattered relationship with the haunting memories contained in an empty house, Knowing Me, Knowing You proved that ABBA were well on their way to mastering the art of masquerading bitter, painful lyrics as irresistible pop hooks.
Singles aside, Arrival is packed with many of ABBA's lost gems, songs of such a high calibre that they could easily have become hits in their own right, such as the joyful exuberance of When I Kissed The Teacher, which kicks off the album, a euphoric song underpinned with a playfully innocent lyric about a schoolgirl with a crush on her tutor; the rocking Tiger, which talks of the dangers of being in a city at night and the predatory quest to snare the object of one's desires; the positively uplifting disco-infused That's Me (Agnetha's personal favourite from the album) and the bluesy swagger of the Fats Domino-inspired Why Did It Have To Be Me.
Elsewhere, My Love, My Life, which boasts a heart-wrenching turn from Agnetha bathed in a chorus of backing vocals inspired by 10CC's I'm Not In Love, is one of their greatest ballads and set a precedent for her ability to portray heartbreak and vulnerability, something which would continue throughout their career to great effect – particularly in the later years, when such songs would convey the breakdown of ABBA, both personally and professionally.
One of the final tracks recorded for the LP due to so many songs featuring lead vocals from Frida, the song began life as Monsieur, Monsieur, a more uptempo track, before being restructured as My Love, My Life.
One track which has been unfairly singled out by critics over the years as a lowpoint on the album is Dum Dum Diddle. Much maligned by fans and even by the band themselves, it is nonetheless a catchy slice of Europop, much in the vein of Mamma Mia, with the track's only real letdown being its bizarre lyrical subject matter and title. 
Björn has spoken of how the song is one of his least favourites from the ABBA canon and has admitted that the tale of a dejected woman's jealousy of her lover's violin and the attention he pays it was the result of a frantic 5am rush-job writing session on the day of recording. 
The only real misstep on Arrival comes with the closing track, a folky instrumental, which was later covered by, and was a hit for, Mike Oldfield. Aside from giving the album its title, the song doesn't really add anything to the record at all. 
A much better decision would have been to include Fernando instead, thus completing an almost perfect pop album, something the band realised with the Australian and New Zealand pressings of the album and have since rectified on Arrival's subsequent reissues and Deluxe editions. 
Very much a transitional record for the band at the time, Arrival was ABBA aiming for the big time. As well as the iconic helicopter image on the cover, Arrival saw the debut of the ABBA logo, with the back-to-front B.
It had originally come about by mistake, after the band were holding up cards for a magazine photoshoot and Benny held up his B card backwards. Designer Rune Söderqvist liked how it looked and suggested that the idea of the A and B facing each other reflected the two couples in the group. From then on, it was used as their official band logo.  
An hour-long TV Special, ABBA-DABBA-Dooo!!, was filmed during the recording of the album and granted the cameras access to their recording sessions. It contained interviews with the group, alongside one-off performances of all of the songs from the album (with the exceptions of That's Me and Arrival), and was broadcast around the world on 5 November 1976, a month after the album's release. 
The album was an instant sensation, both critically and commercially, garnering rave reviews for ABBA's upgraded sound and reached No. 1 in 12 countries including the UK, where its success continued long into 1977 and went on to become the biggest-selling album of the year. 
With ABBAmania in full swing, it was decided that the fairest method for fans to buy tickets for their two UK concerts at London's Royal Albert Hall was to allocate them by a postal ballot. A total of 3.5 million applications were made for tickets, more than proving their soaring popularity.
Four decades after its release, Arrival is rightly regarded as one of ABBA's greatest achievements – capturing the joyful sound of a band at their absolute zenith, while Dancing Queen has become an entity of its own and is often held up as a benchmark by which great pop music is measured. 
This was the album on which ABBA truly arrived in the pop firmament and proved that they were here to stay.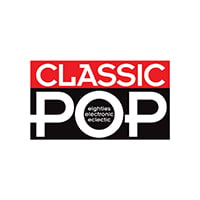 Classic Pop
Classic Pop magazine is the ultimate celebration of great pop and chart music across the decades with in-depth interviews with top artists, features, news and reviews. From pop to indie and new wave to electronic music – it's all here...