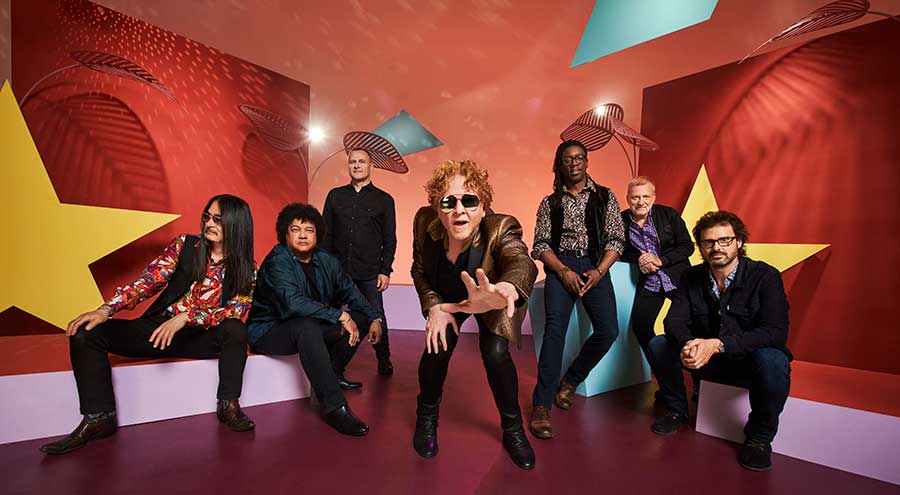 Simply Red emerged from the post-punk scene in Manchester to become a Brit pop-soul sensation, clocking up No.1 singles on both sides of the Atlantic, winning multiple Brit and Grammy Awards and shifting more than 55 million units worldwide. By David Burke, Wyndham Wallace and Jon O'Brien
Before Simply Red came The Frantic Elevators, fronted by a flame-haired Mancunian with the sort of powerhouse voice the post-punk milieu couldn't contain. After seven years paying his dues in a band that never transcended their local fanbase, Mick Hucknall shifted direction in 1984, forming Simply Red – the name referencing his avowed love of Manchester United, allegiance to socialism and, of course, those red tresses.
Within a year, they had reached the Top 20 at home, and pitched up in the US Top 30, with a version of The Valentine Brothers' Money's Too Tight (To Mention), while their debut album, Picture Book, achieved platinum status.
But it was a reissued single, penned by Hucknall in his bedroom, that sent Simply Red's star shooting into the stratosphere. Holding Back The Years gave them the first of two American chart-toppers, while it was only kept off the No.1 spot in Britain by Doctor And The Medics' Spirit In The Sky.
Simply Red's second album, Men And Women, spawned a handful of minor hits, among them The Right Thing and Cole Porter's classic Ev'ry Time We Say Goodbye, before 1989's A New Flame gave the group their second pole position Stateside with If You Don't Know Me By Now, a 1972 success for Harold Melvin & The Blue Notes.
1991 would bring what is generally considered the group's best long-player, the sublime Stars. In fact, it tickled the nation's cultural sweet spot so much that became the best-selling album of the year in the UK for both 1991 and 1992.
Despite Stars' success, they had to wait until 1995 before securing their sole UK No.1 single, Fairground, which sampled The Goodmen's 1992 dance track, Give It Up.
Simply Red had gone through numerous line-up changes by the time keyboard player Fritz McIntyre departed after the release of the Life album – which left Hucknall the only surviving member of the original outfit.
Subsequently, although he continued to record and tour under the Simply Red moniker, Hucknall was essentially a solo artist flanked by a moveable feast of session musicians.
There were sporadic chart appearances in the following years, before Mick called time on Simply Red in 2010 – though it came as no surprise when 'they' returned in 2015 with the album, Big Love and again in 2019 with the No.6-charting album, Blue-Eyed Soul.
Their latest album, Time, was released in 2023.
The must-have albums
PICTURE BOOK, 1985
Yes, Picture Book is the sound of Simply Red trying to nail down their musical identity, as pop and soul vie with jazz and even rock influences, but somehow it works despite the variable quality of original material and because of a couple of astute cover choices.
The tour-de-force here remains their biggest selling single, Holding Back The Years, No.1 in the States and No.2 in Blighty.
Not that The Village Voice's resident critic, Robert Christgau, thought so – he claimed there were essentially "only two songs on the album", The Valentine Brothers' Money's Too Tight (To Mention) and Talking Heads' Heaven.
Melody Maker was kinder, suggesting that if you "forget the soul stuff, you've got one of the best debuts of the year".
MEN AND WOMEN, 1987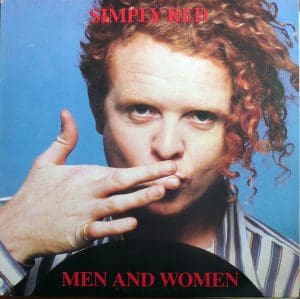 Hucknall and company finally 'fessed up to being blue-eyed soul acolytes on their second album – and one of the architects of Motown soul, Lamont Dozier, was impressed enough to throw his not-inconsiderable compositional weight behind two of the tracks, Infidelity and Suffer.
The former, released as a single, faltered at No.31 in the UK. Men And Women's opener, The Right Thing, and a singular rendering of Cole Porter's standard, Ev'ry Time We Say Goodbye, fared better, though neither could penetrate the Top 10.
There is a confident awareness here of what Simply Red are about and how deep they want to go, not least in Hucknall's performances, which mark him out already as a voice to be reckoned with.
A NEW FLAME, 1989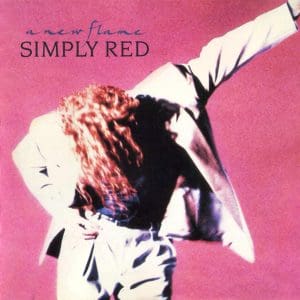 The great Lamont Dozier was back on board for A New Flame – Simply Red's first UK No.1 album – again co-writing a brace of songs with Hucknall, the single You've Got It (which made No. 46) and Turn It Up.
But it's another throwback that defines this collection, as Harold Melvin & The Blue Notes' If You Don't Know Me By Now is faithfully renewed and, like Holding Back The Years, taken to the top of the Billboard listings in the US.
Elsewhere, Hucknall gets funked-up on a stonking version of Barry White's It's Only Love, mellows out on Love Lays Its Tune, does a decent reggae turn on More (he had covered Bunny Wailer's Love Fire on Men And Women) and seamlessly eases into jazz terrain on Enough.
STARS, 1991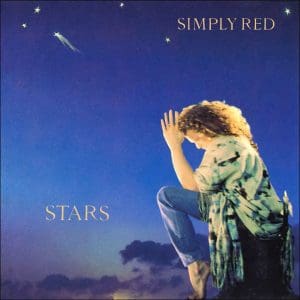 Simply Red's fourth long-player – which registered a remarkable 12 times platinum in the UK, where it outsold everything else in 1991 and 1992, became a Mercury Music Prize nominee and appeared at No.80 on Q magazine's 100 Greatest British Albums Ever – was the first of wholly original material.
Recorded in Venice, it includes the irresistible mover, Something Got Me Started, and the Tory-baiting Wonderland, described by Hucknall as "probably the most political song I've written."
Panned by the NME, it was more warmly received by both The Guardian and The Independent, with the latter lauding the group for "the spark of honesty" that places them "above the superficial, insincere protestations of love that dominate modern soul music."
And the rest…
LIFE, 1995
Nine years after scaling the zenith of the American singles chart with Holding Back The Years, Simply Red finally scored their only British No.1 with Fairground, the success of which took Life to the same position in the albums chart.
There's little else to match Fairground's exuberant invention – much of the album promises more than it delivers. Perhaps the problem lay in Hucknall's insistence that he wanted to compile a set "strong enough to be able to sing without music". Consequently, several of the songs seem unevolved.
The Astral Weeks soundalike So Beautiful are exceptions. But not even the presence of Sly & Robbie, Hugh Masekela and Bootsy Collins can raise Life from its torpor.
BLUE, 1998
With keyboardist Fritz McIntyre having departed after Life, Hucknall found himself the sole survivor of the band that emerged after The Frantic Elevators. Blue was a solo release in all but name, Mick being sussed enough to know that the name Simply Red still possessed a certain cachet.
Kudos to the production team of Andy Wright and Gota Yashiki for helping the singer to realise his concept for the album. They drafted in some stellar guests, among them Robbie Shakespeare, Alan Clark of Dire Straits and Paul Carrack (ex-Ace and Squeeze alumnus).
Of the quartet of covers on Life, Albert Hammond's The Air That I Breathe and Gregory Isaac's Night Nurse are the pick.
HOME, 2003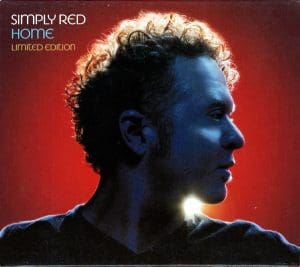 "Home is a place where I yearn to belong," sings Hucknall on the title track. Given that he ducked between domiciles in Milan and Paris at the time, he probably wasn't referring to Manchester. But then again…
The debut release on his own label, Home finds him reconnecting with the pop/soul crossover formula that enabled Simply Red's early success.
The choice of covers is, as always, an interesting one, not least Bob Dylan's Positively 4th Street, a caustic kiss-off to a former friend or lover – the Nobel Laureate's 1964 recording was never this soulful. However, Hucknall's chops strain to hit the high notes on The Stylistics' You Make Me Feel Brand New.
BIG LOVE, 2015
Back after a five-year hiatus, Simply Red's 11th album saw them return to East West Records for their first album in eight years.
Hucknall enthused that he was "comfortable with the notion of us as a blue-eyed soul group". Simply Red, he declared as if the thought had just occurred to him, were unique, too, in the way they "pulled so many musical strands together".
Most are evident on Big Love, a collection that deals with grown-up stuff – birth, love, death and everything in-between.
The Guardian praised the "smooth and sentimental" ambience, while The Daily Telegraph reckoned Hucknall had got his mojo back, "with added sincerity".
BLUE EYED SOUL, 2019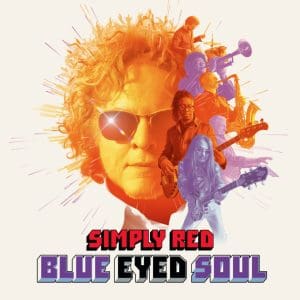 From the moment Simply Red's 12th album opens, with staccato horns blaring and "Baby" hollered as if by an overexcited James Brown, it's clear Mick Hucknall's not messing around with its title. "Bam!" Thinking Of You announces, and, from that point on, he dives deep into the kind of vintage soul that first inspired him. Adopting admittedly well-worn templates, as the stomping blues-funk of BadBootz confirms, his voice is on tremendous, if sometimes throaty form, growling the lower notes and rocketing towards the high ones.
He is, however, at his best on more restrained numbers, including Sweet Child, whose subtle strings and guitar flourishes are consequently more affecting, and Complete Love, whose unabashedly sentimental ode to "sweet love" plonks itself in Otis Redding territory, then refuses to budge. Love – or lust – are, however, still not enough to excuse a few lyrical clunkers. When, on Ring That Bell, he exhorts us to "play the ding dong hard/ Play your ding dong smart", it's hard not to laugh. Perhaps that's why he spends the last moments of this call-and-response crowd-pleaser seemingly clearing his throat. Bell-ringing can be messy.
That said, such songs demand not just simple directives but sometimes also simple innuendo, and when the heart is singing, perhaps words don't matter. Take A Good Look's vague questions – "Are you happy with what you see?/ Have you become all that you wanted to be?" – are lost amid its functional soul, and though Riding On A Train places him "grooving in the rain" it's slinky enough to work up a head of steam. He may threaten to "love you/ Like I never have loved you before" – though only for Tonight, apparently – but he's unsparing with syrupy strings, his demand that his partner "marry me now" provoking a muttered, sultry "I do". His pillow talk is clearly persuasive. 
TIME, 2023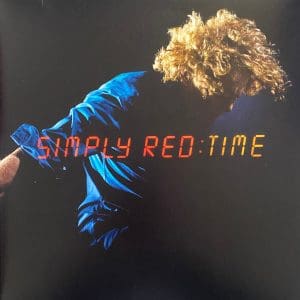 After channelling Burt Bacharach and various soul greats on his previous two LPs, Mick Hucknall attempts to rediscover his own voice on Simply Red's 13th.
That voice has certainly got a little hoarser, but Manchester's blue-eyed finest still has plenty to say, whether waxing lyrical about domestic bliss on euphoric lead single Better With You or getting political on Too Long At The Fair. While lines such as "It seems democracy is suffering a major shakedown" are unlikely to give Billy Bragg sleepless nights, you can't fault the sense of ambition.
Indeed, Time is far from your average Simply Red affair, essentially traversing through the last century of pop. Slapbang is a rollicking harmonica-driven number, which evokes the classic blues of Leadbelly. Originally for Cyndi Lauper, the finger-clicking barroom jazz of Butterflies and Unchained Melody-aping ballad Never Be Gone allow Hucknall to play the crooner, while Just Like You resembles the theme to a 70s blaxploitation film. Best of all is Shades 22, a leftfield turn into Massive Attack-esque trip-hop.
Fans expecting a return to the sound of Simply Red's imperial phase should be placated by Let Your Hair Down and It Wouldn't Be Me. But, this is a record which, sometimes for better, sometimes for worse, appears determined to fit into the genre-hopping mindset of the streaming age. 
The essential singles
MONEY'S TOO TIGHT (TO MENTION), 1985
The devastating effects of the widening income gap on America's poorest during Ronald Reagan's White House incumbency, was the impetus for The Valentine Brothers' Money's Too Tight (To Mention), a Top 10 hit Stateside in 1982 – a perfect fit for committed socialist Mick Hucknall as Simply Red's debut single.
References to "the old man that's over the hill" and societal indifference to the plight of the needy ("Brother, I'd like to help you, but I'm unable to"), resonated at home in the time of Thatcher. The anger in Hucknall's delivery is palpable.
HOLDING BACK THE YEARS, 1986
Hucknall penned Simply Red's greatest song, bar none, when he was a teenager in 1978.
"The song is credited to me and Neil Moss, the guitarist in The Frantic Elevators and my oldest friend," he recalled. "Neil didn't write it, but we wrote so many songs together that I gave him a credit to remember the great times we had."
After it became a hit, Hucknall's estranged mum tracked him down – but it was a short-lived reunion.
"My seeing her was making my dad unhappy. I realised that there was no future in it."
IF YOU DON'T KNOW ME BY NOW, 1989
As a 13-year-old, Hucknall would shake his booty to Philly soul outfit Harold Melvin & The Blue Notes, for whom If You Don't Know Me By Now (written by Kenny Gamble and Leon Huff) reached No.3 on the US Billboard Hot 100 in 1972.
Simply Red took it to No.1 – their second pole position Stateside after Holding Back The Years – and won a Grammy Award for Best R&B Song of 1989.
Producer Stewart Levine eschewed excessive orchestration on the track, plumping instead for a gorgeous two-part harmony.
SOMETHING GOT ME STARTED, 1991
Another finely-crafted groove from Simply Red, Something Got Me Started was the first single from the Stars album, peaking at No.11 in the UK and No.23 in the US.
Hucknall's vocal may be less impassioned than much of the group's oeuvre, but this discerning less-is-more approach infuses the track with immersive depth.
It was re-recorded with equally impressive results for 2005's Simplified, on which Hucknall revisited and reworked older material, although it failed to make a dent on the charts again in its new form.
STARS, 1991
The title track of Simply Red's 1991 album, the story goes that Stars was inspired by the concept of the European Community – which presumably means that Hucknall was rooting for Remain in that momentous 2016 referendum.
Indeed rumour has it that the Europhile frontman is so enamoured with the continental collective, the EC star symbol is tattooed on his arm.
It breached the British Top 10, reaching No.8, and unsurprisingly, was favourably received by our European allies. America was less enthused though – it failed to break the Top 40.
FAIRGROUND, 1995
Simply Red's only UK chart-topper, Fairground lifts the samba percussion from The Goodmen's Give It Up, with Hucknall even alluding to them on the lyric, "Let's make amends, like all good men should".
The propulsive rhythm made it a club favourite, arguably introducing the group to a younger, hipper audience on the dancefloor. NME listed it at No.47 on its 50 Bestselling Tracks of the 90s, describing Fairground as "a mid-tempo ballad that sounds like an on-the-money dance track".
Only for the brave…
LOVE AND THE RUSSIAN WINTER
1999
You get the feeling that Simply Red's seventh album – a soulless, predominantly computer-generated entity – was Mick Hucknall doing the honourable thing and fulfilling the terms of the contact with East West Records before jumping ship.
Did you know…?
Mick Hucknall was raised by his dad from the age of three after his mum left the family home. "Being abandoned by my mother gives me a sense of insecurity that I will never recover from," he said.

Hucknall is close friends with legendary former Manchester United manager Sir Alex Ferguson. According to Hucknall, "We had a lot in common – we're both working class boys with an interest in the labour movement. We'd bettered ourselves and come out of a certain amount of poverty".

In 1993, Hucknall, together with Simply Red's manager, Elliot Rashman, formed Blood And Fire Records, to reissue roots reggae, dub and DJ albums. The label also had a sound system, featuring old-school Jamaican artists such as Dillinger, Horace Andy and U-Roy. It ceased trading in 2007.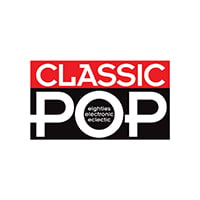 Classic Pop
Classic Pop magazine is the ultimate celebration of great pop and chart music across the decades with in-depth interviews with top artists, features, news and reviews. From pop to indie and new wave to electronic music – it's all here...