Squeeze – the stories behind the songs
By John Earls | July 21, 2022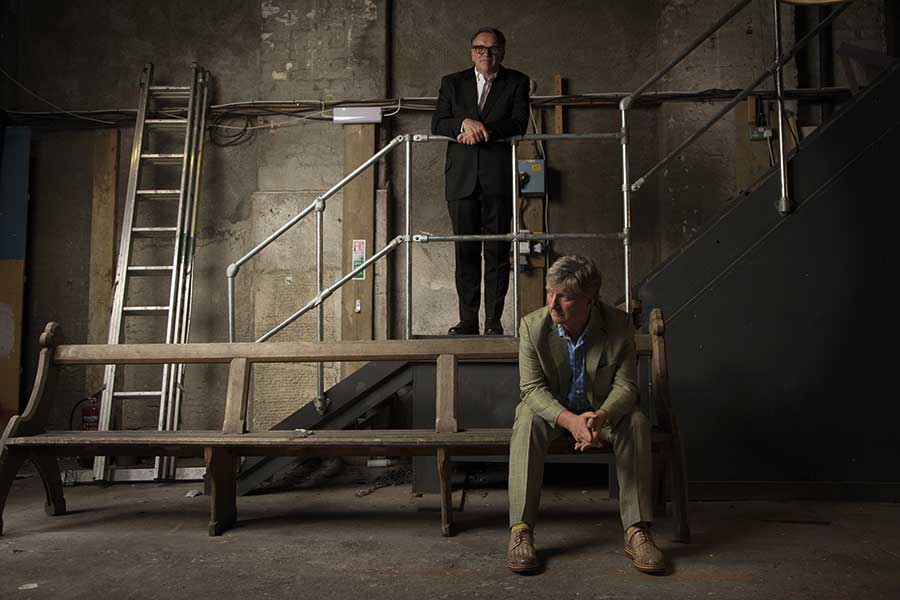 In 2019, we spoke to Squeeze songwriters Chris Difford and Glenn Tilbrook as they revealed the stories behind some of the band's mightiest songs…
"Glenn and I have a complicated relationship – I think that's why our songs are so brilliant," says Chris Difford, summing up his and Glenn Tilbrook's partnership that's lasted for 46 years, with the occasional gap, since Glenn was the only person to answer Chris' advert in a South London newsagent's window looking for band members. 
Over the course of two lengthy phone calls with the pair – Chris at his home in rural Sussex, Glenn from his studio on an industrial estate in Charlton – Chris seems right about those complications. Glenn is roughly as you'd expect from Squeeze's songs: jovial, talking in a good-natured stream of consciousness, affectionately teasing his songwriting partner while also making clear both his frustrations and admiration. Chris, as befits a lyricist, chooses his words with care, his conversation more intense and serious than Squeeze's melody writer.
Chris: "Glenn and I have got divorced three or four times, but we've never figured out who'd get to keep what from our record collections. It's been a difficult coming and going with him. Ultimately, there's an underlying current of admiration – from my end, at least – for Glenn as a writer and performer. That will always last. The way Glenn and I weave in and out of our lives, it's a love story."
Glenn: "I do love Chris. I'd agree with him that our relationship is a love story."
Both make it clear their mutual respect doesn't extend into a friendship. Having released two albums since reforming in 2007, they also seem united that Squeeze's future songwriting plans are unlikely to be extensive.
Glenn: "Chris and I exist in degrees of light and dark. What we have isn't a friendship, it's a partnership. There's some sort of love in there somewhere, but it's a love with next to no contact."
Does that complication make for great songs?
"No. Our best songs are written when there's heart and engagement. When Chris has that, it's brilliant. When Chris is on form, he's so funny. There's no one to top him."
Chris: "We were never in each other's pockets like some friends are. I couldn't go for a curry with Glenn and laugh about old times. That's maybe because there's been a rumble of competitiveness between us through the years. There have been things unspoken, and some have unravelled. With Jools [Holland, ex-Squeeze keyboardist] and Gilson [Lavis, former Squeeze drummer], possibly because I don't see them as much, I can plonk myself straight back down and feel they're the same person. Glenn and I can't do that." 
TAKE ME I'M YOURS

 
(FROM SQUEEZE, 1978)
Squeeze's first hit, Take Me I'm Yours reached No.19 five years after Glenn and Chris met. The accompanying self-titled album was produced by The Velvet Underground's John Cale.
Glenn: "When I met Chris, his amazing lyrics put into sharp relief the fact that my lyrics weren't so good. It was easy for me to give up writing lyrics, because my tunes were good and I understood what Chris was writing about and the way his lyrics worked."
Chris: "I'm so lucky to have met Glenn and enjoyed those fertile years of songwriting. You only get one punch at that in your life."
Glenn: "The way we write was instantly natural: Chris would leave some lyrics for me, I'd write a tune for them. I soon found out not many people write that way round, but I can't imagine why."
Chris: "I learned very early on not to second-guess what Glenn would do with my lyrics. He's very clever at writing amazing songs, and I trust him. I don't question what he does." 
Glenn: "Take Me I'm Yours has a funny history. We first recorded it 18 months before we got a record deal, when RCA funded us to record four songs in 1976. Take Me I'm Yours was one of them, but they dropped us before releasing anything. When we did our first album, John Cale left before we had enough songs recorded for a full album, so we thought, 'OK, let's go back to Take Me I'm Yours.' It still works, I still love playing it. It's Chris' fantastic imagery."
Chris: "Even today, Take Me I'm Yours stands up. John Cale didn't do anything on that one, but he was definitely an influence on us. He made us test ourselves as young men."
COOL FOR CATS

 
(FROM COOL FOR CATS, 1979)
Squeeze's first Top 10 hit, Cool For Cats reached No.2, kept from the top by Art Garfunkel's Bright Eyes.
Glenn: "We'd already written a song called Cool For Cats that I sang, with the same backing track. It was OK, but then Chris said: 'Look, I've got an idea, let me take the backing track home.'"
Chris: "I was watching Benny Hill on telly, trying to find some inspiration. [Satirical songwriter] Jake Thackray was on and it struck me that Jake had a lyrical meter you could plan your day on, because it was so obvious. I tried writing something like that on Cool For Cats."
Glenn: "When Chris came in the next day and sang the Cool For Cats we know, it was a really special moment. It felt like we'd nailed something. It was more like the zeitgeist, though we wouldn't have used that word then."
Chris: "A review in Sounds said Cool For Cats was sexist, and they were probably quite right. I was observing the behaviour in my local pubs, and that's what it was like then. I was reflecting what I saw, but I didn't necessarily agree with it. On our next but one album East Side Story, Woman's World tried to explain how I felt about women compared to how people imagined from Cool For Cats."
UP THE JUNCTION

 
(FROM COOL FOR CATS, 1979)
It's justly lauded, but Up The Junction is a strange song in many ways: it doesn't have a chorus, and Glenn doesn't sing its title until the final line. Squeeze's other No.2 hit, it was denied the top spot by Tubeway Army's Are 'Friends' Electric?.
Chris: "I didn't think about its structure at the time, it was one of those songs that just happened. The big songs simply fall out of the sky and you don't question it. Then you spend the rest of your life waiting for the next one to fall out."
Glenn: "With a lyric that vivid, my job was to come up with a tune that was nice but not obtrusive, so the lyric could take centre stage. I came up with the tune in a lunch hour while we were recording. Our record label, A&M, turned Up The Junction down at first. To his credit, A&M's MD Derek Green said it needed a hook at the beginning. Jools' keyboards weren't there at first, and now you can't imagine the song without them. So hats off to Derek."
Chris: "I revisited the song's characters in A Moving Story on Domino 20 years later. That was a feeble attempt to update their story, an idea that fell flat. The lyric isn't that bad, but I didn't think it through. I'd do a better job of it now."
STRANGER THAN THE STRANGER ON THE SHORE

 
(FROM SWEETS FROM A STRANGER, 1982)
Chosen because we wanted to discuss why some songs just don't work, this attack on the music industry was on Squeeze's final album before they split for three years.
Chris: "Oh God! This was written at the time when I no longer knew what a song was. I was drifting, and you can tell that from the lyrics. Musically, the song is nothing either. I've got nothing to say about that song."
Glenn: "Er… Ha! What to say? Sometimes, things I wrote weren't suitable for the band. I didn't altogether realise how to play to Squeeze's strengths then. Plenty of my demos attest to my love of dance music, but there's a big part of Squeeze – mainly Chris – that's against dance music. You can't force a band to be something they don't want to be. Points Of View, on the same album, is a much more successful alternative version of dance music. Being in a band was all I'd ever wanted to do, and it became everything pretty quickly. We lasted five years, and it was amazing. But where we were as people at the end of it, I'm not sure."
HOURGLASS
(FROM BABYLON AND ON, 1987)
Squeeze's first Top 20 hit since Labelled With Love six years earlier, Hourglass could have turned out a lot differently.
Chris: "Hourglass was the first time Glenn and I tried writing in the same room. There was a lot of cheese on toast and cups of coffee. It was shy and standoffish. Even now, when we co-write in the same house, we're usually in adjacent rooms with the door open. It doesn't have to be like that, but we've come so far down the track it'd be hard to change our personalities. We're not quite as bad as The Everly Brothers for fighting, but we're also not exactly like Lennon & McCartney. We're somewhere in the middle."
Glenn: "Hourglass? No, we wrote that separately. We wrote some of Some Fantastic Place in the same room, when Chris had just come out of rehab. That was a new beginning for Chris and for the two of us. As often happens in our relationship, something takes a sharp left turn and off we go."
Chris: "Dance music was very big at the time, and I realised there was the potential to try some dance stuff. But Hourglass wouldn't have worked if we'd tried to make it more like Chic, because we're not that band. We're Squeeze. It's the same as whenever we've tried to play reggae, it makes me laugh. We do interpretations of other styles, but ultimately we are who we are."
Glenn: "As I say, there's a drift from Chris especially against that sort of dance thing in Squeeze. The chorus of Hourglass is nonsense, but the rhythm of it works – that song is all about the rhythmic delivery."
SOME FANTASTIC PLACE

 
(FROM SOME FANTASTIC PLACE, 1993)
Although it only reached No.73, glorious ballad Some Fantastic Place is many Squeeze fans' favourite song. It was written as a tribute to the band's friend Maxine Barker, who died of leukaemia aged just 36. Some Fantastic Place is also the title of Chris' acclaimed autobiography, published in 2017.
Glenn: "Because it was obviously about Maxine, there was a complete emotional connection. As complicated as it is, Some Fantastic Place came instantly. The inspiration was so magical, I almost didn't have to think about writing it at all. It's a wonderful song to do live."
Chris: "Some Fantastic Place was one of the easiest songs I've ever written, it just came gushing out. Squeeze don't play it too often, but I do a different version in my solo set which I really enjoy, especially if I'm playing in a church. I find that hugely emotional."
How did you come to name your book after the song?
"I went through various Squeeze song titles, and Some Fantastic Place sums my life up better than anything. From a spiritual point of view, it worked. Glenn has read the book, but I don't think he's enamoured with it. I've no idea why not, as I'm very open and honest about our relationship in it. But it was written for me, not Glenn."
Glenn: "Chris has his view and I have mine. It's a great title, the book is fine, but what I regret is that Chris didn't give me sufficient time to read it before publication. He probably has his own reasons for doing that, but it wasn't very courteous of him."
Would you write a book?
"That's going to happen, without a shadow of a doubt."
LOVE'S CRASHING WAVES
(FROM DIFFORD & TILBROOK, 1984) +
LETTING GO
(FROM PLAY, 1991) 
Time to let Chris and Glenn nominate their own favourite hidden gems from their catalogue…
Chris: "I'd love to see Love's Crashing Waves in the set. It was from a time when Glenn and I weren't getting on particularly well, but we were still able to write some fantastic songs – there was nothing to discuss. It'd be interesting to revisit this one."
Glenn: "When Squeeze started, most of my favourite songs happened to be chosen as singles. Towards the end of our second time around, that wasn't the case. It coincided with the struggle of 'Where do Squeeze fit in the marketplace?' conversations with the record label. One A&R said, 'Why do we need Squeeze when we've got Del Amitri?' That happens to every band. I knew we were done, but we carried on writing some really good stuff, and Letting Go is always a favourite."
STILL
(FROM GLENN TILBROOK AND THE FLUFFERS' PANDEMONIUM ENSUES, 2009) +
BATTERSEA BOYS
(FROM CHRIS DIFFORD'S THE LAST TEMPTATION OF CHRIS, 2008) 
Squeeze split after 1998's Domino. They went on to solo careers, and both still tour solo in conjunction with Squeeze. Chris also runs songwriting workshops, where musicians meet up to write songs together in a relaxed environment.
Glenn: "The most you can hope for in a band is that everyone keeps their eye on the ball, particularly me and Chris. By Domino, Chris wasn't really there. He was restricting how much time he'd be in the studio for. The writing was on the wall. Half of Domino is great, and half really is not."
Chris: "I went to a songwriting workshop in France and felt very at home there with other songwriters. I suddenly felt I could write out of the box of Squeeze, and it dawned on me it'd be great to do something like that in the UK."
Glenn: "The biggest influence on my own lyrics has always been Chris. It still is."
Chris: "Glenn has become a very competent lyricist. But my solo career hasn't affected how I make records. When he makes records, Glenn gets very involved in production – he's great at it. And I'm not someone who gets excited at spending time in the studio, I find it claustrophobic. If it's spontaneous, it's fun."
Glenn: "Classic Pop readers can probably name 10 songs about enduring love that gets refreshed, but I can't think of any. Still is about my missus, and I'm very proud of that song."
Chris: "I did a songwriting workshop in a Tunbridge Wells hospice, spending a fortnight bringing to life stories these people in various stages of leaving us wanted to tell. This guy, Jim, told me a story about his brother. I put it into a meter, which my friend Geoff Martyn put to music. Jim's brother came to one of my shows, which was like being in a Mike Leigh film – he was in a red velvet jacket, bow tie and a ruffled shirt. It was very moving."
HAPPY DAYS

 
(FROM CRADLE TO THE GRAVE, 2015)
Squeeze's first album of new material since reforming was the soundtrack to BBC2 comedy-drama Cradle To The Grave, based on Danny Baker's childhood memoir. First single Happy Days saw them back on daytime radio.
Glenn: "I was very reluctant to reform Squeeze, as I was happy with the direction my music was taking. We went back to basics, inspired by the care and attention Brian Wilson's band takes. I thought that, so long as we never slide into thinking, 'That's good enough', we'd be OK."
Chris: "The great thing about Cradle To The Grave was having a script and a timeframe to work to. There are no goalposts that keep moving, which mean the record doesn't get done. Writing for the first time for 15 years rejuvenated me and Glenn."
Glenn: "I try not to look at Chris' lyrics until I'm with a guitar and piano, ready to go. First impressions are often really important, and I want to have that moment where I can react immediately. That process is always exciting."
Chris: "I've never asked Glenn to rewrite a melody because it doesn't suit my lyrics. Or if I have, it's always fallen on deaf ears!"
Glenn: "The Knowledge, the album after Cradle To The Grave, is for my money the best record Squeeze have ever done. I felt Chris was slightly more engaged than he was with Cradle – it's a more personal record. I have more input on lyrics, but only on specific songs. I wrote most of Rough Ride's lyrics, but Chris picked up on the mood of what it's about and did a brilliant job on the chorus."
Want more from Classic Pop magazine? Get a free digital issue when you sign up to our newsletter!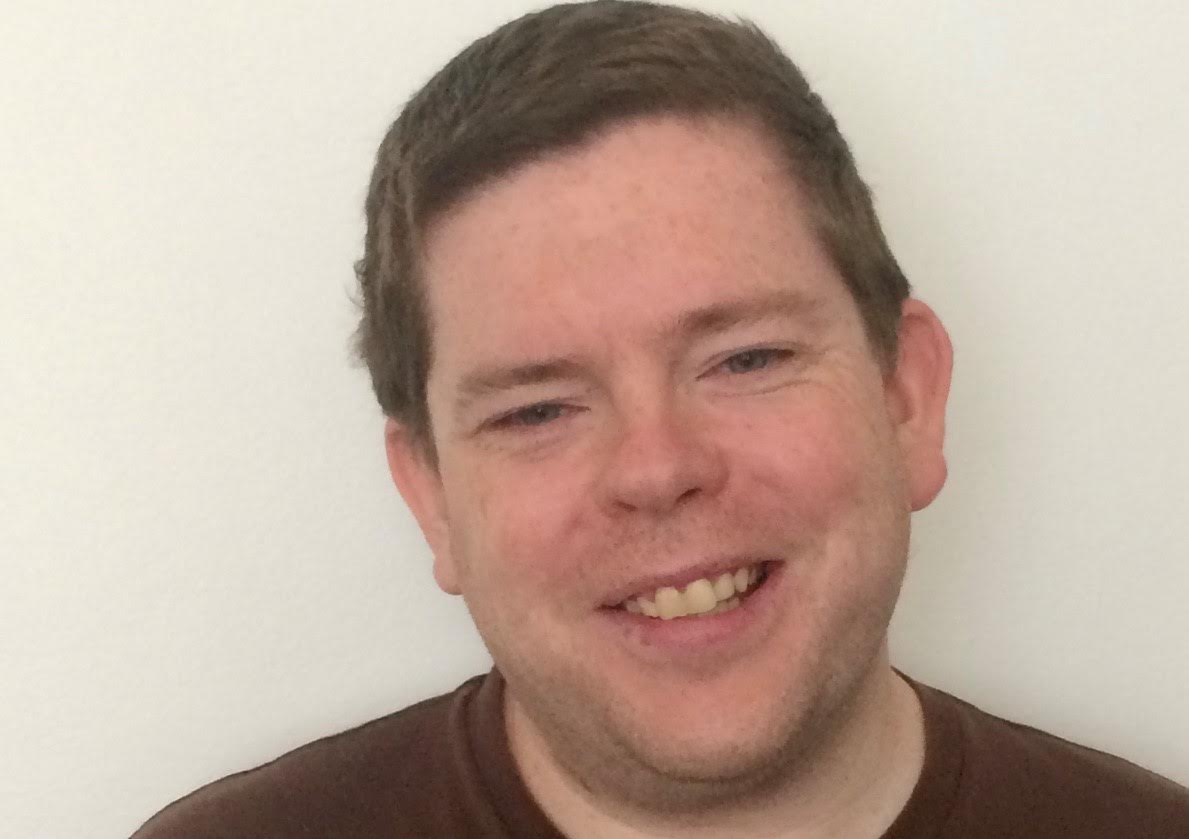 John Earls
Writing for Classic Pop since our first issue, John has been to Adam Ant's house, sworn at by Bob Geldof, touched Johnny Marr's favourite guitar, interviewed Richard Coles on his vicarage bed and serenaded with Last Christmas by Shirlie Kemp. John first specialised in writing about music as editor of Teletext's Planet Sound music column from 2000-09 and now writes about pop for a range of magazines and national newspapers. A Luton Town fan, John also writes about football. His bucket list interviews for the magazine are Grace Jones, Kylie, Siouxsie Sioux and Andrew Ridgeley.