ONLINE EXCLUSIVE: Peter Gabriel live at Utilita Arena, Birmingham, 17 June
By Classic Pop | June 20, 2023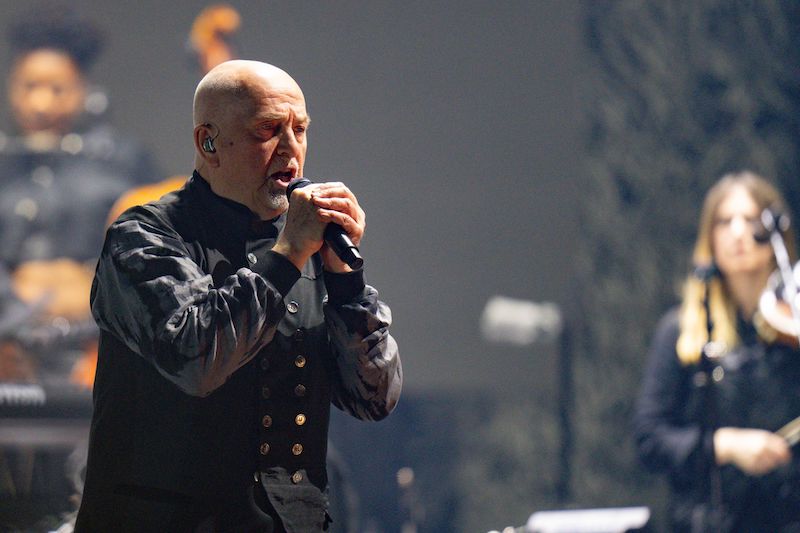 The legendary singer-songwriter returns with a set heavy on his first new material in 21 years. Risky? Not if you're Peter Gabriel… 
When it comes to filling arenas, any act with longevity understands that a sizeable percentage of their audience is usually there for the big hits. Those dropping in more than a couple of tracks from their new album do so usually at their peril, prompting an inevitable chunk of the audience to rush to the bar.
So kudos to Peter Gabriel, whose current tour sees the former Genesis frontman devoting a hefty 50 per cent of his set to songs from a yet-to-be-released i/o album project.
Sure, there have been some tasters – six tracks have been released online to date – but that's not much of a chance to really get to grips with LP i/o 's heady concept of technology, nature and connectivity. So it's no wonder there are plenty of puzzled frowns during the opening bars of a fair few tunes tonight: 'Do I know this one…?'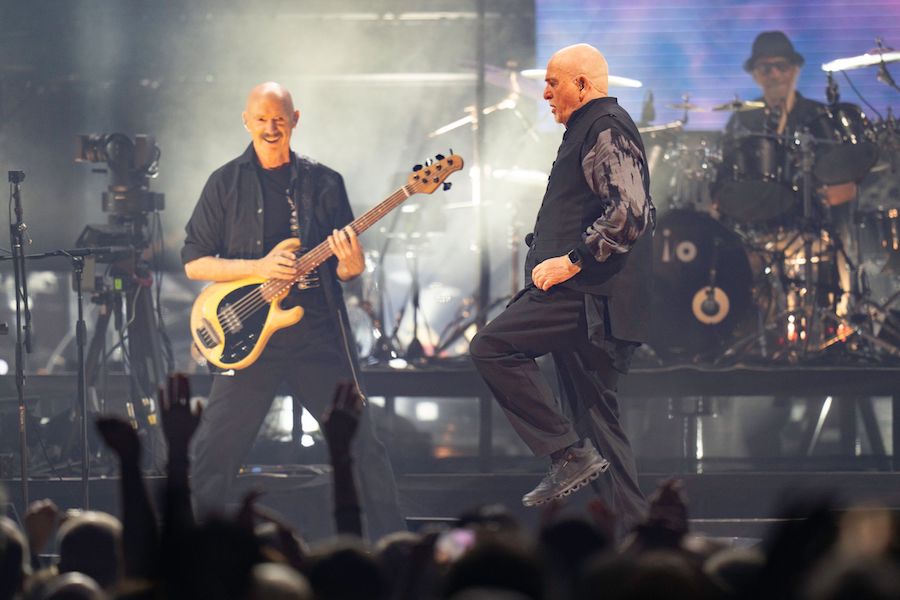 It all begins around a campfire and Washing Of The Water from 1992's Us, where a jovial Peter is slowly joined by his band, including core sidemen Tony Levin on bass, guitarist David Rhodes and percussionist Manu Katché.
Giving the songwriter a chance to introduce some of the key themes and ideas that underpin much of his material, he succeeds in creating a remarkable intimacy – something that's not easy to do in such a vast, cavernous, venue.
Though the first part of the evening is weighed towards enigmatic i/o material, there's still some familiar cuts from Up (Growing Up), Us (a rocking Digging In The Dirt) and, of course, So, whose crowd-pleasing Sledgehammer ensures the section concludes on a supreme high.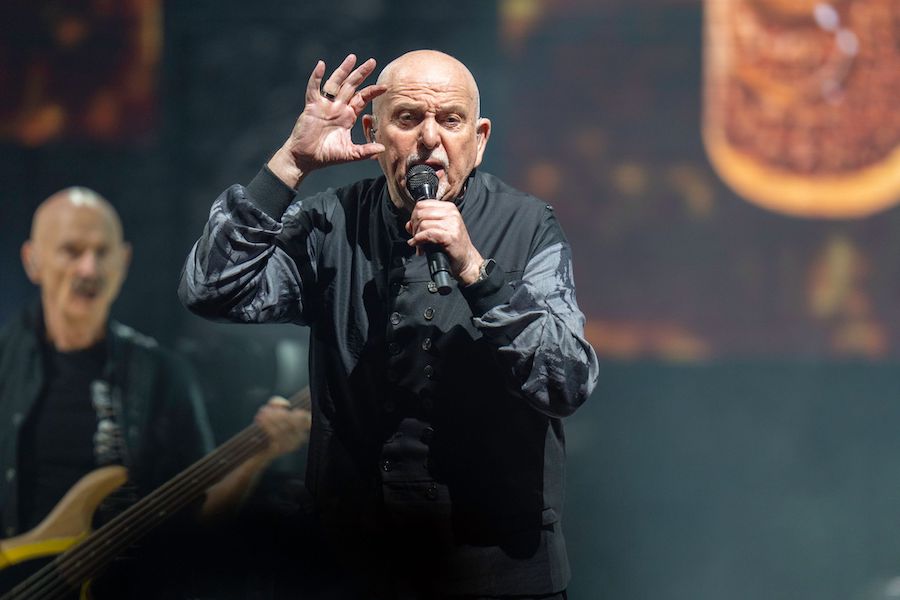 After the break, Part Two still rolls out five i/o newbies, yet feels more rounded, with extended duet Don't Give Up// (with Ayanna Witter-Johnson), Red Rain and Big Time, although it's the warm, summery and welcoming Solsbury Hill that prompts the biggest cheer of the evening.
Complementing the music throughout are a series of tasteful and varied projections created with such Tate Gallery favourites as Cornelia Parker, Ai Weiwei and Tim Shaw, while some subtly choreographed moments find Gabriel flanked between Levin and Rhodes for a group kick, and skipping across the stage. There's even time for a few jokes.
It all ends, though, on a more serious note and the pounding repetition of 1980 political opus Biko. The subject matter may now be history, but as Peter notes, the need for protest, vigilance, justice and strength ensure the song remains as relevant as ever.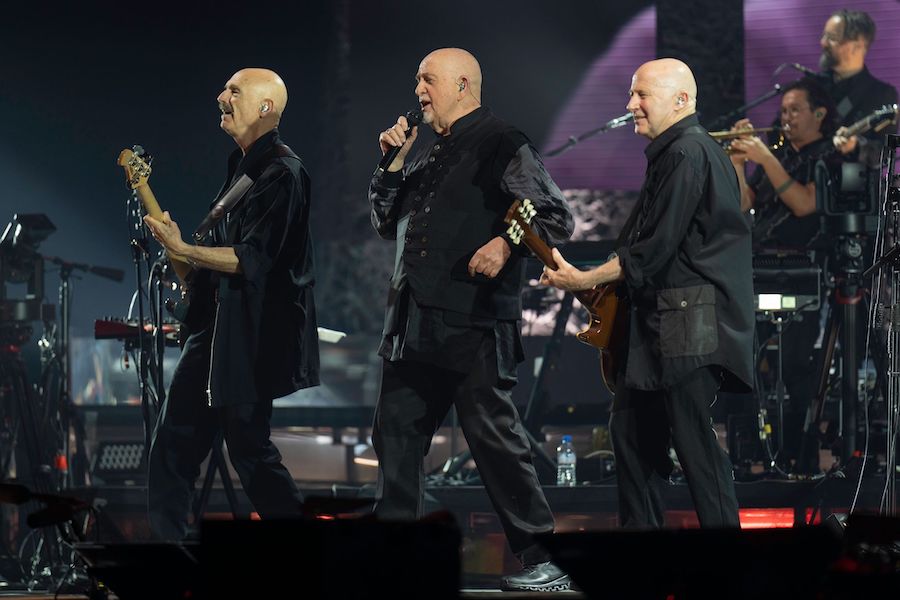 Though there was no sign of Games Without Frontiers, Shock The Monkey or some of his other absent biggies, it's hard to imagine anyone left the arena feeling short-changed. Despite their unfamiliarity, i/o  cuts such as The Court, Love Can Heal, and Road To Joy offered intriguing glimpses into i/o 's slowly expanding world. Beautifully layered, percussive and atmospheric, they did not disappoint.
If tonight's performance is anything to go by, when that much-anticipated 10th studio album does finally arrive in full, it's going to be worth the wait.  Dave Freak
★★★★
All photos copyright York Tillyer
SETLIST
PART 1:
Washing Of The Water
Growing Up
Panopticom
Four Kinds Of Horses
i/o
Digging In The Dirt
Playing For Time
Olive Tree
This Is Home
Sledgehammer
Part 2:
Darkness
Love Can Heal
Road To Joy
Don't Give Up
The Court
Red Rain
And Still
Big Time
Live And Let Live
Solsbury Hill
Encore 1:
In Your Eyes
Encore 2:
Biko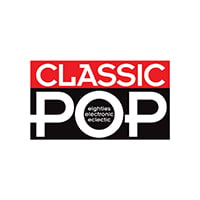 Classic Pop
Classic Pop magazine is the ultimate celebration of great pop and chart music across the decades with in-depth interviews with top artists, features, news and reviews. From pop to indie and new wave to electronic music – it's all here...