Erasure to Release Snow Globe: Limited Edition Deluxe Box Set
By Classic Pop | September 26, 2013
Erasure's new album, Snow Globe is out on 11th November, but we're being treated to a preview in the shape of a trailer created by Martin Meunier (whose credits include James & The Giant Peach and Coraline).
The album is being released not only on CD but as a Limited Edition Deluxe Christmas Box Set. The box set includes 3 CDs, an exclusive festive tree bauble, a desktop calendar, postcards and a Christmas card signed by Vince and Andy.
Snow Globe is a collection of original compositions and seasonal classics that will get you in the festive mood, produced by Erasure, Gareth Jones and Richard X. The first single from the album, 'Gaudete' is released on 16th December.
'I told Vince I wanted the music to sound like shards of ice or snowflakes falling,' says Andy. 'It sounds quite odd,' follows Vince. 'But always with us, melody is at the heart of everything.'
You can see the trailer for their new album here: www.youtube.com
Snow Globe Tracklisting:
Bells of Love (Isabelle's of Love)
Gaudete
Make It Wonderful
Sleep Quietly
Silent Night
Loving Man
The Christmas Song
Bleak Midwinter
Blood On The Snow
There'll Be No Tomorrow
Midnight Clear
White Christmas
Silver Bells
Deluxe Box Set:
CD1 – Snow Globe – The Album
CD2 – Exclusive Bonus Audio
Gaudete – A cappella
Stop The Cavalry – Acoustic
Silent Night – Instrumental
She Won't Be Home – Redux
Make It Wonderful – Acoustic
God Rest Ye Merry Gentlemen – Redux
White Christmas – Instrumental
Yes Virginia, There Is A Santa Claus
CD3 – Erasure – The Christmas Radio Show Live From Inside The Snow Globe
The new album, Snow Globe will be released on 11th November.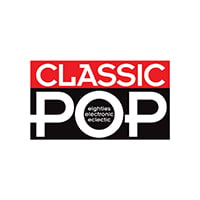 Classic Pop
Classic Pop magazine is the ultimate celebration of great pop and chart music across the decades with in-depth interviews with top artists, features, news and reviews. From pop to indie and new wave to electronic music – it's all here...