EXCLUSIVE UK VIDEO PREMIERE: Marsheaux – 'Monument'
By Classic Pop | June 26, 2015
Greek electro-pop duo Marsheaux recently took the brave decision to take on Depeche Mode's second album A Broken Frame in its entirety and surfaced with a luscious interpretation that took the post-Vince Clarke DM sound, plunged it into the shadows and reinvigorated it with some neat modern production – a worthy winner of our 'Album of the Week' in Classic Pop Issue 16.
Marsheaux's enigmatic new video for Monument features Marianthi Melitsi and Sophie Sarigiannidou clad in black and blindfolded wandering the ruins of an unknown building set in the woods.
"Monument was the first track that we worked on, when we decided to go on with the A Broken Frame project," said the duo. "It was a song that we both loved and we were really curious how it would turn out. We believe that behind Martin Gore's lyrics there is a hidden political background that is really similar with the crisis that we are experience in Greece. We really think that Monument is one of our best covers, and a great track for someone to get to know our A Broken Frame project."
Monument was the lead track on Marsheaux's recent EP of the same name released in April.
Marsheaux will be perfoming on Saturday 29th August in Gothenburg at Electronic Summer 2015.
Follow Marsheaux at www.facebook.com/marsheaux or visit their new site at www.marsheaux.com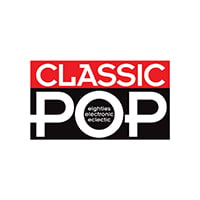 Classic Pop
Classic Pop magazine is the ultimate celebration of great pop and chart music across the decades with in-depth interviews with top artists, features, news and reviews. From pop to indie and new wave to electronic music – it's all here...