In 1986, few bands were as controversial and confrontational as Sigue Sigue Sputnik. Now as their debut album Flaunt It gets an expansive 4CD reissue, Steve O'Brien speaks to its founders, Tony James and Neal X.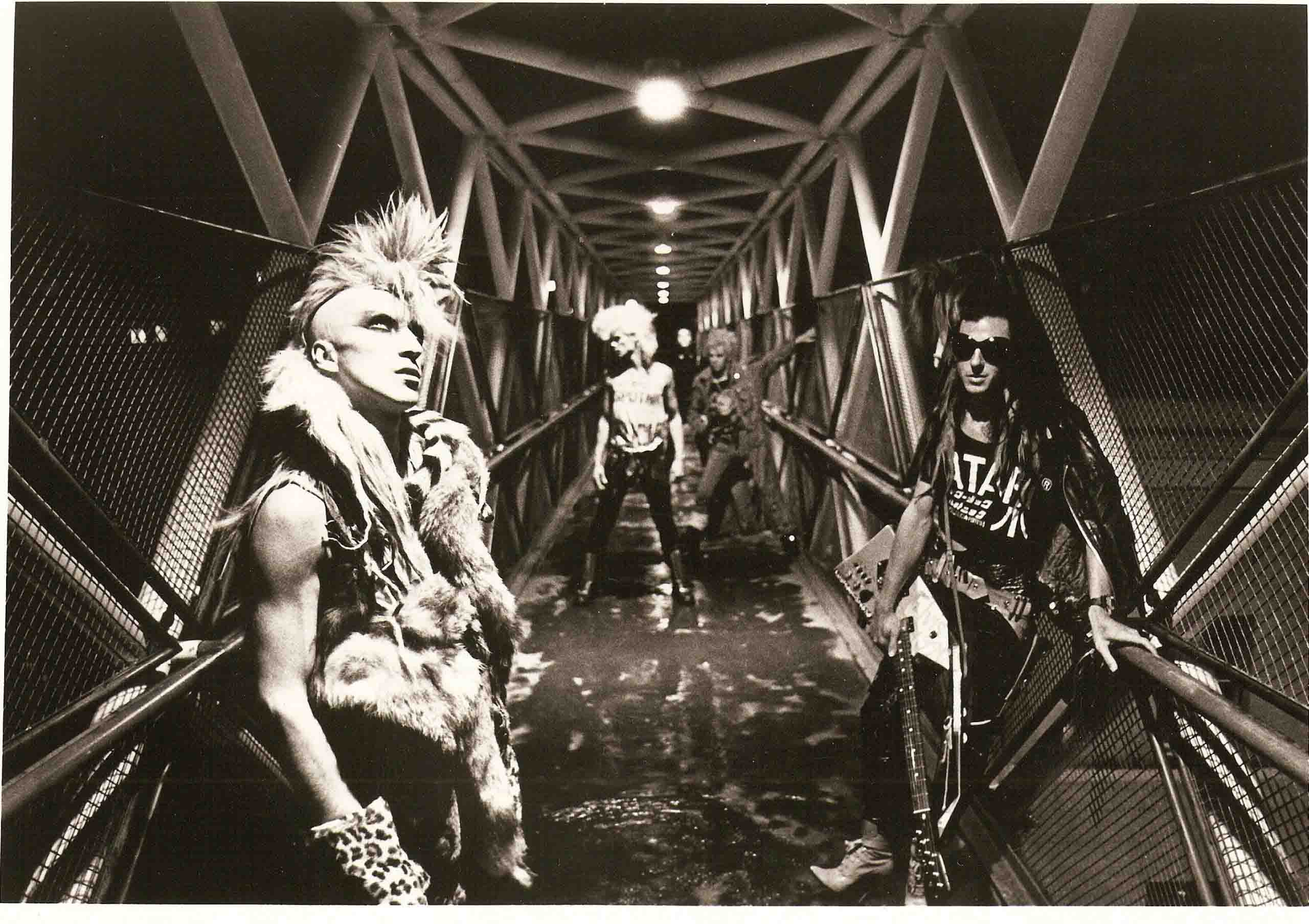 Has there ever been a band in history quite as reviled as Sigue Sigue Sputnik? Back in 1986, it was almost impossible not to hold an opinion about this gaggle of fishnet-masked, fetish-clad, firework-haired outlaws. Described by their quote-machine bassist Tony James as "hi-tech sex, designer violence and the fifth generation of rock and roll" and with a tabloid-baiting motto of "fleece the world", Sigue Sigue Sputnik always felt like a band that had slipped through some wormhole from the future, and for most people in '86, that future looked frankly horrifying.
"I still think our records sound ahead of their time," says Tony James now. "I don't think anyone else had conceptualised the idea of a futuristic rock and roll band."
Today, James, who rocked, while in Sputnik, a towering pink hairdo, 'Rambo Child' crop top and screamingly red stilettos, cuts a rather more sober figure than he did 34 years ago. Now 67, he's currently holed up in his rural Somerset home. "We've lived here for 25 years," he says contentedly. "I can see Glastonbury Tor from my window."
Quite the contrast then to those now-distant times as the propagandist-in-chief of the most shocking, uncompromising and confrontational pop band of their era. But, three decades on, it's clear that James is still unblushingly proud of the Sputnik project and especially of the band's first album, Flaunt It, which has just received a deluxe 4CD reissue.
If anything, what this remastering highlights is that Sigue Sigue Sputnik's music was too often overlooked in favour of their eye-grabbing image. It's easy to forget now that Flaunt It was a No.10 hit and that it was produced by the cosmically gifted Giorgio Moroder.
And you could make a decent argument that Sigue Sigue Sputnik don't get the credit they deserve for their then innovatory dialogue sampling and for the real – as well as the comically fake – adverts that pepper that first album. 
Flaunt It really is a blistering listen, an aural assault that sounds exactly what James intended: "Sigue Sigue Sputnik was the sound of 200 television sets playing simultaneously," he states. "So naturally commercial television and adverts as well as movie samples were part of the sound."
Flaunt It landed on shelves four months after the release of their debut 7″, the pummelling Love Missile F1-11 ("The US bombs cruising overhead/ But there goes my love rocket red/ Shoot it up, oh, shoot it up!") and four years after Tony James, then fresh out of punk misfits Generation X, first hooked up with guitarist Neal Whitmore (known as Neal X) and darkly charismatic frontman Martin Degville.
"We'd come from the stage of doing everything ourselves – we were a little cottage industry," recalls Whitmore, now 60. "We got a deal based on the demos we'd done, but we thought we knew it all, so we could just go into a big studio and make a proper record. But it's totally different… And the metre's running."
The band presented EMI with a three-name wishlist to produce the record. It was a no from both David Bowie – though he would later wax a cover of Love Missile F1-11 during the sessions for 2003's Reality – and Prince, but a keen yes from Moroder.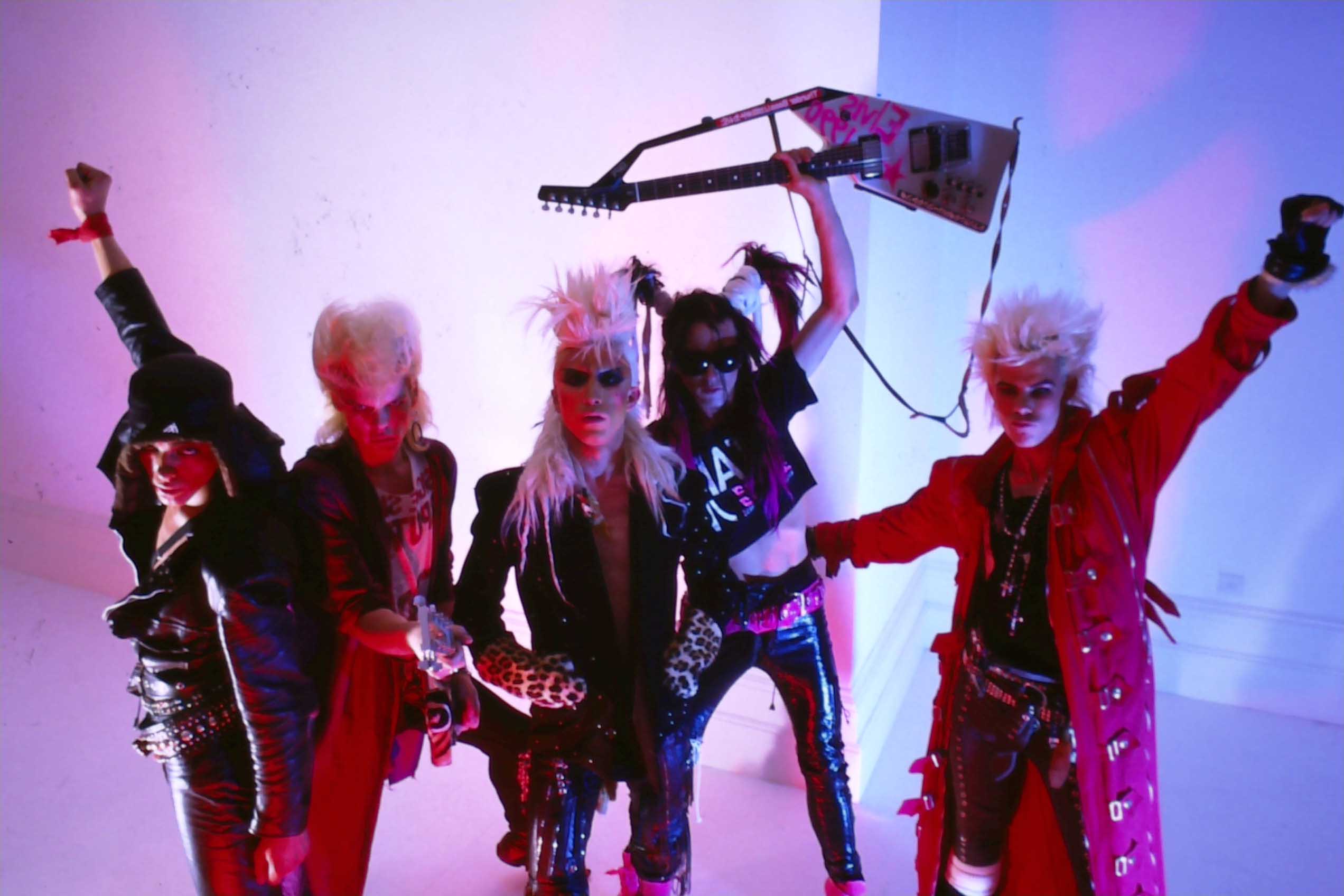 "We were huge fans of Giorgio," enthuses James. "We used to listen to the soundtracks to Midnight Express and Scarface almost on a continual loop. And, of course, Donna Summer's I Feel Love, the 12″ mix, that was always on in our flat in Maida Vale."
"He was an incredibly charming bloke, really confident," adds Whitmore. "He had a world vision, a world view. It was extraordinary that he took our little British idea and made it into this blockbuster movie."
Flaunt It is saturated in big screen iconography. Influenced by the bootleg dance recordings coming out of New York that had started dropping film samples into the mix, James, who'd always been a technophile as well as a movie buff, began cutting and pasting lines from his favourite flicks into their tracks.
"We had A Clockwork Orange, Pink Flamingos, Blade Runner and The Terminator running non-stop in the studio," says Whitmore. "Recording studios can be quite cold places so we had movies going on to give it a vibe. Certainly, we always had the telly on and videos were always playing."
Then there were the adverts. The LP is punctuated by a couple for-real adverts (for i-D magazine and Studio Line from L'Oréal), some irony-coated bogus ones for something called The Sputnik Corporation ("pleasure is our business") and a Sigue Sigue Sputnik computer game (which never existed).
"I had ideas more grandiose than reality," James says. "But in a way it had to have adverts in between the tracks and things, it just blended it all into this futuristic package."
When it came to recording the album, the band shunned their native London, choosing instead to jet off to Los Angeles. Whitmore recalls their A&R man desperately trying to convince them to stay put in Blighty. "He said, 'What the fuck are you doing? You're a British band, you reflect the gritty back alleys of London, it'll be terrible for you!'" Whitmore pauses. "Maybe he had a point, that it would have been much better to make the record in England."
Still, it seems they had a blast there. Donna Summer was a constant face in the studio, popping in every day at 4pm to see her old mate Giorgio, while Hollywood hotshot Jerry Bruckheimer was another regular visitor (Moroder was working on the soundtrack to Top Gun at the time). "We were out every night in LA," beams Whitmore, "we had a brilliant time."
But despite recording the album in Los Angeles, sales-wise, Flaunt It stiffed in the US, barely making the Top 100. One complication was that the movie samples hadn't been cleared, something that hadn't occurred to James or, more surprisingly, to the more seasoned Moroder.
Keen not to jettison them from the US release, EMI decided to hire soundalike actors to replicate the dialogue, but the end result, James opines, was pretty duff.
"It just never sounded the same," he says, regretfully. "When you hear the voice of Malcolm McDowell in A Clockwork Orange going, 'Ultraviolence, ultraviolence' what you buy into is all the imagery and the feeling of that movie. If it's just someone else saying it, that doesn't work."
Shortly before the album hit the shops, the film director John Hughes released Ferris Bueller's Day Off, an instant teen classic that boasted Love Missile F1-11 as part of its era-defining soundtrack.
Hughes' previous flick, Pretty In Pink, had proved a lucrative springboard into America for Simple Minds, OMD and The Psychedelic Furs, and hopes were high, initially, that Ferris Bueller would similarly boost Sputnik's profile across the pond. Sadly, it wasn't to be, despite the song appearing in the movie's blisteringly iconic opening sequence.
"The Pretty In Pink soundtrack made big inroads for many of those groups that were on that record, but for Ferris Bueller, for some reason, the studio decided not to put out a soundtrack album," James says. "So although the track was in the movie, there was no soundtrack LP. So it didn't help us as much as we'd hoped."
Though American success would elude Sigue Sigue Sputnik, the next year would find the band gigging almost incessantly in Europe. A dizzying turnaround for a group that, just 12 months before, had been living a life that was more Boys From The Blackstuff than the international jet set.
"We went from on the dole and living in a squat with no hot water to suddenly being on a plane every other day and eating out in nice restaurants all round Europe," remembers Whitmore. "We were totally unprepared for that. There's no counselling or anything, there were no mental health concerns. We were a bunch of 25-year-old nutters, fuelled by as much free booze as you could drink. It's no wonder why it all goes wrong in so many of these instances and I feel probably did for us."
On the face of it, Sigue Sigue Sputnik teaming up with Stock Aitken Waterman, as they did in 1988, seemed a titanically odd coupling.
Yet, in many ways, it's also the most Sigue Sigue Sputnik move ever. The idea of the country's most outrageous band buddying up with the cosy trio behind Sonia and Rick Astley was a typically contrarian move on Tony James's part. However, the resulting single, 1988's Success, would fail to live up to its title, not even pricking the Top 30.
"From my point of view, it was an ironic pop gesture, one of those McLaren-esque japes," James says. "In retrospect, it was a mistake because all the rules I'd ever made for Sputnik, like we'd never have photographs in the daylight, we'd only be photographed in futuristic situations, that we wanted to make futuristic records, and here we are, making a record that sounds like Dead Or Alive."
"The thinking was, we were the most hated band in the country, and they're the most hated producers, why don't we get together?" reflects Whitmore. "But it was a very dispiriting experience. I didn't like them or anything about them. They just weren't our kind of people. I mean, we'd been working with Moroder!"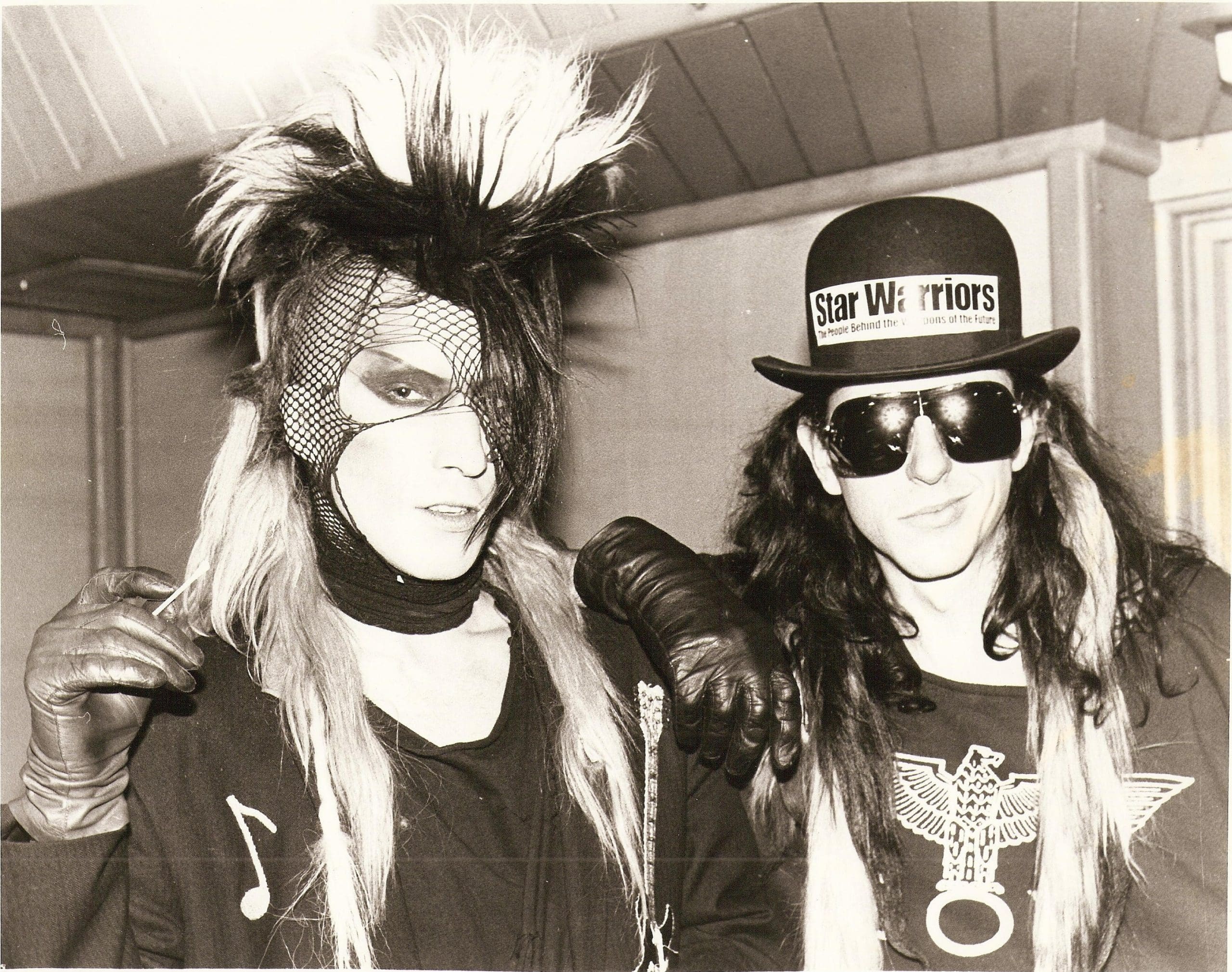 It didn't help that the band had left it nearly two-and-a-half years between Flaunt It's final single, the galvanic 21st Century Boy, and sophomore album Dress For Excess. That's a lifetime in pop years and the musical landscape had changed significantly while they were away.
"Rave culture and acid house exploded in between our first and second albums," Whitmore says. "Suddenly we went from being cutting edge outliers to suddenly we couldn't get arrested."
Dress For Excess peaked at No.53 in the UK Album Chart with associated singles Dancerama and the fabulously-titled Albinoni Vs Star Wars hitting No.50 and No.75.
The party, it seems, was over, and even the press, who two years before had lapped up Sputnik's bombastic chatter and headline-stealing shenanigans, had lost interest. By the end of 1989, Sigue Sigue Sputnik, the future of rock and roll, were no more.
"EMI pulled the plug with the finance, and suddenly no one could get paid," remembers James on the ending of the band. "When I look back at it now, it was so huge so quickly it could only crash and burn from space just as fast. We'd been on 56 front covers in the space of a month, we were on every television show in Europe, the record was No.1 in so many territories in Europe, we were on the front cover of the News Of The World, of The Sun, all of these things, and it literally becomes too much."
In the years after, Tony James joined his old buddy Andrew Eldritch in The Sisters Of Mercy, while Whitmore has, since 1993, been Marc Almond's go-to axeman. Then, in 1995, James and Whitmore unexpectedly reformed Sigue Sigue Sputnik, only with a new vocalist, Christopher Novak (Degville would eventually rejoin three years later).
"When we revived the idea of it, the internet had just come along and there were so many websites devoted to Sigue Sigue Sputnik," says James. "It had a huge cult following, and I thought I could maybe make Sputnik exist in cyberspace. But, of course, when you look back on it, a group that's young and sexy that looks like Ziggy Stardust, it just doesn't work when you're older. So although we played some gigs, that magnificent starship Sputnik shouldn't be appearing in tiny little clubs."
Degville would eventually call it quits in 2001, putting the final full stop on the band. Since then he's toured under several variations of the Sigue Sigue Sputnik name.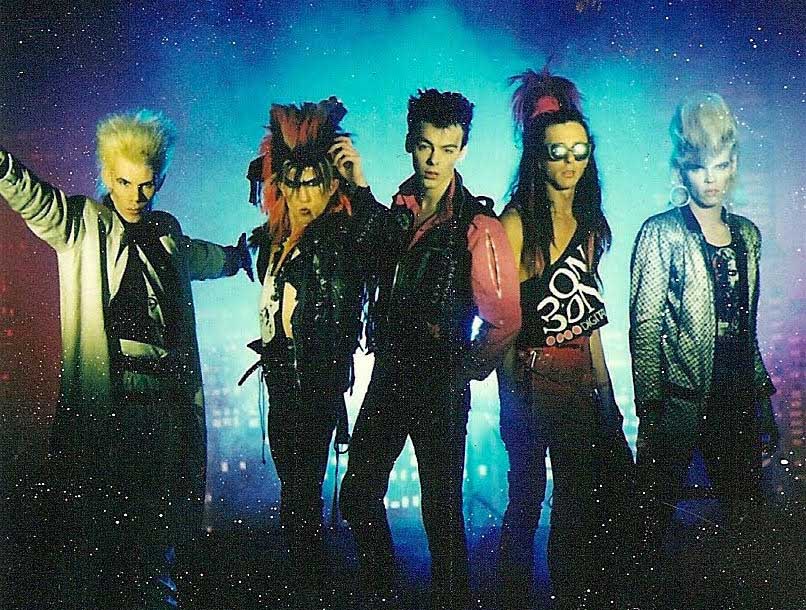 "It started off with good intentions, then the usual personal problems started creeping in," reflects Whitmore. "Eventually, Martin just stormed off, so Tony and I just said, 'It's been really great, this is the end,' and shook hands on it."
Classic Pop reached out to Martin Degville for this feature. In an email he wrote: "After careful consideration, I feel I have no option but to decline to participate with any press interview relating to the launch of the remastered Flaunt It album," adding, "I hope you can keep the interview balanced."
Presumably there's been no reconciliation between Degville and the rest of the band since the singer's walk out all those moons ago? James sighs. "Martin lives on Planet Degville," he says. "It's just not in my universe these days. His reasons for storming off, you'd have to ask him. But I wish him well."
These days, apart from his ongoing work with Marc Almond, Neal X has his own retro-flavoured rock and roll band The Montecristos, while James can be found as one half of post-punk outfit Carbon/Silicon with ex-Clash man Mick Jones. 
He's also revisiting his youth as bassist in Generation Sex, a hybrid supergroup consisting of himself and Billy Idol from Generation X and Steve Jones and Paul Cook from the Sex Pistols.
But while Tony James clearly has no problem harking back to his Generation X years, it seems as if "that magnificent starship Sputnik" is something he's keen to keep in the rear-view mirror.
"It was so perfect and so young and sexy, you can't recreate that," he says. "Anyway, I'm really happy being older. After being in Generation X, playing with Johnny Thunders, being in The Sisters Of Mercy and Sigue Sigue Sputnik, somehow I came out of it sane and unscathed and undrugged. Right now I'm enjoying life and that legacy."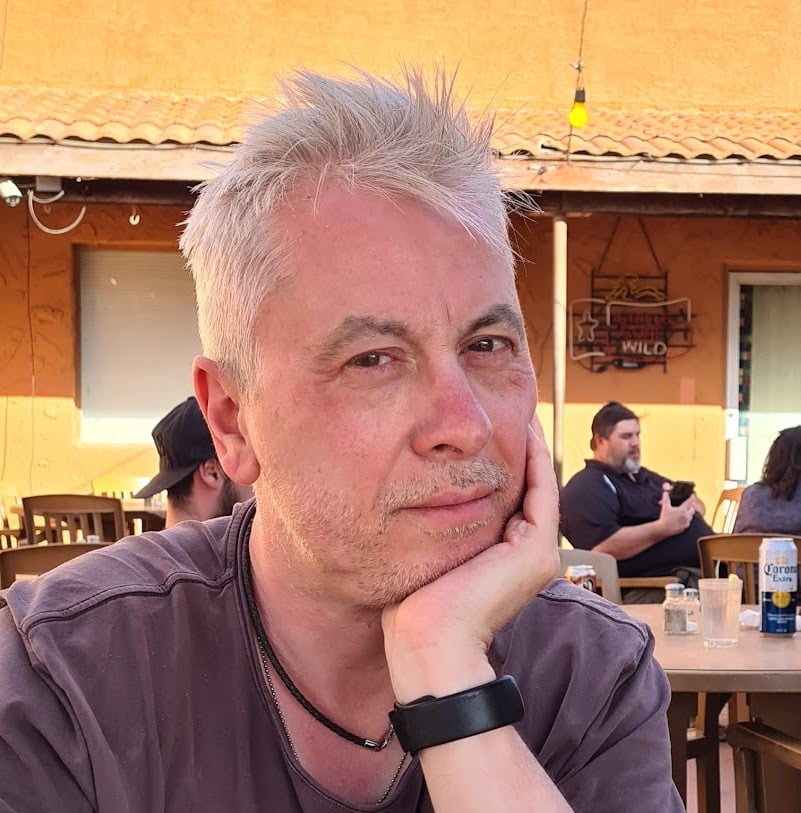 Steve O'Brien
Steve O'Brien is a writer who specialises in music, film and TV. He has written for magazines and websites such as SFX, The Guardian, Radio Times, Esquire, The New Statesman, Digital Spy, Empire, Yours Retro, The New Statesman and MusicRadar. He's written books about Doctor Who and Buffy The Vampire Slayer and has even featured on a BBC4 documentary about Bergerac. Apart from his work on Classic Pop, he also edits CP's sister magazine, Vintage Rock Presents.

www.steveobrienwriter.com