Jane Wiedlin interview: "We had a lot of spit and beer bottles aimed at us"
By Classic Pop | March 9, 2022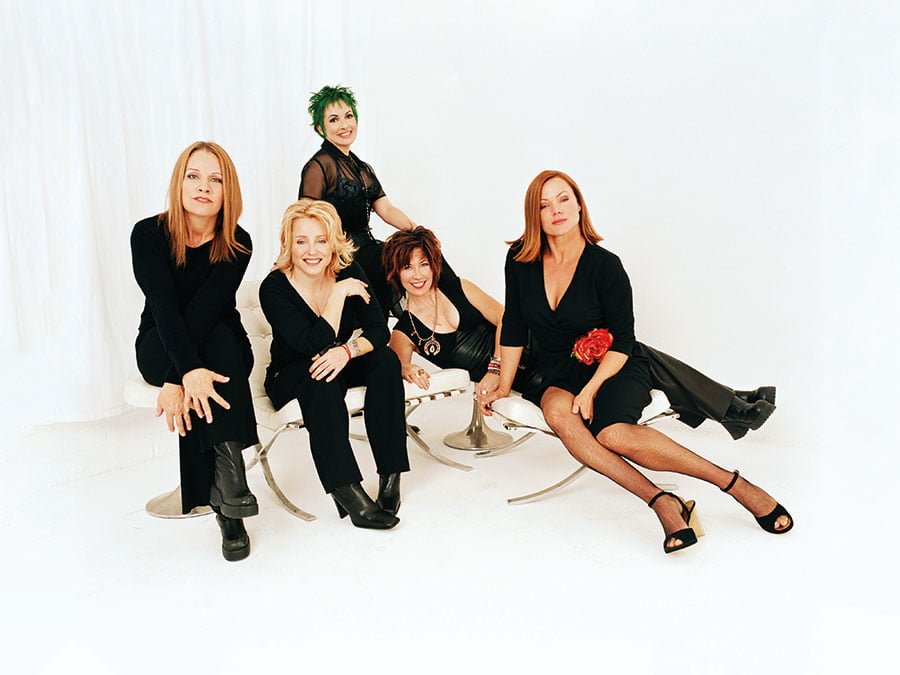 The Go-Go's founding member, Jane Wiedlin, reveals all about these icons of punk-pop…
Having inexplicably overlooked one of the most successful all-woman rock bands of all time, the Rock & Roll Hall Of Fame finally acknowledged the trail-blazing Go-Go's on 30 October 2021.
"I think that the previous committee that chose the nominees featured at least one, possibly two, people who actively disliked our band," revealed founding member Jane Wiedlin to Classic Pop on the eve of the group's induction. "But there was a changing of the guard at the beginning of this year, and that group of people immediately decided we should be included."
"Beauty And The Beat blew the doors of my life off… it sounded like pure possibility," reflected Drew Barrymore as she paid homage to the group's landmark debut during her ceremony induction speech. The actor wasn't alone, The Go-Go's had a profound effect on generations of music makers who followed.
From Riot Grrrl to Girl Power, everyone from Bikini Kill to the Spice Girls owe a huge debt to The Go-Go's.
"Because we were first, I think we encouraged so many girls and young women to become musicians and songwriters," says Jane. "Traditionally, it seemed like females were stuck in the role of being the singer or a backing vocalist… so, we hope that we changed things a little bit."
Formed out of California's punk scene in 1978, with Belinda Carlisle on lead vocals and Wiedlin on rhythm guitar and vocals, the core line-up of the band solidified with the additions of lead guitarist Charlotte Caffey, drummer Gina Schock and bassist Kathy Valentine.
"I got introduced to The Beatles at a really young age and was obsessed with them," says Jane. "But as a young teenager I discovered David Bowie and the glam rock scene. It was very exciting to me because it wasn't just music, it was a whole attitude, a fashion statement, a lifestyle.
"Then came the UK punks. I saw their style before I heard the music because I was in school studying fashion design. I read an industry publication called Women's Wear Daily and one week it had all these pictures of the punk rockers that were hanging out down by World's End and I was blown away. I connected with that in the same way that glam had moved me before.
"When I first discovered the LA punk scene, I realised that I wasn't alone. Punk made me understand how all-encompassing music could be. I really liked the bands that combined punk and pop – groups like Buzzcocks and Ramones – you could take their songs and put them in a pop setting and no one would blink an eye."
One band which came from that inspirational UK punk scene was Generation X featuring Billy Idol. Following the release of his recent The Roadside EP, Idol will tour UK arenas next June and approached The Go-Go's to support. 
"That came as a huge surprise when he invited us," admits Jane. "I mean, the truth is that most people in the UK don't even know who we are! It's such an honour to be doing these huge arena shows. To go from not playing in Great Britain for 26 years – and when we did it was really small places – to playing these really large venues with Billy is a pretty exciting event."
The UK hasn't always offered a warm welcome to the girls. When The Go-Go's spent three months in 1980 opening tours for Madness and The Specials, reaction was extremely hostile. "Oh, it was challenging for sure," Jane recalls.
"We were very popular on the West Coast of the United States and were used to being loved. The Specials and Madness saw us when they played Hollywood and both bands asked us to tour with them. So, we went over to the UK with high hopes. We felt like we would be embraced by the citizens of Great Britain, but people pretty much hated us [laughs]. We had a lot of spit and beer bottles aimed at us."
One positive thing to come out of their time on the road with The Specials was the song Our Lips Are Sealed, a minor UK success for The Go-Go's in 1982 but a Top 10 hit for Fun Boy Three a year later.
"That song came about because Terry Hall and I had a little bit of a tour romance," reveals Jane. "When I returned to California, we continued to write each other letters. He would send me lyrics and said, 'Someday I'm going to have my own band and it's going to be great.' I was really drawn to Our Lips Are Sealed, so I decided I would co-write it with him. I came up with the music and wrote some more words then I showed it to my band and they loved it.
"It became part of our repertoire and was released as our debut single. In the meantime, Terry had formed Fun Boy Three and recorded his version which was a huge smash in the UK. It's funny, I think most people over there thought that their version was the original!"
Back in their homeland, Beauty And The Beat was released in July 1981 and, bolstered by hits Our Lips Are Sealed (US No.20) and follow-up We Got The Beat (US No.2), it climbed to the top of the Billboard albums chart in March 1982 and stayed there for six weeks straight. The group's second and third studio records, 1982's Vacation and Talk Show two years later, furthered their standing.
With videos for Vacation (US No.8) and Head Over Heels (US No.11), enjoying heavy rotation on the newly launched MTV, The Go-Go's skyrocketed to superstardom. However, behind the band's sunny disposition, storm clouds were forming.
Jane says: "I always say I loved the first three years the best; that period before we got a record deal and were playing clubs. We really were like a girl gang and life was such an adventure. I had this naive notion that if we got famous, life would be even better. I don't personally believe, having been through all the ups and downs, that's how it works.
"We started out the band thinking we were all equal and we were all important. However, when we broke through and suddenly became famous, that's when tensions started to develop. All the attention was on Belinda and the rest of us were pushed to one side. I want to be really clear that none of that was Belinda's fault, but at the time it was hurtful, knowing people considered you to be a lesser character."
In October 1984, Jane announced her departure from the group to pursue a solo career and by May 1985 Carlisle and Caffey decided to disband The Go-Go's. 
"I do have regrets about leaving," Jane admits. "I would have preferred our legacy to be a solid 43 years. But, despite splitting immediately after I left, the band broke up for reasons other than me. I think all of us feel like we had been together 365 days a year for years.
"If we had only allowed ourselves to take a break, have some fun, and recharge I think we probably could have stayed together. But life goes the way it goes and there isn't a lot of sense looking back and being upset. We're in an amazing space now and maybe we wouldn't be here today if I hadn't left, or they hadn't broken up."
Differences were put aside in 2001 for God Bless The Go-Go's, their first studio album in 17 years. 
"I had a super-fun time doing that album," Jane recalls. "I especially enjoyed the collaborative songwriting aspect of it. However, humans are complex and when you had a relationship with four other people for so long, there's always gonna be stuff that remains hurtful to you… But over the years we've worked things out and I think we all really appreciate each other.
"Each person in this band adds something that makes us who we are, and I think that is evident in the recent documentary we made with Alison Ellwood. Having a stranger come in and thoroughly dissect our career was very eye-opening for all five of us.
"We saw it with an audience for the first time at the Sundance Film Festival at the beginning of last year, pre-pandemic, and we were all in tears. Charlotte and I were holding hands so tightly throughout. I feel like everybody was so forthcoming and open, which isn't something typical of everyone in this band. People opened up to Alison and I think that's what makes the movie so special."
At the end of the film, The Go-Go's are pictured recording their first new song in 19 years, the typically anthemic Club Zero. So, Classic Pop wonders, can we expect any more music in the future from 2021's Rock & Roll Hall Of Fame inductees?
"I don't know," says Jane. "We're no spring chickens and as you get older different things become a priority in your life. Plus, it's very difficult for us these days because we live all over the place: Kathy's in Austin, Belinda's in Mexico City, Charlotte's in LA and Gina's in San Francisco. 
"I live in Hawaii now with my 'sheeples' and 'goaties'. As you can probably imagine, having a little menagerie of miniature animals and rescue dogs could not be more fun – they are an absolute laugh-riot. I can be in a bad mood or stressed out, but when I go out to the pasture and they come running up to me, it's impossible not to smile.
"I live up a mountain here, well actually it's an extinct volcano, and we have temperatures of about 70° to 80° all year round. So, living here with my animals, is basically heaven." 
The Go-Go's Jane Weidlin – Solo Go-Go
Outside of The Go-Go's, Jane released four solo albums: Jane Wiedlin (1985), Fur (1988), Tangled (1990) and Kissproof World (2000). Rush Hour, her four-minute slice of pop perfection and lead single from Fur, proved to be her biggest solo success reaching No.9 in the US and No.12 in the UK. "So many people tell me they love that song," smiles Jane. "It's like a little bit of ear candy and I often wonder why nobody has ever wanted to use it in a movie or on TV. Is it that forgotten? Anyway, that's my little plug for anyone out there that sees this: Hey, use my song! 
"The records that I'm most proud of, away from The Go-Go's, are Cold (1996), which I made while in the band FroSTed, and If You're A Boy Or A Girl (2017), an album I recorded as Elettrodomestico with Pietro Straccia. They really mean a lot to me, but they are kinda cult… only a dozen people have heard them [laughs]."
Away from music, Jane also tried her hand at acting, most notably perhaps playing Joan Of Arc in 1989's Bill & Ted's Excellent Adventure. So Classic Pop wonders if the singer would like to have done more? "Let's just say acting is terrifying," responds Jane frankly.

"I love being a cartoon voice, but I found physical acting very difficult: you have to remember lines, facial features, where you're standing and body position. I believe people think acting is just being charismatic, but it's really a lot more than that. It's very technical and intuitive… I don't think I possess those chops."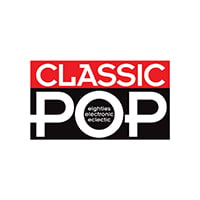 Classic Pop
Classic Pop magazine is the ultimate celebration of great pop and chart music across the decades with in-depth interviews with top artists, features, news and reviews. From pop to indie and new wave to electronic music – it's all here...