Spotlight: Thomas Dolby – Aliens Ate My Buick
By Classic Pop | April 29, 2022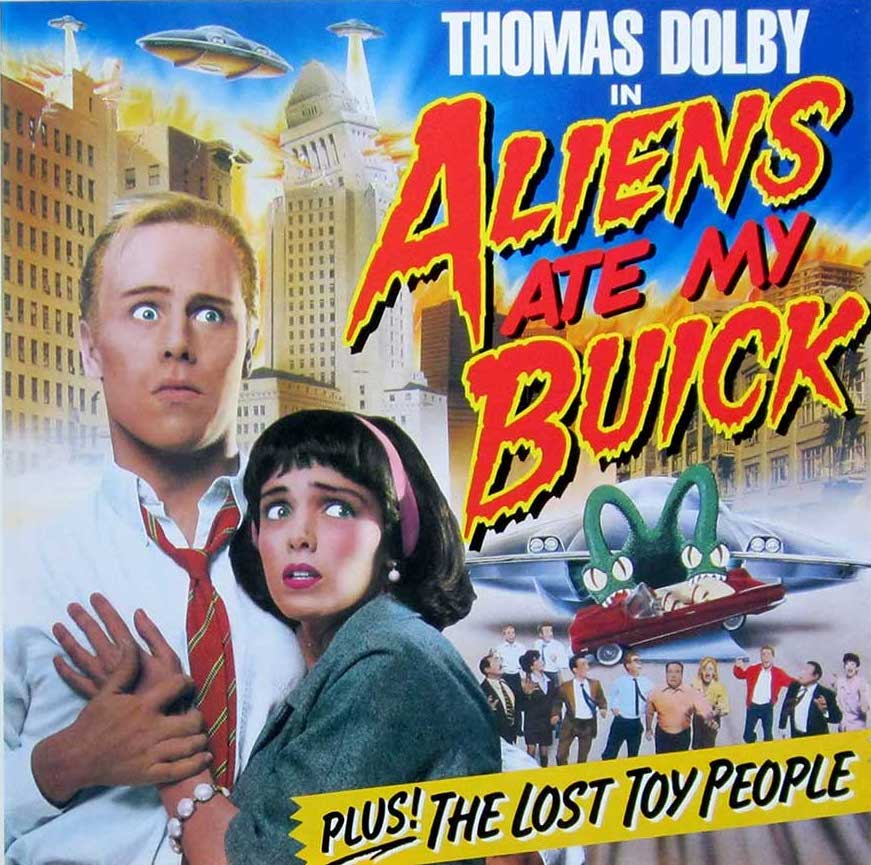 We remember the third studio album by Thomas Dolby, 1988's Aliens Ate My Buick… My Matt Phillips
Thomas Dolby has never played it safe. And, true to form, in April 1988 he came out of left field to deliver his exuberant, in-your-face third album Aliens Ate My Buick, which mostly eschewed synth-pop in favour of funk, jazz, zoot-suit swing, salsa and reggae. For whatever reason, though, it's generally seen as his Marmite record – the one that tests even die-hard fans. In his autobiography The Speed Of Sound, Dolby described it as "a crazy postcard home from a British expat on a debauched visit to Hollywood."
After his famous Live Aid appearance backing David Bowie and surreal performance alongside Herbie Hancock, Howard Jones and Stevie Wonder at the 1985 Grammy awards, Dolby put his solo career on ice, plunging into a collaboration with George Clinton (Some Of My Best Jokes Are Friends) and production work for Joni Mitchell (Dog Eat Dog) and Prefab Sprout (Steve McQueen).
He also found time to form a supergroup called Dolby's Cube with Clinton, the Brecker Brothers, vocalist Lene Lovich and ace P-Funk drum-and-bass team Dennis Chambers and Rodney 'Skeet' Curtis. They quickly recorded the single May The Cube Be With You with co-producer François Kevorkian at Battery Studios in North London, later becoming an extra track on the CD and cassette of Aliens Ate My Buick.
Then there was high-profile soundtrack work for the ill-fated movie adaptation of Howard The Duck and Ken Russell's Gothic. But, at the outset of 1987, a major career rethink was in order. He rented a hilltop house off Beachwood Canyon, just above the Hollywood sign, and turned his attention to his own musical projects again.
Aliens Ate My Buick began in earnest when Dolby placed an advert in The Recycler looking for like-minded musicians, eager to get away from the "synth pioneer" tag. A series of jam sessions served as auditions, originated some song ideas and also nailed down his new band. Dolby named it The Lost Toy People, after misreading a sign stuck to a local Hollywood lamppost that actually said "Lost Toy Poodle".
A brief West Coast tour was undertaken during the summer of 1987, and on their return the band recorded the Aliens Ate My Buick demos in just a day-and-a-half. "We set up as if we were onstage, mic'd everything and recorded. If I really had guts, I would have just released that, but it sounded kind of old-fashioned," Dolby later remarked. 
He set about reworking song structures, looping grooves and sampling various vocal and musical elements with his Fairlight Series III. Most importantly, he took Sting's songwriting credo (a surprise every eight bars) to heart. The last piece of the puzzle was California native, co-producer and engineer Bill Bottrell, who had spent the mid-80s working on the demos that would become Michael Jackson's Bad. He was summoned to Soundcastle Studios in LA. 
What quickly emerged from the sessions was a potpourri of styles and sounds. The Key To Her Ferrari, mostly recorded live in the studio, fused jazz and Frank Zappa-esque vocals to disarming, humorous effect. Lead single Airhead was an infectious mash-up of funk and pop hooks featuring ex-Camera Club collaborator Bruce Woolley on backing vocals.
Despite Dolby's closing disclaimer, its lyrics may be called "problematic" today. Clinton contributed Hot Sauce, packing in an incredible amount of good stuff into its five minutes including a Spaghetti Western prelude/interlude, a reference to Cameo's Candy, a touch of salsa and even a killer Sex Machine-style piano break. 
Third single My Brain Is Like A Sieve transcended its faux-reggae arrangement to become a superb, rather downbeat song in the Prefab style. Despite its immaculate sophisti-pop credentials, Dolby announced it onstage in Boston in June 1988 as "a song about my ex-girlfriend in Sheffield". 
The Ability To Swing was a cracking piece of pop/funk, while Budapest By Blimp emerged as the centrepiece of the album. Described by Dolby as "a British expatriate looking back at European Imperial splendour through an American lens", it featured a classic chord sequence and stellar guitar solo by Larry Treadwell. 
The album's only misfire is Pulp Culture, despite its catchy (sampled) flute melody and excellent bass performance from Terry Jackson.
Aliens Ate My Buick enjoyed only moderate commercial success (No.30 in the UK and No.70 in the US) but did earn Dolby two Grammy nominations for Producer Of The Year and Best Instrumental Arrangement With Vocal Accompaniment for The Key To Her Ferrari. Q magazine gave it a glowing four-star review ("an oasis of wit and invention") too, but it fell between the rock and urban divisions in the US.
"The general feedback from the record label was that I had gone too far overboard with my tongue-in-cheek funk grooves and risqué lyrics, and alienated radio programmers and retailers," Dolby later wrote.  
When EMI America suddenly withdrew financial support the evening before a 30-date US tour to promote the album, Dolby had to cover the costs out of his own pocket to the tune of around $60,000. The sojourn included a memorable date at the Pasadena Rose Bowl, supporting Depeche Mode in front of 100,000 people, but it was the last straw for Dolby in terms of his record label.
"By the end of the 80s, I had a burning desire to extricate myself from EMI, no matter the price – even if it meant getting out of the music business altogether." 
At the age of 29, just three albums into a solo career, he was feeling jaded, a testament to the take-no-prisoners, late-80s pop scene, as image and marketing began to take precedence over musical ability and artist integrity. "Even my accountant has a DX7 in his office", he lamented to Musician magazine.
Solace arrived with the very pleasant task of spending much of 1989 producing Prefab Sprout's Jordan: The Comeback, but Dolby would wait three years to release another solo album.
Aliens Ate My Buick seems long overdue a reassessment. It's strong beer, perfectly complemented by Steve Vance's fine cover artwork – co-starring Dolby's wife Kathleen Beller – but its pungent textures prevail.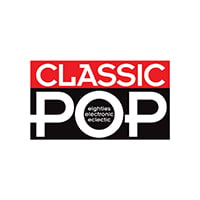 Classic Pop
Classic Pop magazine is the ultimate celebration of great pop and chart music across the decades with in-depth interviews with top artists, features, news and reviews. From pop to indie and new wave to electronic music – it's all here...