Mick Hucknall interview: "I feel politically homeless at the moment"
By Classic Pop | August 15, 2022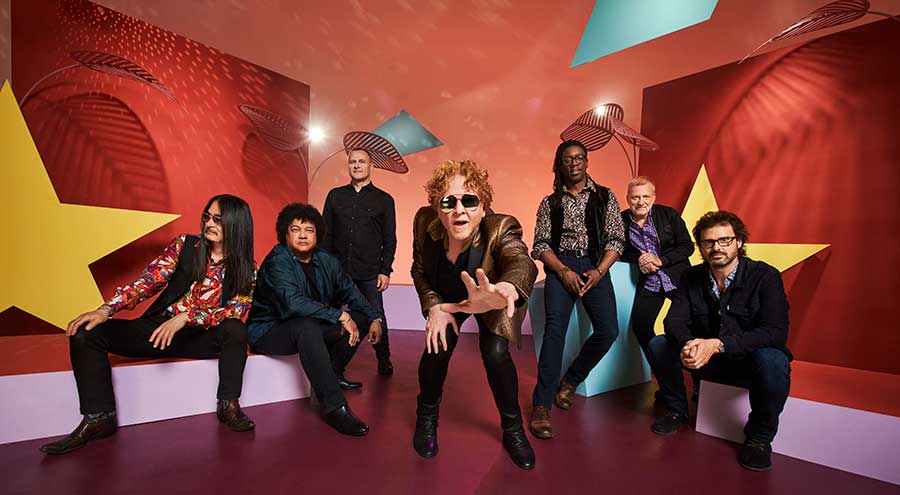 In 2019 Mick Hucknall (and Simply Red) released his 12th studio album, Blue Eyed Soul. We spoke to him about how, for a time at least, he was giving firebrand politics a swerve… By Will Simpson
"I used to take things way too personally," Mick Hucknall reflects. "Probably that was a deep-seated insecurity at being abandoned by my mother. If something like that happens to you you're probably not going to be filled with eternal self-confidence and might see everything as being kind of like a battle."
There's more: "I think people have an image of me as being very arrogant but it's not always been the case. It might surprise people to know that I can be quite shy."
He goes on to describe an incident in London years ago when the singer caught sight of Alec Guinness getting into a cab but was too paralysed by fear to go over and tell the actor how much he admired him. 
Mick has been a part of British pop culture for so long, we all think we know him: ginger hair, Man Utd fan, brilliant voice, but in person a little bit… spiky, not quite at ease with himself in the way you'd assume a pop star who's sold 50 million albums should be. 
Today, that spikiness seems to be a thing of the past. Instead he seems reflective, talking about his three decade-long career and a new album that sounds like a product of a relaxed, happy man fronting a relaxed, happy band; one that comes with a none more this-is-who-I-am Ronseal-like title.
Simply Red releasing an album called Blue Eyed Soul is a bit like AC/DC christening their latest opus 'Rock' or George Clinton putting out 'Funk'. It's what they do, duh. 
"Yeah, it is kind of stating the obvious," he shrugs. "But people have described me in this way for pretty much all of my life so I thought 'just own it'. If that's what you are then just be that.
"I've got blue eyes. And I've been told consistently by various people throughout the years that I'm a soul singer so, yeah, I've always thought the term is quite valid. I feel part of a lineage – if you look back at the previous century starting with the beginnings of jazz you've got Bing Crosby and Frank Sinatra, who were both influenced by Louis Armstrong, Duke Ellington and Count Basie.
"Then you go further on – I know that Elvis had brown eyes but you get the point – there's him, Mick Jagger, Robert Plant, The Beatles. All these people have all been enormously influenced by African-American music and I'm looking at myself and thinking, 'What the hell's the difference? What's the problem?'"
Let's push things forward
Blue Eyed Soul is the second album since Simply Red were reactivated as a b(r)and back in 2015 (more on that later). Mick explains that he had two main aims for the record: "I wanted to push my voice a bit further this time.
"The other thing I wanted to do was to make songs and arrangements I thought the band would enjoy playing night after night. And generally speaking I thought up-tempo funky tunes would appeal to them."
Interestingly, there are no covers this time – "I was lucky that the songs just kept coming into my head and suddenly we had enough to make an album. Besides, I've kind of done the soul covers album thing now." 
The record's jumping off point was the infectiously funky first single Thinking Of You. "I wrote the song on my phone so I sent Andy [Wright, producer] a version of it. He did a kind of demo and we had a little bit of tennis regarding that."
Once that and another four songs were down, the producer suggested going into Mark Knopfler's studio in Chiswick.
"By then I had all the arrangements in my head – basslines, horn parts, guitar parts, everything. I went in and showed the band the arrangements and we started working on takes – the old-fashioned way. Counting them off: one, two three, four, off we go.
Wright has been part of the Simply Red set up – as producer and before that keyboard player for more than three decades. 

"Andy supervises the initial work, but then we have always gone into what we call 'the second stage' with some of the songs.
"If Andy thinks that he could do something different and improve on them, he then goes away and reworks them. So that's what he does – we work together in stages until we're satisfied about a particular version."
It sounds earthy and authentically 70s, the sound of a group of musicians at ease with themselves and each other. "There's a familiarity that we have together as a band now," Hucknall explains.
"I've been working with the same guys for a long time. We're very comfortable in our skins and we enjoy working together, including Andy. It's just a family atmosphere, one that makes it very enjoyable to work in."
It's certainly a fun-sounding album. You can't help but smile when the frontman growls, "Play the ding dong hard" on Ring That Bell, a reminder of how life-affirmingly silly some of the best 70s funk often was.
Lines like, "I love my life/ I love my wife" from Don't Do Down, are, yes, on one level quite cheesy, but how rare is it to hear a simple expression of personal happiness from an established artist? At a time when the country is engulfed in its greatest political crisis for years, Blue Eyed Soul is a tonic. 
That turmoil is deliberately kept at bay on the record. "There's nothing on it that's linked with politics in any way," he insists.
"I feel politically homeless at the moment (a prominent public supporter of New Labour during the 1990s, Hucknall has been severely critical of Jeremy Corbyn) so it's a welcome thing for me to just escape from it and enjoy some music."
Was he tempted to slip in something Brexit-related, in the same manner of Wonderland (the poignant critique of Thatcherism that closed the Stars album)? "Not at all. I've done all that before. This is a bit of escapism – it's a good-time blue-eyed soul album."
Working class hero
Mick's earned the right to kick back. At a time when music biopics have never been so popular, his story has a Hollywood flavour to it. Abandoned by his mother, aged three, brought up by his dad, the working class lad falls in love with soul music as a teenager, but goes to that infamous Sex Pistols Manchester concert and forms his own scratchy punk band, The Frantic Elevators.
Aged 17, he writes Holding Back The Years, a personal cri de coeur which takes five years to be released by the Elevators, then another four to become a transatlantic hit for his next venture, Simply Red. 
"It was the first thing I wrote that felt real, you know?" he remembers. "I didn't know at the time it was going to be important, it was just very sincere. It was about me, being on that cusp of leaving home and yet being slightly fearful of going away – 'cos at 17 you're still effectively a child in many ways.
"But it really set me off. It was there in the background with all these other songs that I was writing. I've known Neil [Smith, the Elevators guitarist who got a co-credit on the song] since I was three years old. 
"We used to hang out every Friday night before going down the pub. We'd get together in my bedroom – he'd show me a song that he'd written and I'd show him one of mine. We'd work on them and then go down the pub. Then we would spend the rest of the evening talking about Beatles songs, analysing every chord and endlessly talking about music."
Fame, initially, was problematic for him. "I have to confess I don't think I handled it well. I'm better at it now, but I wasn't then. I've always been musically ambitious and stardom and all that business is something that is part of that, but I didn't know really how to deal with it.
"I'm a working class boy from East Manchester, had been on the dole for four years and all of a sudden I'm standing on a stage with some of the biggest artists in the world and it was all a bit of a shock, to put it mildly."
Nevertheless, fame did open doors. For Simply Red's second album, 1987's Men And Women, Hucknall wrote a couple of songs with Lamont Dozier; a dream come true for the young Motown devotee. "That was just fantastic. I love Lamont. He's very different to me in how he approaches writing in that he's very workmanlike.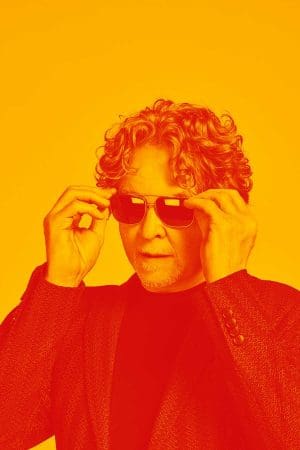 "He'll sit down and write pretty much every day, just sitting in front of the piano. Whereas I just wait until a song comes into my head. But I feel very honoured to have written with him. We did four together – two each for Men And Women and A New Flame. It was a great experience."
A peak you reach
In his homeland, Mick's big album was Stars, which shifted some nine million copies worldwide and was the UK's best-selling album of both 1991 and 1992, spawning no less than five hit singles.
This was the band's commercial peak: it's no exaggeration to say that during those in-between years, post-acid house but pre-Britpop, Simply Red were the sound of Middle England. Mick, though, seems unable to put his finger on why that album, more than any other, connected with so many people. 
"I don't know, I think it's one of those things with an artist's career you build up to that point – The Beatles built up to Sgt Pepper. Each artist has their own individual moment – Van Morrison had it with Astral Weeks. Each one has this moment where everything comes together at the right time and I guess Stars was that one for me."
He admits that following it up wasn't easy and even though 1995's Life included their first (and so far only) UK No.1 single, Fairground, it didn't fare anywhere near as well commercially.
"You just think, 'Well, I'm just going to do the best I can', and that's all I've ever really done. We did enjoy success with Life – it sold a lot of copies, but well, you know I don't think 'The White Album' is as good as Sgt Pepper. 
"But I think the one thing that we have had across the decades is consistency. Every album we've ever made has gone Top Five and that's the thing that stays in my mind more than anything." Indeed, even when the band went independent after 1999's Love And The Russian Winter, releasing via their 'simplyred.com' label, their core audience still remained loyal.
"We had the biggest independent album in the world for two years running. It wasn't the same as being with a major 'cos we couldn't get the distribution in the same way, but we did enjoy success with it. It was a great thrill."
Family comes first
In 2007, Mick appeared to draw a line under Simply Red and 'retire' the band. He claims it was for one reason only: his family.
"I had a father who, when I was growing up, completely dedicated his life to me and that had a major impact on me. When my daughter was born I was very much aware that if I signed a deal with a record company I would be obliged to make an album every two years and go out on the road; I'd be one of those dads who were never at home.
"I just thought, 'I'm not going to do that.' So I told my manager I was going to stop. I wanted to be at home bringing up my kid. It was one of the best decisions I've made. I've been there every day in her life and I'm sure it's had a positive impact on her to have both of her parents around to help and support her as she learns how to deal with this world."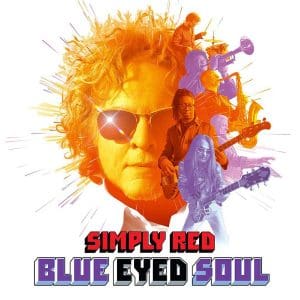 For a few years, Mick's only musical activity was a pair of solo covers albums – one a tribute to the soul legend Bobby Bland and a short tour with the reformed Faces.
Then in 2015 he revived the Simply Red name and signed once more to a major, BMG.
"I had been writing songs and my daughter was old enough to understand that this is my job. Also I have to remember that I am an artist with a career – I gotta go out and work! I just feel that I've been lucky to have been able to stop.
"Most people, even very successful people, work their arses off every day. And most dads don't even get to see much of their kids, except at the weekends and maybe a couple of hours when they come home from work."
So, with no original members left other than the frontman, is Simply Red now just a brand for whatever he's doing musically? He sidesteps the question. "Well, I've always been the principal songwriter. Nobody else has – in any formation – consistently come up with any songs!
"I, like many people, had a very romantic vision of what a band should be, growing up with The Beatles. But then again these bands are all acrimonious – they've all fallen out! They all sue each other, they all hate each other and, you know, I get on great with the guys I work with so… what's the problem? I never did get to have my Paul or my John."
Mick insists he has no musical ambitions left – there's not a duets album or memoir lurking uncrossed on his bucket list. But one wonders how he feels about Simply Red's status as a band these days. Apart from a brief period around their debut album Picture Book, they have never exactly been trendy.
Fashions come and go but it's hard to think of another multi-million selling British act that remain so resolutely unheralded, at least by critics.
Put it like this: their records don't often crop up on those '100 Best 80s/90s Albums' lists. They've yet to be the subject of a BBC4 documentary. That biopic will, in all probability, never be made. Does he feel they're undervalued in 2019?
"Sometimes I do," he admits. "And then other times I think, 'I've done stuff on my own terms and been in control of what I do.' The industry itself wants to be in control of the artist and when they don't have that control they don't like it.
"When you consider the control that we've had over the years then I'm happy with our success – we're still selling records and we're still putting bums on seats whenever we do a tour. If people don't regard us in the same way as other acts, well that's up to them! But really I don't have any complaints," he insists, sounding utterly serene and at ease, both with himself, and the world.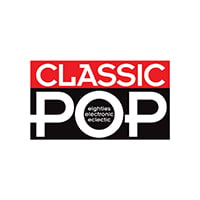 Classic Pop
Classic Pop magazine is the ultimate celebration of great pop and chart music across the decades with in-depth interviews with top artists, features, news and reviews. From pop to indie and new wave to electronic music – it's all here...