Jazzie B interview: "Music was so stale and stagnant when Soul II Soul came along… we caused a stir"
By Classic Pop | March 28, 2023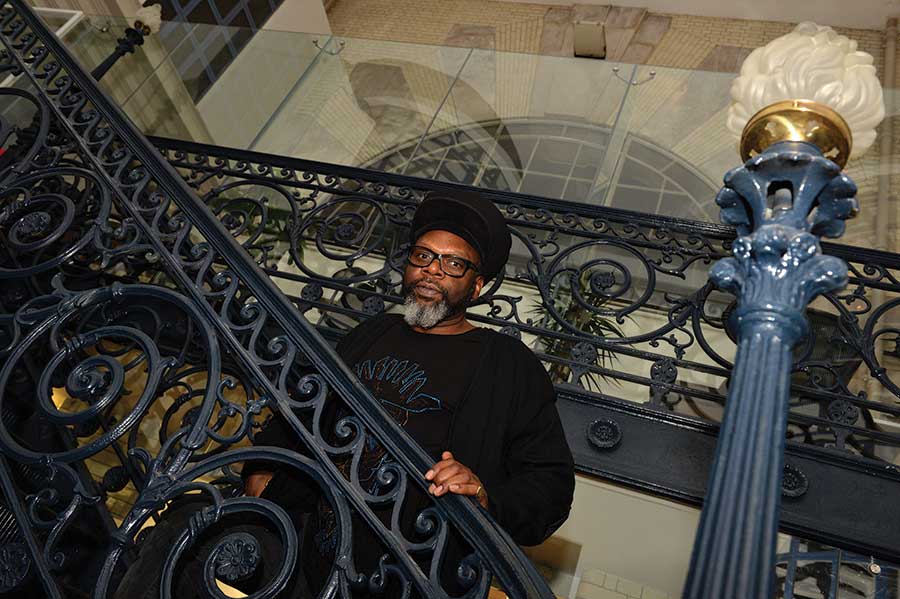 With the positive slogan "A happy face, a thumpin' bass, for a lovin' race" Soul II Soul – and its founder Jazzie B – set out to spread joy around the world. In 2016, Classic Pop met the original funki dred to get the lowdown on how it all began… By Paul Lester
Ask Trevor Romeo aka Funki Dred Jazzie B – DJ, producer, businessman, fashion entrepreneur and creative majordomo of arguably Britain's biggest and most influential R&B/soul band, Soul II Soul – how he's doing as the annus horribilis that is 2016 comes sputtering to an end, and he answers, in that familiar distinctive gruff baritone, "Scraping through."
But he's doing rather better than that. After all, he's an OBE now, which he received for his services to music and means he has hobnobbed at the palace.
"I've met her a few times," he says with disarming nonchalance of the cool ruler otherwise known as Elizabeth Windsor. He's more matey with her son and grandsons.
"[Prince] Charles and the boys come out to Antigua [to Soul II Soul's annual Back To Life festival] – so did Lady Di," he adds, misty-eyed. He explains that he "used to do the Prince's Trust", then he realises he's probably name-dropping and the Hornsey in him makes him pull back.
"I wouldn't say I meet them [the royal family] round the corner for a cup of tea, but if my name came up one of their aides would probably recognise it."
Actually, Jazzie B's royal connection reaches back to 1977, the year of the Queen's Silver Jubilee, when, aged 14, he found his services required professionally for the first time as a DJ at local celebrations.
Coming from a family of 10, many of his brothers had their own soundsystems: an amalgam of DJs, MCs and engineers who would work the various turntables and giant speakers, box boys (who did the schlepping), henchmen (who'd guard the equipment) and "selectors" (who picked the music).
Soundsystems put on reggae "blues" and street parties, booming out dub, roots music and lovers rock at colossal volume, and it was at these that Jazzie B made a nuisance of himself as often as he could.
"I used to be a little mascot for my second eldest brother," he recalls. "I'd put the needle on the record and carry the valves. I literally tried everything – I was just a general pest."
Jazzie didn't just love black music idioms; he was, he says, "as into The Carpenters as I was T. Rex, and Bowie as Ziggy Stardust".
However, his education was really provided variously by soundsystems, lovers rock and Britfunk, the latter a peculiar homegrown take on US soul and funk. He left school in 1979 but, coming as he did from a family who emphasised the value of learning, he felt obliged to continue his studies.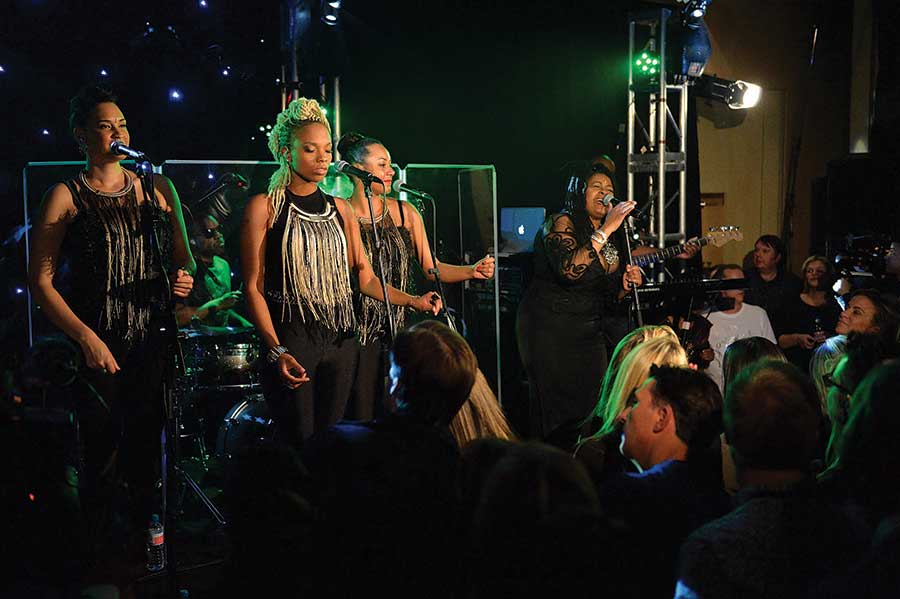 "Education was key in my household," he admits, adding proudly that his sister-in-law became Britain's first black headmistress. "You had to study and do your homework. Academia was paramount."
So, in 1980, he embarked on a teacher training course at Loughborough University, although he soon jacked it in because he "couldn't handle the disarray from the kids".
On his return home he found the capital in an equally tumultuous state, riven by riots. There was always a quality of earthy spirituality to Soul II Soul.
Remember, this was the band whose credo was "a happy face, a thumpin' bass, for a lovin' race", who wanted to "elevate your mind and free your soul".
It was almost the late-Sixties hippie movement, revisited and given a contemporary urban makeover. They were about universal brother- (and sister-) hood; as into peace'n'harmony as they were pleasure-seeking.
One presumes much of this came from Jazzie B. Back in 1981, did he want to help bring some calm to London's streets as Brixton – and Britain's other inner cities – burned?
He laughs, amused by the notion and the suggestion that he would have such lofty intentions.
"I'm not Martin Luther King," he says. "Nah. Yeah, I grew up in these things [i.e. mired in racial disquiet], so they were all second nature. I just knew where to duck and what road to go down, I guess. But I was too naive to get involved on that level."
Instead of community leader, he became, more modestly, a tape operator. His first job was working for Cockney pop legend Tommy Steele (the Olly Murs of his day).
Soon, he would be in studios twiddling knobs for everyone from Britfunk outfits Central Line and Kandidate to German composer Hans Zimmer. Meanwhile, on the weekends, he operated his own soundsystem, called Jah Rico.
Asked who his entrepreneurial role model was – Classic Pop suggests that it might have been Nile Rodgers, joint CEO of The Chic Organisation – he replies that it was reggae pop superstar Eddy Grant.
Prodded further about who the burgeoning Soul II Soul empire's rivals were in those early days, and Jazzie B offers: "There was no one like us".
What, not even Bristol's The Wild Bunch soundsystem, who operated around St Pauls and environs and whose mainman Nellee Hooper later jumped ship to Soul II Soul?
He gets a bit tetchy at the suggestion that SIIS had any competition at all. "I feel like they were emulating us," he says. "They were far more Americanised – they epitomised from a fashion point of view the New York thing."
This is a bugbear of his – he says similar things about Britfunk: it was fine as far as it went, but it stopped short of creating a wholly, uniquely British identity.
Establishing Soul II Soul's Britishness was – still is, in fact – an almost evangelical mission for Jazzie B.
He does concede that Bristol's Smith & Mighty, who produced 1989's cover of Rose Royce's Wishing On A Star for Fresh 4, arrived at a similarly nicely slothful 98bpm pace as Soul II Soul did on that year's Top 5 UK smash, Keep On Movin'.
He's even touchy about artists he actively enjoys and their mooted Britishness or otherwise: when I note that he nominated one of my favourite late-period Britfunk tracks – 1984's Hangin' On A String (Contemplating) – by Loose Ends for a recent Guardian feature on his own favourite soul and R&B tracks of the Eighties, he bristles.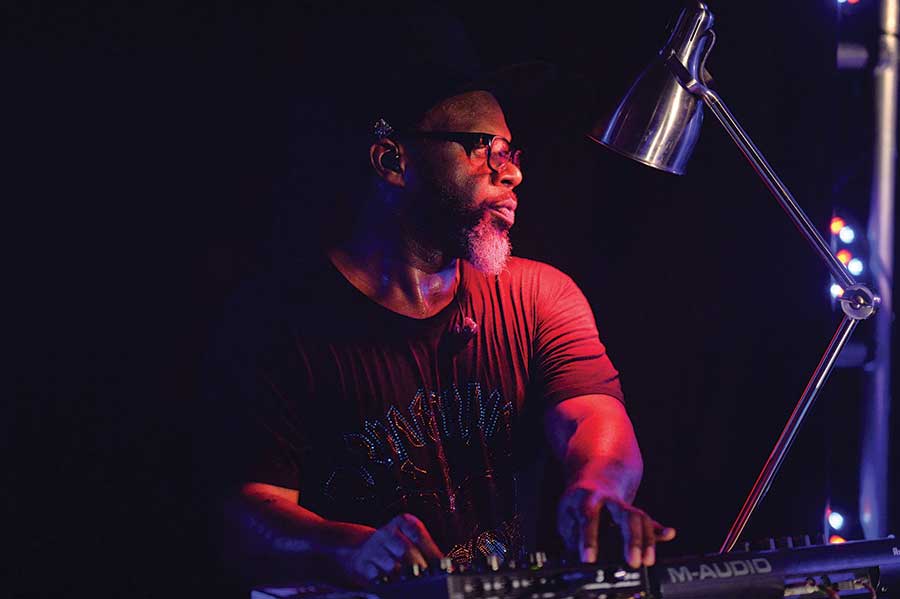 "Nah, you can't get that twisted, fella. That was Narada Michael Walden," he says of the American producer who ostensibly worked the console for that particular recording.
Actually, it was Nick Martinelli, but the point is, notwithstanding Loose Ends' UK passports, Martinelli afforded the song a glossy sophistication that made it seem as American as it did British. Whereas Soul II Soul were so London it hurt.
As the Jah Rico soundsystem morphed into Soul II Soul and they began to incorporate more self-penned music into their sets, cutting their own dubplates, most notably during their feted Sunday night residency at Covent Garden's Africa Centre circa 1986-'87, what was Jazzie B's role? Was he a sort of glorified conductor? What did he, you know, do?
"Everything," he states. "I put everything together, mate. And I paid the rent."
Given that he was always the master of ceremonies at SIIS events, the public face of the organisation, the circus barker-cum-ringmaster, was he never tempted to assume a more traditional musicianly position?
In the recent BBC2 documentary tracing Soul II Soul's irresistible ascent, Jazzie B's 1980s: From Dole To Soul, Radio 1 presenter Trevor Nelson laughs when he recalls witnessing first-hand Jazzie B's transition from DJ/MC to bona fide music-maker.
He couldn't quite believe it, and frankly wondered what his contribution was to those early SIIS records.
Was he, Classic Pop wonders, tempted to pick up the bass?
"I did," he argues, "on all the sessions. I wasn't very good," he allows, "but I was able to get [my ideas] across to great musicians. I was heavily influenced by listening to people like Barry White and Chic, as well as Lee 'Scratch' Perry and [Jamaican producer] Sir Coxsone Dodd. I always had a taste for wider sounds. As the studios got bigger, our music got wider. The only limit was our imagination."
And the only alternative, as far as dance music of the time was concerned, was the rather less slow and sultry beat of acid house. No, think the fast and frantic judder of music for pilled-up party starters.
"Most of my mates who were into that were villains," reflects Jazzie today of the rave soundtrack formerly known as aciiid. "It was just noise. It had no melodies – nothing.
"People were just high, properly high, the tempo was quite mad, and it had no vocals. It was trashier than shit disco but it had this appeal to middle-England's youth. For me, it didn't have anything to do with music.
"And with all due respect, 90 per cent of those people were off their nut on some kind of synthetic drug."
Whereas Soul II Soul's crowd… "… was about the music and fashion."
True enough. It was at the Africa Centre that the concept of Soul II Soul solidified as they created a game-changing sound and attendant (life)style for black – and white – British youth.
As David Grant of Britfunk duo Linx pointed out in From Dole To Soul, SIIS' impact wasn't just musical but social and cultural, too.
Having been signed by Virgin Records in 1988, they soon found themselves flying high in the charts with Keep On Movin' and worldwide No. 1, Back To Life.
Their all-encompassing vision and all-embracing agenda led to successes in the field of fashion, with three shops in London selling clothing emblazoned with the Funki Dred logo, plus all manner of branded merchandising including clocks and jewellery.
By 1989 and the Club Classics Vol. One album and its follow-up Vol. II: 1990 – A New Decade – both of which reached pole position – Soul II Soul were riding a post-glasnost wave of good-times vibes and harmony.
They even did what no other British R&B act had done before: they breached the US charts to become a bona fide stadium soul attraction. So what was it like going from underground tastemakers to mainstream heroes?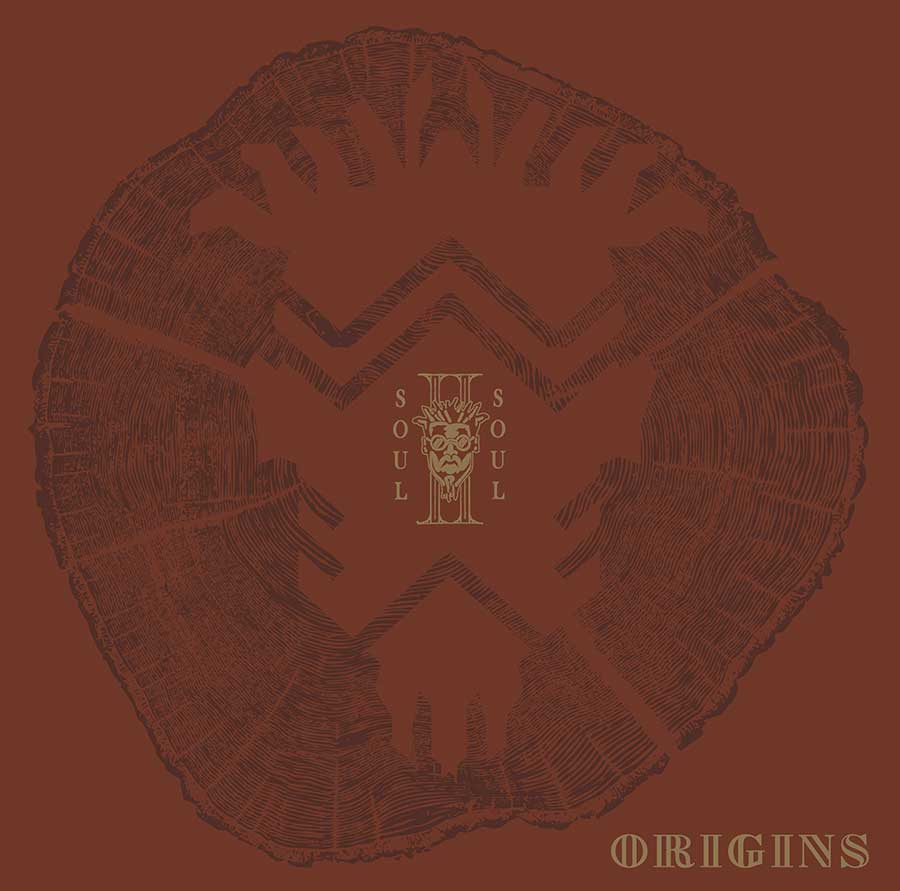 "I dunno, mate," he muses. "I was at the front rather than in the middle of the wave, absorbing it all. By 1989-'90 I was probably spending more time in America, embracing what we'd achieved."
He's delighted that Soul II Soul broke America, not by pandering, but by emphasising their Britishness. "Correct," he says.
He's still a bit peeved, however, at being a prophet without honour in his own land.
"There were a lot of bigots in the mainstream music press like Melody Maker and NME," he contends, believing that said inkies ignored Soul II Soul "because they thought we were American" (actually, both papers did write extensively about SIIS; indeed yours truly even recalls interviewing their in-house string section, the Reggae Philharmonic Orchestra, for an MM article).
They literally had the appeal of aliens in the States: people were that amazed to see black people with British accents. He also puts their fortune there down to the relative grittiness and "realness" of Soul II Soul's music compared to the other dominant R&B sound of the time, swingbeat.
"Music was so stale and stagnant when Soul II Soul came along," he attests. "It was flimsy pop; a throwback to Motown. We came out in the middle of that and caused a stir."
They were still in the US at the time of the LA riots in 1992, when they were asked to commentate on the situation: "We ended up being a barometer. I was doing lectures and talks just 'cos they wanted to hear how I spoke – they'd never heard of a black person from England before, that's how alien we were."
Soul II Soul's run of success continued with the singles Get A Life, A Dream's A Dream, Missing You, Joy, Wish, Love Enuff and I Care, the latter reaching No. 17 in 1995, also the year of their last Top 20 album, Volume V: Believe.
Their last Top 40 single was 1997's Represent, but they always felt the pressure, as Jazzie puts it, of "everyone wanting another Keep On Movin' and Back To Life".
He started a production company, remixing Sinéad O'Connor, Ziggy Marley, James Brown, Public Enemy, Isaac Hayes and Teena Marie, and he ran Motown UK for a while.
In 2008, he received an Ivor Novello award for his songwriting, and that OBE.
Since then, Soul II Soul might have been quiet, but Jazzie has been his usual Renaissance man self, DJ-ing on BBC London and at various nights around the country, becoming the founding director of the Featured Artists Coalition, lecturing at Cambridge University and elsewhere on the evolution of global music and soundsystems and soundsystem culture, and teaching music and music technology at Jamie's Dream School for the UK's Channel 4 in 2011.
Meanwhile, his Funki Dred fashion line has prospered, with a Classics Collection launched at Harvey Nichols in 2013.
Most recently, in 2016, Soul II Soul released a single titled A New Day credited to Caron Wheeler, featuring production from Jazzie and Louie Vega.
And now there's the Origins: The Roots of Soul II Soul deluxe vinyl boxset, comprising elegant new live reworkings of their best early tracks; the perfect reminder of their distinctive allure.
It's been a charmed life. These days Jazzie flits between homes in the Caribbean and Camden, where he has the star status of someone who, at Soul II Soul's peak, was selling millions of records around the world and playing stadium concerts for 30,000 fans.
Actually, "star" isn't quite the right word. When he's in his north London manor, he is greeted more as a local hero and dignitary.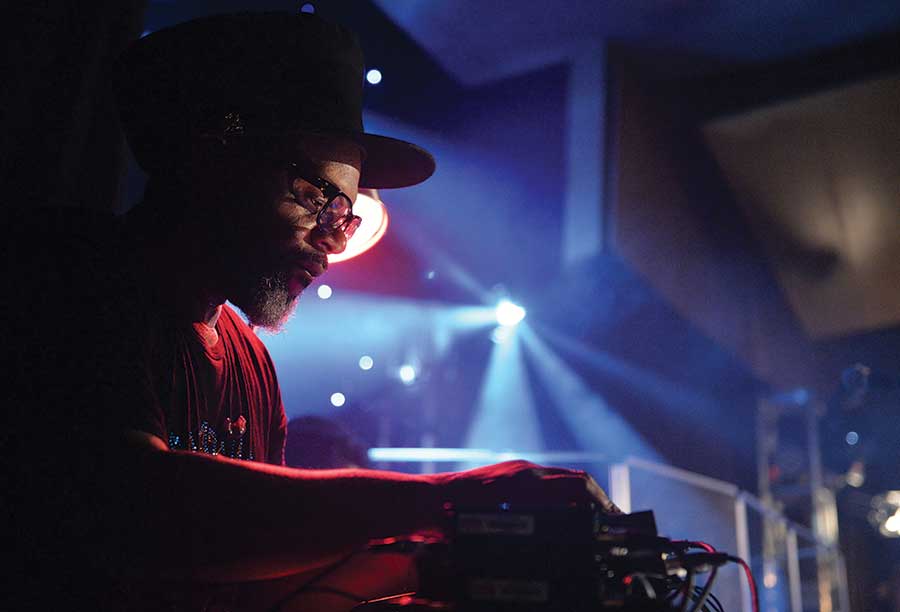 Instantly recognisable, he has the gravitas of someone with contacts and special privileges if not powers, and the approachability of someone who Can Get Things Done.
He can barely move two feet without being solicited for assistance in matters serious and trivial.
"They say, 'Can you help me with my shopping?', 'These drug guys are really bothering me', or 'Can you call the council, someone's just pissed up against the wall, Jazzie, can you sort it out?'" he says of the people he meets on his walkabouts. He laughs. "Oh well, it helps keep me grounded."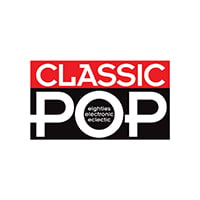 Classic Pop
Classic Pop magazine is the ultimate celebration of great pop and chart music across the decades with in-depth interviews with top artists, features, news and reviews. From pop to indie and new wave to electronic music – it's all here...