Issue 43 of Classic Pop magazine is on sale NOW!
By admin | July 25, 2018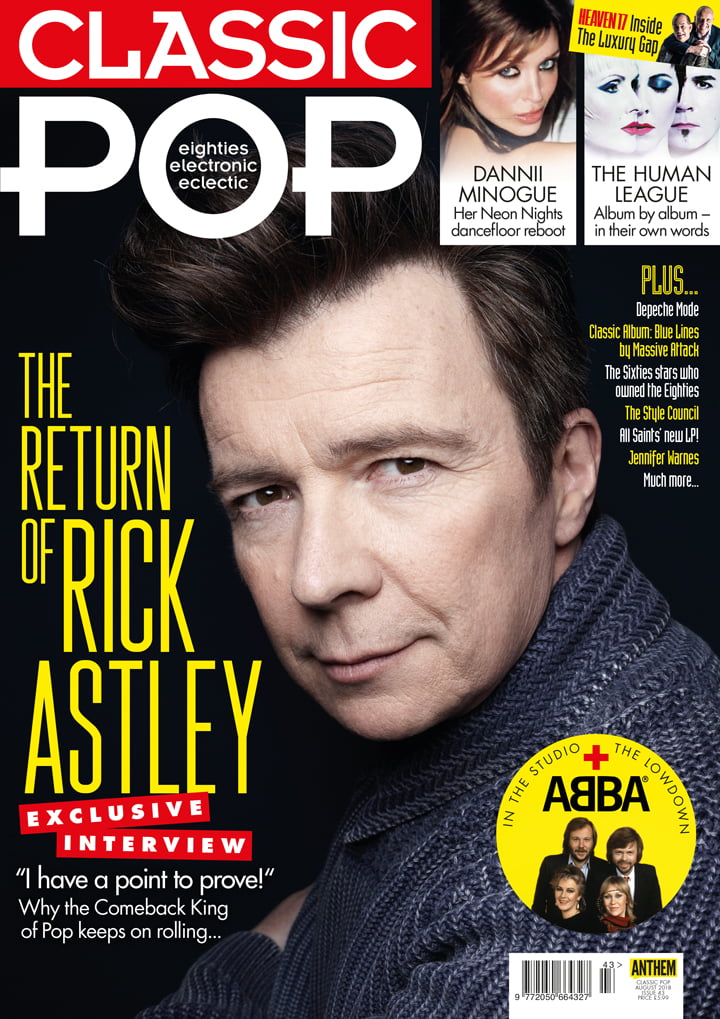 Available from WH Smith, Tesco, independent newsagents, McColls and Eason, this month our cover star is the mighty Rick Astley. We have an exclusive in-depth chat with the singer as he returns with new record Beautiful Life – the pressure's on as he attempts to follow up his hit album 50.
Synth-pop icons Heaven 17 look back on their superb LP The Luxury Gap and the legends keep on coming this month as The Human League talk us through their back catalogue, album by album.
For ABBA fans, we go behind the scenes with Carl Magnus Palm for the inside track on their career in the recording studio and also serve up a buyer's guide to Sweden's finest. We travel Down Under to speak to Dannii Minogue as she relives her Neon Nights album 15 years on – it's the record that transformed her into a bona fide dancefloor icon.
Massive Attack's imperious Blue Lines is our Classic Album this issue and we also meet Jennifer Warnes to talk about her brand new studio LP as well as her Oscar-winning songs that soundtracked the 80s.
Our packed reviews section features new albums from All Saints, Gorillaz, The Proclaimers, Rick Astley and Gabrielle and many more while the reissues take in a superb Soft Cell boxset, Depeche Mode 12″ singles, Morrissey and Jean-Michel Jarre.
On the gig front, we're bowled over by an astonishing David Byrne live show, travel to the Isle of Wight Festival to see Depeche Mode and check out two legends, George Benson and Quincy Jones.
Get your copy in-store for just £5.99. The single issue is available online for £6.99 here. Alternatively, you can buy a digital issue here.
Comments
comments
admin