a-ha 'Take On Me' Documentary Coming To Youtube
By Classic Pop | November 1, 2019
Appearing on a-ha's official YouTube channel, the three-part series revisits the popular song and its iconic music video with new interview and vintage footage… 
The story behind a-ha's multi-platinum hit Take On Me comes to life in a new, three-part documentary that will air on the band's official YouTube channel. THE MAKING OF … TAKE ON ME will debut today with the first of three weekly episodes. The remaining episodes will air on 8 November and 15 November.
THE MAKING OF … TAKE ON ME recounts the story behind the writing of the song and the making of its iconic video. It weaves new interviews with members of a-ha – Magne Furuholmen, Morten Harket and Pål Waaktaar – Savoy together with interviews that spotlight the people who were part of the song's phenomenal success. Those guests include the song's producer, Alan Tarney; the woman who starred in the video, Bunty Bailey; and the video's designers/animators, Candace Reckinger and Michael Patterson.
Beyond this, THE MAKING OF … TAKE ON ME examines the song's lasting legacy and continued cultural influence in interviews with James Blunt, Ed Sheeran, and Nile Rodgers. More than 30 years after its original release, "Take On Me" is reaching a new generation of fans who are discovering it – not only on the radio – but also through commercials (Volkswagen), soundtracks (Deadpool 2), samples (Pitbull), tributes (Weezer) and parodies (Family Guy).
Soon, the iconic music video for Take On Me will reach one billion views on YouTube, a feat very few artists have accomplished. In anticipation of the upcoming milestone, a-ha is having a contest that gives fans an opportunity to predict the exact time and date of when the video will reach one billion views on YouTube. Click here for more contest details and to sign up.
The band also announced that it will play three concerts in Los Angeles in September 2020 during its ongoing Hunting High and Low Live world tour. During the first half of the concert, the band plays a mix of new and old songs. In the second half, the band performs all 10 songs from it classic 1985 debut album, Hunting High and Low, in the original running order.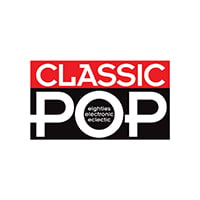 Classic Pop
Classic Pop magazine is the ultimate celebration of great pop and chart music across the decades with in-depth interviews with top artists, features, news and reviews. From pop to indie and new wave to electronic music – it's all here...