Shakin' Stevens interview: "We were releasing singles like bullets"
By Classic Pop | May 13, 2022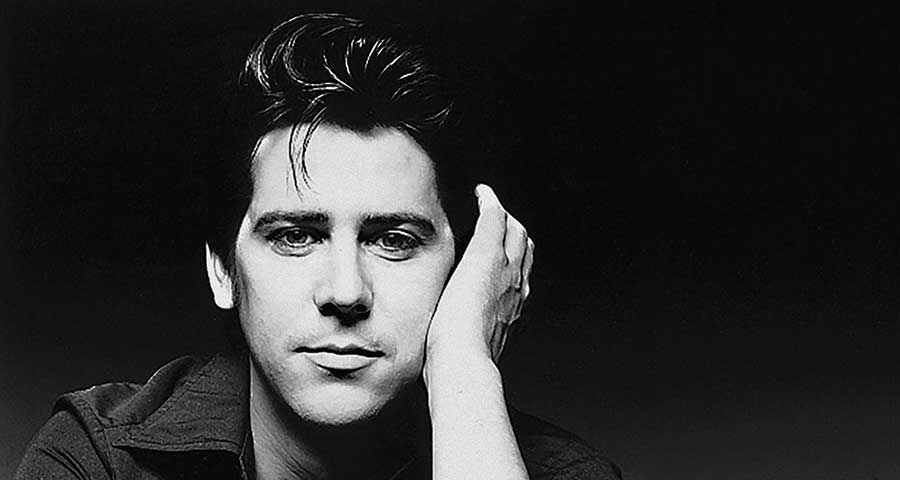 In 2020, Shakin' Stevens talked us through his incredible career, from his early days with the Sunsets to a decade-long run of 80s hit singles, via a starring role as Elvis in the West End… By Douglas McPherson
Of all the artists who emerged from the rock'n'roll scene of the 1970s and found chart success in the early 80s, no-one picked up the ball and ran with it as far as Shakin' Stevens. From the moment he hit No.1 with This Ole House in 1981, the denim-clad singer was a regular fixture on Top Of The Pops.
In fact, he was the first artist to make 50 appearances on the show, performing hit after hit, including You Drive Me Crazy, Green Door, Oh Julie, It's Late and Merry Christmas Everyone. By the end of the decade, he was the UK's most successful singles act of the 1980s, spending more weeks on the chart than any other artist – an amazing 435 in all.
"It was full-on," says the Welsh singer, who also topped the charts in Ireland, Australia, Sweden, Austria, Norway, Switzerland and Poland. "In those days, when you had success, they wanted the next single, the next album, the next single, the next album… In one year, I think I put out four singles. We were releasing them like bullets."
Stevens also rang up impressive album sales, with six original LPs and two hits collections going gold, platinum or double-platinum in the UK and Europe.
Born Michael Barratt on 4 March 1948, in the Cardiff suburb of Ely, Shaky's father worked in the building trade and was a former miner. "I was from a family of 13 children. I was the baby," Shaky recalls. "I used to sing in junior school, in front of the class, and went from there. It was all I wanted to do. I wasn't interested in anything else but singing and performing."
After growing up with the records of the 40s and 50s and the early 60s pop of The Beatles, he gravitated to rock'n'roll: "Little Richard, Jerry Lee Lewis, Chuck Berry and many, many more."
Among Shaky's childhood friends was one Steven Vanderwalker, from whom he eventually took his stage name. "We used to play rounders in the street and this guy, Steve, used to hold the bat like a guitar and say, 'Ladies and gentlemen… Shakin' Stevens!' I thought, 'That's a wacky name'.
"My own name didn't ring as a singer, because there was a newscaster called Michael Barratt. So when I was looking for a name, I thought I'd use that." Another pal was Shaky's next door neighbour David Dutson, who played rhythm in his first band, The Olympics.
By day, Stevens and David started a window-cleaning round, and Shaky later shook, rattled and rolled a float full of bottles as a milkman. But his main focus remained the band, which evolved into The Denims. Gigs ranged from church halls to rugby clubs and events for the Young Communist League, although Shaky wasn't interested in the politics.
Venturing further afield to London, "We played the famous 2i's coffee bar, where Cliff Richard and Tommy Steele used to play. We did very well for a time."
By 1969 Stevens was looking for a change, which came courtesy of new manager and fellow Welshman Paul 'Legs' Barrett. "I think somebody said to Paul, 'Why don't you go round and check out Shakin' Stevens?' So he came down to a gig. The band I was with was coming to an end, so I went with Paul. He had a group called The Backbeats. So some of The Backbeats' members joined myself and became Shakin' Stevens And The Sunsets." 
The group played a mix of Chuck Berry and Johnny Burnette covers, and developed a wild stage act.
"The bassist would sit on the piano player's shoulders and be bopping here and bopping there – we'd be all over the place. We had a brilliant sax player, who used to throw his instrument up in the air, then he'd catch it and carry on blowing! I'd think, 'He's only got to drop it and we've got no sax.' But in the time that he was with me, he never dropped it once."
After John Lennon's appearance at the Toronto Rock'n'Roll Revival concert, Legs wrote a tongue-in-cheek letter in the music press inviting the ex-Beatle to audition for The Sunsets. Lennon didn't respond, but the publicity stunt resulted in The Sunsets being invited to open for The Rolling Stones at London's Saville Theatre.
"As we walked in, the Stones were on stage rehearsing, and I heard Mick Jagger singing 'Bopping at the high school hop…', Jerry Lee Lewis' High School Confidential. I thought, 'Wow!' It was a fantastic gig, a great thrill and I enjoyed it immensely."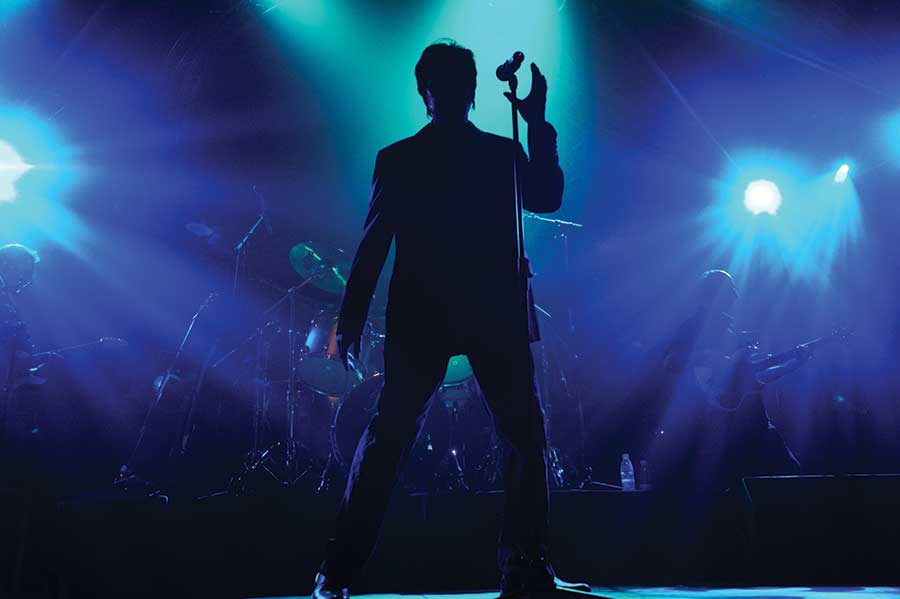 In 1973, Stevens shared the bill with Screaming Lord Sutch, Crazy Cavan 'N' The Rhythm Rockers, and a host of other homegrown acts at 'The First Ever All British Rock'n'roll Revival Festival' at Alexandra Palace. The landmark event was an indication of the scale of Britain's growing rock'n'roll revival, which Shaky was at the heart of.
When Stuart Colman launched the BBC's dedicated rock'n'roll radio programme, It's Rock'n'roll, in 1976, Shaky sang the opening jingle: "We ain't got pop, we ain't got soul, what we got is ROCK'N'ROLLLL!"
"They had guests come in and sing, and I was one of them, with The Sunsets," Stevens remembers. "They were good times, and learning times as well; doing your first recording on the radio." Yet touring in those pre-hit days was far from glamorous. "We couldn't afford B&Bs, so the five of us would sleep in the van. We'd wake up with chips on the floor. Not a pretty sight! Then it was off to a public convenience to have a wash down and shave before the next gig. That went on for a while."
The Sunsets gained the attention of Radio 1 DJ John Peel, who briefly signed them to his own record label, Dandelion – without releasing anything – and fellow Welsh rocker Dave Edmunds (fresh from the success of the guitar instrumental Sabre Dance with his band Love Sculpture).
Edmunds introduced them to Parlophone and produced their first album, A Legend, in 1970. Sales were poor, however, and after five more little-heard albums with the band, Shaky signed his first solo deal with Track Records, former home of The Who and Jimi Hendrix, in early 1977. 
"We had some guys from Sounds Incorporated, really great musicians. It was very raunchy. Unfortunately, by the time they came to release the album [titled Shakin' Stevens], the company went into liquidation, so everything fell flat," he recalls.
Shaky's big break came later that year when he was chosen to play the movie-era Elvis Presley, alongside Tim Whitnall and PJ Proby, who portrayed the 1950s and 1970s versions, in Jack Good's West End musical, Elvis.
"Jack had a later-career Elvis lined up, and an early-career person lined up. They didn't have a middle one, so one of the musicians in the show mentioned my name: 'Why don't you check Shaky out?'
"Jack attended my gig at the Greyhound. At the end of the show, he came over and asked me to audition for the part. I auditioned, but was very nervous. Keith Strachan, the musical director, was there. I sang two songs with the piano, and he said, 'As far as I'm concerned, I'd say yes'. Jack Good came in and had a listen, and he said, 'My boy, you have the part!'"
Opening at the Astoria Theatre just three months after Presley's demise, Elvis was a huge hit. It won the Evening Standard Theatre Award for Best Musical and ran for 614 performances, into 1979, playing to 8,000 people a week. "It was the show to go to," as Shaky puts it.
Good, who had pioneered Britain's television coverage of rock'n'roll with Oh Boy! in 1958, capitalised on the burgeoning rock'n'roll revival with a new version of the show in 1979, and followed it with the similar Let's Rock. Both shows starred Shaky alongside Alvin Stardust, Lulu, Joe Brown and Freddie 'Fingers' Lee in a non-stop stream of brightly costumed song-and-dance numbers.
"Jack was responsible for Oh Boy! in the beginning, with Marty Wilde and Cliff Richard, so it was a thrill to be with a man who knew his stuff," Shaky recalls. "The musical lifted my name, and so did Let's Rock, because it was on once a week."
The exposure paved the way for Stevens to sign a new record deal with Epic, and make his first trip up the charts with Hot Dog. The original version by country singer Buck Owens, performing as Corky Jones, failed to chart in 1957, but Shaky's revival reached No.24 in the UK and led to a spirited prime-time debut on Top Of The Pops that saw him dancing on top of Geraint Watkins' piano.
"After that, I had Hey Mae, which had radio plays on Capital, but didn't dent the chart. The one that really kicked it off for me was Marie, Marie. I heard the original by The Blasters when I was on a promotional tour somewhere. Somebody played it to me, and that was it.
"Sometimes you hear a song and think: 'I like this, there's something about it. It's got the hook. It's got a story in there as well'. I just wanted to record it. We were in the studio in the next couple of days. We recorded it and couldn't wait to get it out."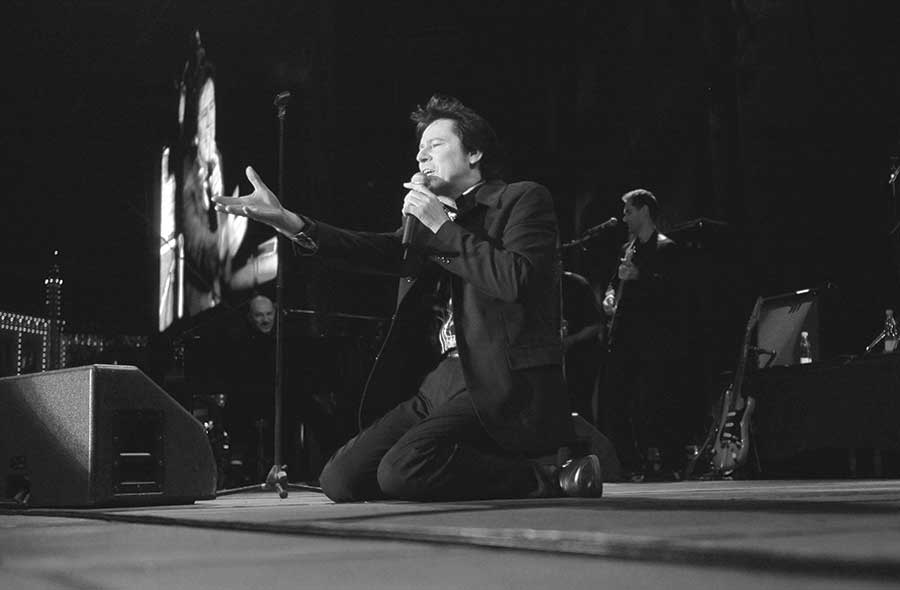 Marie, Marie gave Shaky his first Top 20 hit, reaching No.19 in the UK and the same position in Germany. "That opened it up for me in Europe and other territories," the singer recalls.
The single's parent album was also called Marie, Marie, but not for long. The title was hastily changed to This Ole House to reflect the phenomenal success of Shaky's next single, which catapulted him to No.1. This Ole House actually pre-dated rock'n'roll – Rosemary Clooney topped the charts with it on both sides of the Atlantic in 1954.
Stevens took his inspiration from a sparse rockabilly update by NRBQ in 1979, but made the song utterly his own, aided by slick production by Stuart Colman that combined 50s-style rockabilly guitar licks with a glossy 80s-pop drum track. 
Shaky made his first video to promote the song, with the help of some enthusiastic extras.
"We shot it at an old farmhouse with the windows missing, and because it was on farmland, we asked the farmers, 'Do you want to be in the video?' So there they are on the chorus in their farm clothes!" Stevens chuckles. The song also introduced Shaky's most famous outfit, consisting of denim jacket, jeans and white shoes, although not by any grand design.
"I had a No.1 record, so I did Top Of The Pops. But I had no dressers or people saying you should wear this or wear that. I didn't know what to wear, really. So I thought I'd put these denims on. I often wore white shoes. It became a trademark for me."
The singer's equally distinctive footwork was similarly achieved without the aid of a choreographer. "It was just natural stuff, really," he shrugs.
The follow-up single, the laid-back You Drive Me Crazy, was a new song by Ronnie Harwood that reached No.2 in the UK, No.1 in Australia, Denmark and Ireland, and charted highly all over Europe. But Stevens was soon back in the top slot with another pre-rock'n'roll pop song – Jim Lowe's 50s hit Green Door – which he gave a This Ole House-style makeover.
"We were in Eden Studios in Chiswick, and the guys went down the road to get a bite to eat and a beer," he remembers. "Nick Lowe was in the pub. He said, 'Give Shaky my congratulations on the success of You Drive Me Crazy, and you know what? I think his next single should be Green Door'.
"It was quite a surprising thing to say, because none of us could see it. When they came back and told me, I went, 'Green Door…?' We carried on with what we were recording, then at the end of the day we said, 'Let's try it.' So we did. It went into the chart at No.22 and then straight to No.1."
As well as reinventing oldies, Shaky wrote a number of original songs for his albums. His craft came to the fore on his next chart-topper, Oh Julie, which was powered by the Cajun accordion of Geraint Watkins.
"I was really knocked out when it went to No.1," says Stevens. "I think people could relate to the squeezebox, especially throughout Europe. It had a good Cajun feel and people really pricked their ears up. There have been a tremendous amount of covers of it." 
Shaky's total of 33 hits include A Love Worth Waiting For (No.2), What Do You Want To Make Those Eyes At Me For (No.5), the self-penned Teardrops (No.5) and his duet with Bonnie Tyler, A Rockin' Good Way (No.5).
Perhaps one of the reasons Stevens was able to sustain a Top 40 career into the early 90s was his ability to blend an element of 50s nostalgia with a smooth contemporary pop sound.
One prime example was his 1983 hit Cry Just A Little Bit, with its prominent drum machine, Shaky's only song to make a dent on the US chart.
"The DJs were saying, 'This is a real change for Shaky' and thinking back, I guess it was," he reflects. "But it went to No.3 in the UK, and throughout Europe and Poland they really lapped it up."
Another factor in Stevens' longevity is the cross-generational appeal of his catchy, feel-good material. "When I first started, I think the parents were the fans and when I was on TV, they used to watch with their children. Then as time went on, their children became fans as well.
"I remember a man coming backstage in Scotland. He said, 'I used to watch you with my parents when I was growing up, and here I am seeing you at 47.' I think that's how the audience has evolved. Today, it's 24 to 54 and upwards. It's a good range."
In 2005, Shaky returned to the Top 20 with his cover of Pink's Trouble, off the back of his appearance alongside other 80s pop stars on the TV show, Hit Me Baby One More Time. More recently, he enjoyed critical acclaim with Echoes Of Our Times, an uncharacteristically dark Americana-style album of self-penned songs about his family tree.
The 2016 release made No.22 on the UK Album Chart and a follow-up is in production, but has been paused by this year's lockdown, as has his touring schedule.
The now 72-year-old singer has not been idle, however, and has spent his enforced time off from the road compiling the impressive 19CD career-spanning boxset, Fire In The Blood. It's a fitting tribute to one of the most successful careers in rock'n'roll history.
Deep and crisp and Stevens
The story behind a Christmas classic
Christmas hits can have a special longevity and Shaky's 1985 chart-topper Merry Christmas Everyone is perhaps his most enduring release. Having given the singer his fourth and, to date, last No.1 single in 1985, the song has become a Yuletide mainstay.
Thanks to downloads, it has returned to the UK chart every year since 2007, hitting a peak of No.6 last year. The crisp and catchy single was written by Bob Heatlie, who penned Shaky's 1983 hit Cry Just A Little Bit, as well as Aneka's 1981 chart-topper Japanese Boy.
The song was recorded for release in 1984, but the plan changed to avoid it being overshadowed by Band Aid's fundraiser, Do They Know It's Christmas?. "Not blowing my own trumpet, but Merry Christmas Everyone came across to me as a No.1 record," says Stevens. "It would have been foolish to release it at the same time as Band Aid, because then I would have been No.2 or No.3 or whatever. So we held it back to the following year. Band Aid went to No.1 in 1984. Then the next year, I went to No.1 and Band Aid went to No.2."
To mark the 30th anniversary of the initial release of Merry Christmas Everyone, in 2015, Shaky recorded a bluegrass-flavoured remake called Echoes Of Merry Christmas Everyone, with proceeds going to the Salvation Army.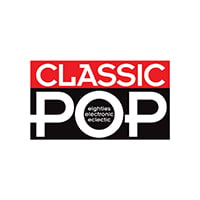 Classic Pop
Classic Pop magazine is the ultimate celebration of great pop and chart music across the decades with in-depth interviews with top artists, features, news and reviews. From pop to indie and new wave to electronic music – it's all here...