Subscribe to Classic Pop for half the price!
By Neha Baveja | January 3, 2023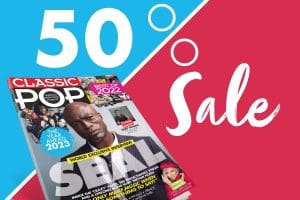 Our January Sale is here! Subscribe to Classic Pop today and save 50% off the cost of your subscription.
No matter what your plans are for 2023, a regular fix of pop nostalgia is guaranteed to improve the year. As a subscriber, you'll get every brilliant issue delivered straight to your door, as well as access to our vast digital archive, and a discount across all back issues.
Subscribe today  for only £9.75.
Why subscribe?
Save 50% off your Classic Pop subscription, paying just £9.75
Get every issue delivered to your door and your device
Gain access to every issue of Classic Pop ever published via our digital archive
Receive exclusive discounts on all Classic Pop and Classic Pop Presents magazines
SUBSCRIBE TO CLAIM THIS OFFER ➔
If you're an overseas reader, you can also get huge discounts on our digital-only subscription – no delays, no damaged copies, just pure pop excellence.
Terms & Conditions:  The saving is calculated from the UK cover price, and is only available to UK Direct Debit/continuous card payment customers. We also have savings for our overseas readers. There are 6 issues of Classic Pop published in a year. Offer code: JAN23CLPWEB. Offer ends: 28th February 2023.
Neha Baveja