Take That Wonderland interview
By Classic Pop | March 19, 2023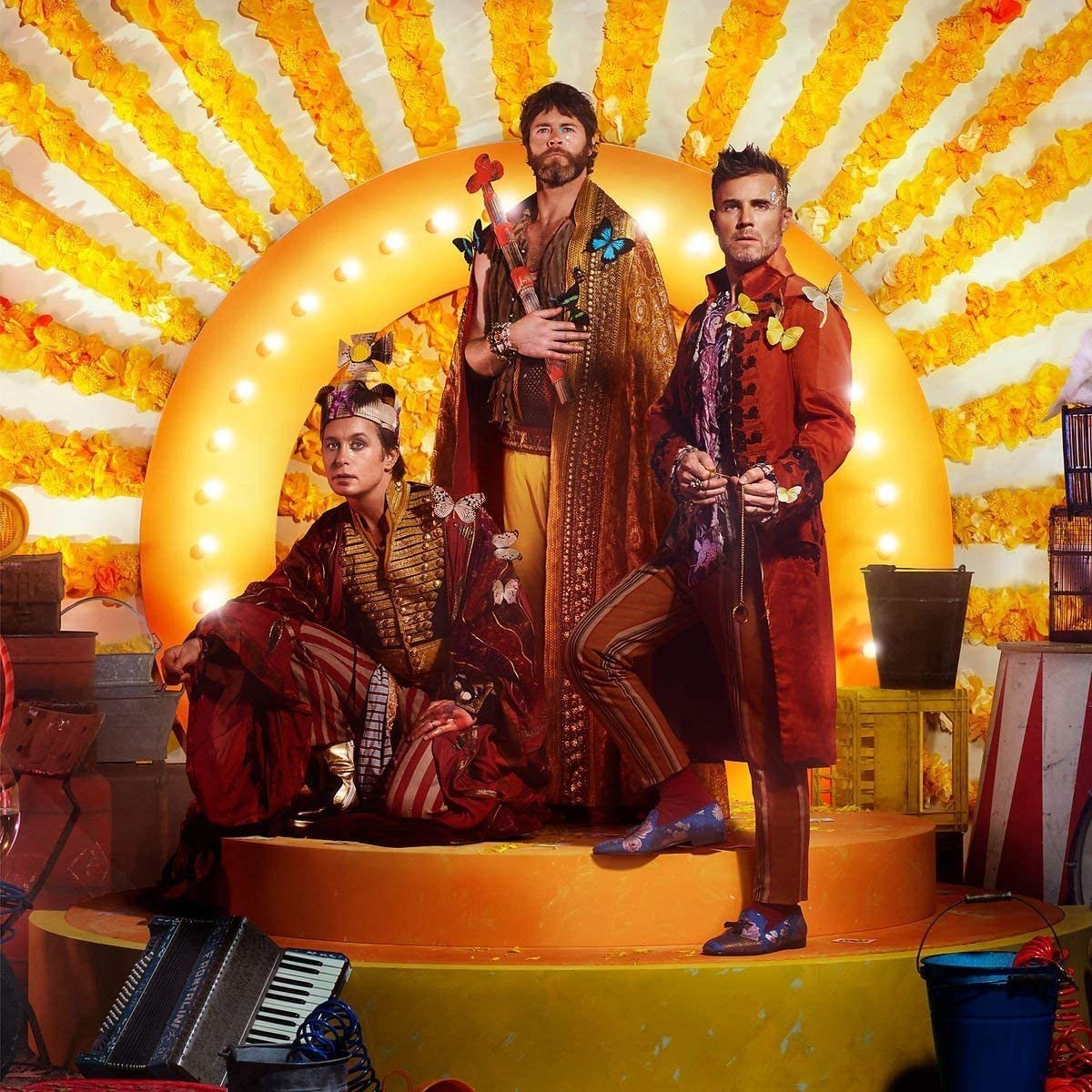 They've suffered more break-ups and make-ups than Richard Burton and Elizabeth Taylor, but Take That remain one of Britain's most enduring bands. In 2017, Classic Pop met the group on the eve of their Wonderland tour…  By Rudy Bolly
Seven No.1 albums, 12 No.1 singles, and more than 45 million record sales speak for themselves, yet Take That's Gary Barlow, Howard Donald and Mark Owen show no signs of slowing down.
As well as the arrival of Wonderland, their second album as a three-piece, 2017 heralds the launch of their own musical amongst other secret projects.
Meanwhile, there's a rumour going around Tinsel Town that Gary has landed a role in the next Star Wars movie.
Classic Pop's visiting contingent attempt half-hearted Jedi mind tricks on him, but like all things Force-related these days he's sworn to Cold War-style secrecy.
"I cannot give anything away or they will cut me out of the film," Gary says stoically, even if it means causing friction with his bandmates.
Forlorn Mark Owen, a man perhaps suited to an Ewok costume, was not so lucky, "I am very envious if I'm honest."
Bearded Howard Donald seems equally non-plussed: "Gary might as well tell you about it because I want him out of the film."
Clearly enjoying the 'Bantha' banter Gary continues winding everybody up, "I've got to be so secretive being Chewbacca's brother… oh shit."
Nearby, a tribal head-dress rests against a giant swan and other unusual stage props. We are backstage at Birmingham's Genting Arena just three hours before show time and Take That seem unnervingly relaxed.
In fact, Gary, rocking fresh peroxide blond hair, is excited: "18 months of planning goes into this, the actual show itself is the easy part."
For Mark it's more of a relief: "I enjoy touring because of the routine that comes with it. You start to feel healthier and fitter. It's much weirder not working. I like knowing there is something for us to aim towards. And you get fed when you're doing shows."
That's a perk too far for Gary: "If I look at crew catering, that's 4lbs on me straight away."
Through the looking-glass…
It's been three years since the shock retirement of Jason Orange relegated Take That to a trio. Although Wonderland is the current line-up's second album together, only now have they truly found their feet again.
"That last record was hard," admits Gary of 2015's III. "I suppose Wonderland is the first proper album we've made as a three-piece because we left the door open for Jason on the previous one, right up to the last minute."
Of course, it's not the first time they had to endure a line-up change. Robbie Williams has left on a couple of occasions which, with no hard feelings, they describe as "inevitable".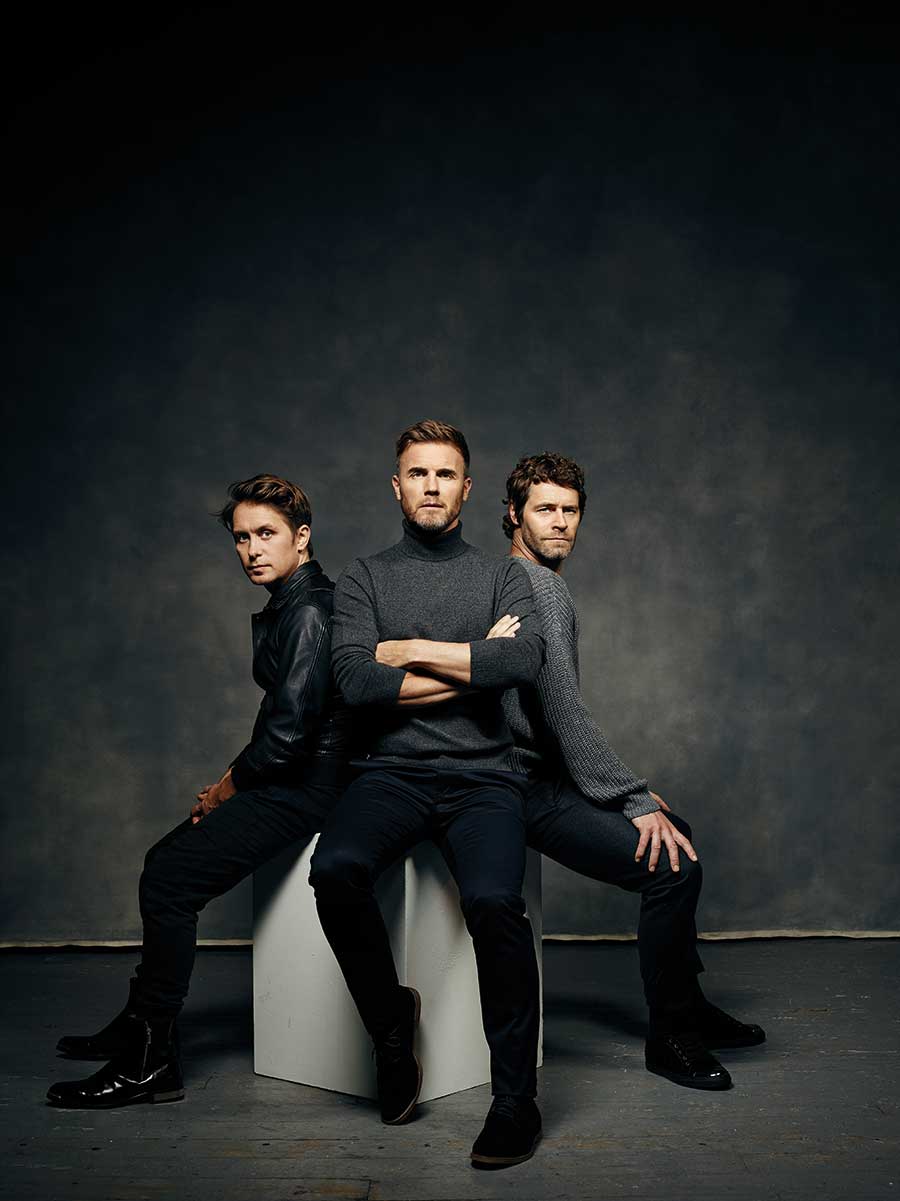 But when Jason left, Take That really did consider calling it a day for good. Howard says philosophically: "It was a very uncertain time, whether we should call it a day or carry on. The fans helped us decide. If they were happy with three of us, we'd carry on."
"It was a bit weird when you go into rehearsals for the first time," says Mark looking back. "But you find your space. I think we feel quite comfortable as three now."
Jason sent the boys a good luck message before the 2015 tour: 'try and sing in tune and dance in time'. "That's something we've never quite mastered," laughs Howard.
Two years later, another former member reached out with a similarly cheeky suggestion. "Robbie said, 'break both legs'," Howard deadpans. "I don't know what that means."
Ever since 2009's Circus Tour, Take That have become synonymous with sensational feats that owe more to Cirque Du Soleil than rock'n'roll.
The Wonderland Tour takes things further by employing a state-of-the-art stage – in the shape of their iconic logo – slap bang in the middle of arenas.
Is there pressure to out-do themselves with every new tour? "We enjoy the process," says Howard, a surprisingly chatty self-confessed introvert.
"But it's not necessarily to think bigger and better each time, but we always want to improve on what we've done before and there's always something to learn from the last one.
"Wonderland is totally different because it's in the round and a massive challenge to us and actually a bigger challenge than we ever expected because basically we are so exposed.
"It might sound easy to walk around in circles but we aren't doing that, there's a lot of intricacy with what's going on under the stage and above and behind, moving parts everywhere."
Fans get a 360-degree view of their idols as giant screens float above and dancers bungee between pyrotechnics. Offering an insight into the inspiration behind it all Mark spills: "Prince did those shows in the round at the O2 (Arena), I went to see them, what an amazing performer."
But Gary hints that the real source lies closer to home: "Part of the idea of being in the round is to get as close as possible to the audience. I went and sat in the worst seat which is right at the far corner, and the view was still fantastic."
Curiouser & curiouser…
With eight studio albums under their belts, choosing which songs to perform is equally problematic. The Wonderland show revives some old classics including 1992's Satisfied, while a snippet of Take That And Party even gets an Indian makeover.
"It's not an easy thing picking a setlist any more," nods Howard. "There's new things you want to get in but then there's old stuff we simply can't not play. We like doing the old ones but we are trying to get as many new ones in as possible."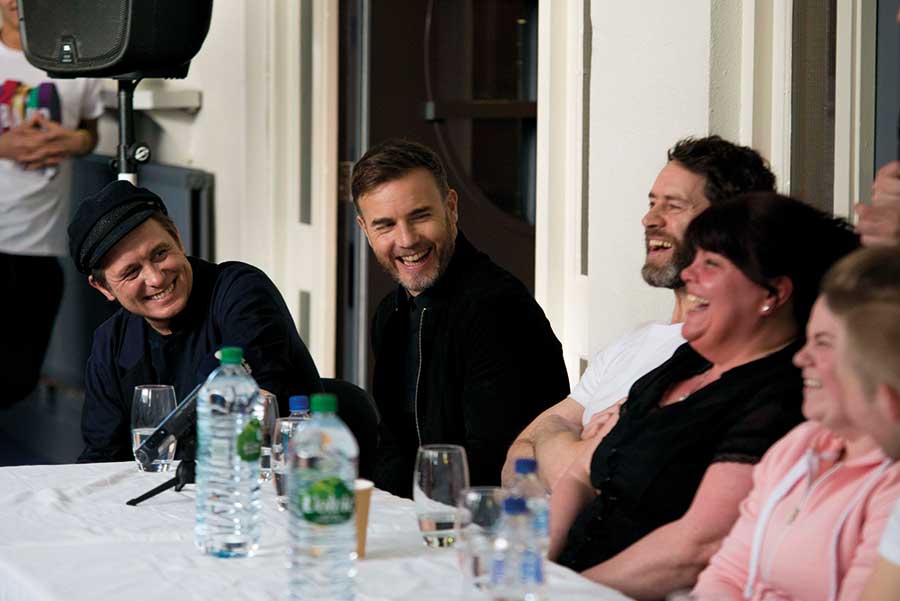 The new ones are very good, in particular the Wonderland title track which is anchored by a brilliant: "Music makes you feel good" vocal hook.
"A life without music would definitely be a life half-lived," muses Gary. "So I appreciate every day I'm doing it. Music is an important to me today as it ever was… for all of us."
Wonderland is a record about accepting change and hope – regular themes throughout all their work. With its syncopated bassline and big synth stabs, the title track has an undeniable 80s connection, too; Classic Pop readers might even call it Trevor Horn-eqsue.
"It's funny you should say that because Charlie Russell who produced that track was Trevor Horn's assistant," Mark reveals. "So he would be very proud to hear that."
Gary explains further: "We started writing again on the last tour and just continued. Wonderland was one of those tracks we were working on throughout the whole album, adding bits and bobs to it. In fact, it started out as a different song. The music was so good, so worldy and vibey."
We're all mad here…
Another focal point of both album and tour is the song, Superstar. "It's a long way down/Gonna have my 15 minutes of fame," sings Mark, riffing on the trials and tribulations of fame.
For the most part Take That have avoided the pitfalls that accompany celebrity. Their old bandmate Robbie Williams – who has openly spoken about addiction – perhaps hasn't been quite so fortunate.
"I don't think we played Rob that song, "deflects Howard. "He's heard it now but there was a time when we were writing the album and we got into a hotel room and he played us some of his album and we played him some of ours, it was like a musical challenge going on. 'What about this one then?' But we didn't play Superstar."
The song also revels, satirically, about life in the spotlight. Gary nods: "It is so apt for us though to perform live. Because you're on stage as yourself but you're also kind of a character, I mean I'm not like this when I'm at home. But on stage when you're in your outfit you feel great. Superstar is what it's about."
That desire to become a star is something Take That know only too well. Gary recently fronted BBC TV talent show Let It Shine to find newcomers for their forthcoming musical, The Band.
Premiering in Manchester this September, ahead of a national tour, the project sold more than £2 million worth of tickets within two hours of the box office opening.
However, The Band really centres on five teenage girl fans of a pop band who, 25 years later, reflect on their youth. Take That started working on the musical almost nine years ago.
Mark says: "We wanted it to be something that, even people who aren't Take That fans would enjoy as a night out."
Gary, Mark and Howard have been hands-on, attending cast workshops and nurturing the new talent. And contrary to tabloid reports, Five To Five – the band formed on the BBC TV show – do play major roles in the musical.
"We have an unbelievable band for this show," confirms Gary. "Our guys are never off the stage. I really enjoyed getting involved with musicals, it's a revelation for me and I want it to continue."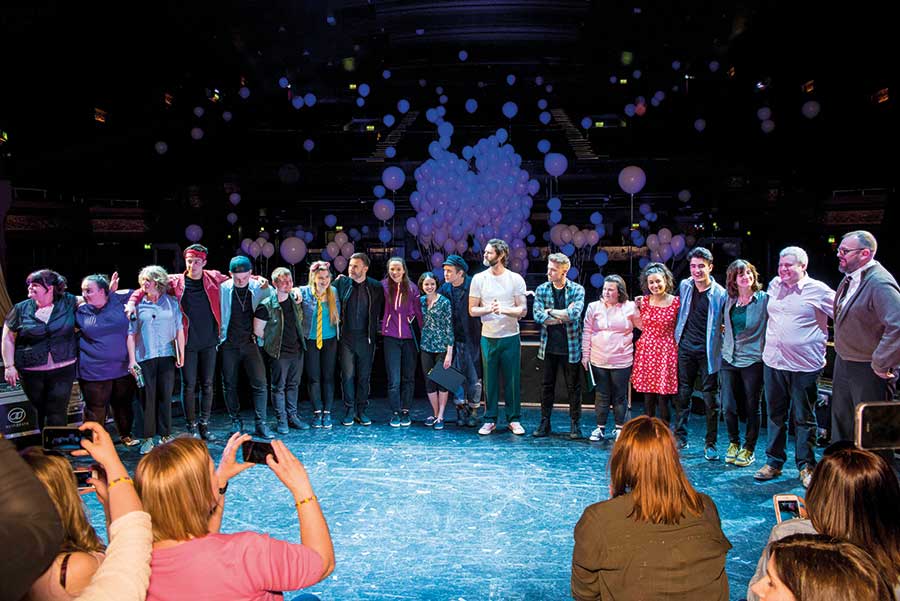 Of course, it's not Barlow's first musical. He previously launched Finding Neverland on Broadway to great acclaim, and The Girls, the Barlow and Tim Firth award-winning comedy, is currently wowing audiences on the West End. But he stops short of treading the boards himself.
"I can't act," he admits. "That's a really key thing. Andrew Lloyd Webber said to me once, 'Always pick the actor over the singer'. It's incredibly important to have great actors in musicals and I'm rubbish at acting."
Naturally The Band mirrors Take That's own story along with the fans who made them. It was manager Nigel Martin-Smith who gave them their own big break many moons ago.
Having first impressed him with a home demo Gary recalls: "He told me he wanted to put a band together, and I said, 'I don't want to be in a band. I don't want to be carrying drums on staircases.'
"But it wasn't that type of band, so he played me a video of New Kids On The Block. I thought, 'ah, vocal harmony group, I like that'." Four days later auditions were held to find like-minded future pop stars.
"There were six of us," chuckles Gary. "But we still don't know where that last guy went. So far, there have been four of him, but all the people who have come forward are not the guy I remember."
Indeed, five of those six became the final Take That line-up.  "We were excited, ambitious and spent the next year, because we all kept our jobs at this time, doing some shows and putting some music together," explains Gary who was just 18 at the time.
"But they made a big mistake and let us go shopping for our own clothes. We came back with all this leather gear. We said to Nigel, 'you wanted us to get noticed, so this will get us noticed'."
It's no use going back to yesterday
Take That's early days were far from glamorous, they spent a year in a yellow van going up and down the M1.
"The funny thing about Nigel was I couldn't make out if he was a genius or off his head. Honestly, the way he used to talk to us it was like we were enormous already. He was really convincing."
However, 18 months passed without a record deal and then suddenly, as if by magic, teenage hysteria kicked in. "I'll never forget it, when it happened for the first time. The thing that changed our lives forever," says Gary getting a little misty-eyed.
"We came out of this club in Hull and there were 20 girls there. As we started to pull away these girls screamed and ran after our van. And we weren't even going that fast.
"We looked at each other and went, 'oh my God'. On the Monday night there was 20, the following week there was 50, and then on the following week 150, six months later there were four or five thousand at our shows. They loved us, and we loved them."
However, on 13 February 1996, Take That announced they were disbanding, and telephone hotlines were set up to console grieving fans. Out of the blue, in 2006, their record label made plans to release the Greatest Hits.
"Of course we thought, 'who is going to want that?'," admits Gary, "Little did we know our little army was sat waiting for us. We stepped out there and all those gorgeous feelings of doing something that people wanted came back."
Go on till you come to the end…
Take That's second coming has lasted longer than the first, and arguably spawned even greater success. Gary agrees: "This period has been more enjoyable because we're more involved, able to be more creative in all aspects of Take That."
Now there's talk of anniversary celebrations with Robbie Williams, and possibly Jason Orange, to mark Take That's 25 years. The rumours began two years ago, but 2017 marks a quarter of a century since their debut album, so where are we with those plans now?
Mark Owen is first to try to explain: "We are very confused ourselves to be honest. I think we would still love to do something special with all of us, some sort of anniversary. But I don't know if it will be tied to a year any more, because it feels to us like 25 years has gone.
"We might do something at the end of this year, we're not sure." Gary adds: "We are looking to do something, hopefully maybe get Robbie on board and Jason on board. But it might be the 30th anniversary that we end up celebrating."
Before that fans can at least expect a little new music, maybe even featuring Robbie, too. Avoiding going into too much detail Gary confirms their two record labels are joining forces for a release: "They're talking about doing some kind of commemorative boxset, of all the music, around Christmas."
Next year the band might also take up the offer of a Las Vegas residency. Gary says: "In our heads, this year is all about touring and getting Wonderland out, but who knows about next year."
Take That are a very British institution and American success is perhaps the final piece of the jigsaw that is missing from their story. Mark says: "Now that our children are growing up and are at school I would love us to go out there."
But at the end of the day, Take That know they owe it all to the homegrown fans who have followed them through thick and thin.
In return, the affable trio have sometimes rewarded loyal fans by personally helping resolve concert ticket issues, while Gary can't resist rocking up to someone's wedding unexpectedly to serenade them.
Howard nods modestly: "We're still living the dream and it's all because of the audience, so the music, this show, everything we do is for them."
Back in the early-90s few could have predicted Take That would still be breaking records 25 years later. They've evolved from boyband to manband, so what does the future hold – grandad-band?
"Are we ever going to stop performing? Well we love it," concludes Mark. "It's an amazing thing to do. We like making music and we like performing so as long as we think there is something for us to offer then we'd like to think we could carry on."
The clock is ticking and the boys are about to be ushered away for their own pre-gig routine.
"Everything about today is positive," offers Gary – a glint in his eye. "We get up and get ready and we are still excited, there's no better feeling."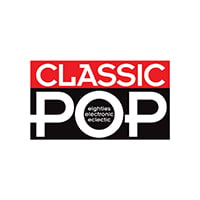 Classic Pop
Classic Pop magazine is the ultimate celebration of great pop and chart music across the decades with in-depth interviews with top artists, features, news and reviews. From pop to indie and new wave to electronic music – it's all here...