Stars to perform David Bowie's 'The Man Who Sold the World' album
By Classic Pop | September 10, 2014
Tony Visconti, Woody Woodmansey, Glenn Gregory, Steve Norman and Holy Holy to perform David Bowie's 'The Man Who Sold the World' album with special guests
Being asked to sing David Bowie's songs on stage is a dream come true for Heaven 17's Glenn Gregory – even though he's panicking about getting the words wrong.
Gregory is performing the whole of Bowie's 1971 album The Man Who Sold The World at three gigs in September, fronting a band featuring original drummer Woody Woodmansey and bassist Tony Visconti – later The Spiders From Mars' sticksman and producer respectively.
"I'm cramming lyrics like a kid the night before his A-Levels," Gregory told Classic Pop. "I've been singing along to these songs for 40 years but, crucially, I've been singing some of the lines wrong. It's "Lennon's on sale again", not "Lemons on sale again", and I mustn't get that wrong on the night."
Gregory worked with Visconti on their International Blue album with Midge Ure recently, but admitted he was astonished to be asked to take Bowie's part.
"When Tony asked if I wanted to sing The Man Who Sold The World, I thought he just meant the title track," Gregory laughed. "The original album is quite short, so we're doing a total of 23 songs. They're real killers, so it's a "Slap me across the face, am I dreaming?" moment – "What? I get to sing that with Tony Visconti and Woody Woodmansey? Bloody hell!"

He added: "Looking at videos of Bowie from the time, he's not playing the same persona all the time. I'm not going to try to emulate him, but Bowie's influence is in me anyway, so I hope there's enough of him there already for people to enjoy it."
Spandau Ballet's Steve Norman will play guitar and sax on the tour, alongside late Spiders From Mars guitarist Mick Ronson's sister Maggi and daughter Lisa at Sheffield Academy (September 18), Glasgow Academy (20) and Shepherds Bush Empire (22).
After that, Gregory continues work on the soundtrack for new film Code Of A Killer, about the first use of DNA to solve crimes. "I worked with the director, James Strong, on the soundtrack for  his BBC4 biopic about Kenny Everett, In The Best Possible Taste," explains Gregory. "We're both very visual, so it's a sympathetic working relationship."
And after that, it's back to the day job of Heaven 17. A  joint tour with Blancmange kicks off on October 23. "We'll do a couple of new songs," vows Gregory. "The new album is coming along slowly, but only because Martyn Ware and I are so busy with our own things.
Once we're in the studio, it's very exciting and quick, but we're only there about one day a week. We need to make time to have a proper run at it."
(words: John Earls/Photos: Kevin Nixon)
Special Guests have now been announced:
London, The Garage, Wednesday 17th September – Kevin Armstrong, Daphne Guinness – SOLD OUT
Sheffield, O2 Academy, Thursday 18th September – John Parr, Daphne Guinness
Glasgow, O2 ABC, Saturday 20th September – Daphne Guinness
London, O2 Shepherd's Bush Empire, Monday 22nd September – Marc Almond, Daphne Guinness
Tickets available from 0844 477 2000 and ticketweb.co.uk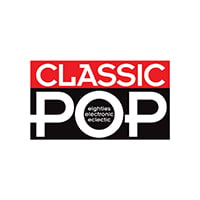 Classic Pop
Classic Pop magazine is the ultimate celebration of great pop and chart music across the decades with in-depth interviews with top artists, features, news and reviews. From pop to indie and new wave to electronic music – it's all here...