Issue 18 of Classic Pop on sale now!
By Classic Pop | July 16, 2015
Issue 18 Live Aid 30th Anniversary Special with free supplement!

Our August/September Issue 18 – out today – toasts the 30th anniversary of Live Aid. We track back to relive events as they unfolded, both via our free 'Live Aid Special' supplement and through the words of Bob Geldof, Midge Ure, Duran, Spandau et al, who share their recollections about the day that changed pop music for good.
For the next installment of Pop Art, we take a look at the faultless Peter Saville designs that accompanied Peter Gabriel's commercial breakthrough LP So.
"We've been painted as these three guys trying to kill each other, and that's just half truth." The Police's guitarist Andy Summers discusses his new film Can't Stand Losing You: Surviving The Police – an intimate and personal account of the highs and lows of life on the road.

Elsewhere, we focus on Düsseldorf's finest – Claudia Brucken and Propaganda, Die Krupps and, mighty EDM pioneers Kraftwerk – and wonder where we'd be without them, Shaun Ryder speaks out about commandeering the charts back from Rick Astley's clutches and we survey George Michael's incredible career thus far – drop-dead teen idol to brooding soloist.
Also interviewed this issue: Strawberry Switchblade's Rose McDowell, Matt Johnson, St.Etienne's Sarah Cracknell, Paul Young, Greek synth duo Marsheaux and… art house pop experimentalists Shriekback.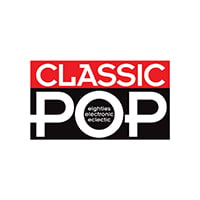 Classic Pop
Classic Pop magazine is the ultimate celebration of great pop and chart music across the decades with in-depth interviews with top artists, features, news and reviews. From pop to indie and new wave to electronic music – it's all here...