Lost & Found: Mainframe – 5 Minutes
By Classic Pop | August 4, 2016



Purveyors of some of the finest cult electro-pop you may never have heard, Mainframe were notable in part for their use of (and their involvement in the development of) the Greengate DS:3 digital sampler. Yet the writing on 5 Minutes was just as forward-looking.
Beginning with a battering of samples, the track is as accessible as it is challenging, as all good pop should be, with strong vocals and a killer melody; in short, it's truly imaginative, intelligent pop.



Murray Munro and John Molloy formed the band in Hemel Hempstead and opened their account with the synth-heavy
Tenants Of The Lattice-Work
LP (out on the mc2 label and available to download for free from their fan site with Molloy's permission!).
Following that, the duo released the 12" Into Trouble With The Noise Of Art on the mc2 offshoot label Ying Yang Yumm – the title and label being a thinly-veiled reference to Art Of Noise's debut EP Into Battle With the Art Of Noise and their label Zang Tuum Tuum (ZTT).
The fun-poking continued with their second 12" Close (To The Ground), trailing Art Of Noise's own Close (To The Edit). Despite signing with Polydor, the group soon disbanded, but Mainframe were definite could-have-beens…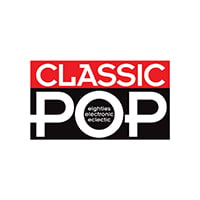 Classic Pop
Classic Pop magazine is the ultimate celebration of great pop and chart music across the decades with in-depth interviews with top artists, features, news and reviews. From pop to indie and new wave to electronic music – it's all here...