Spotlight – It Bites: Once Around The World
By Classic Pop | October 31, 2022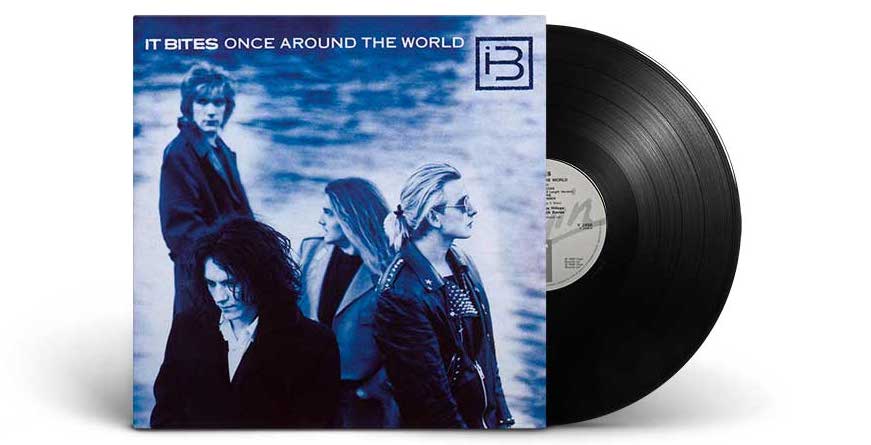 The 80s pop-rock revival wasn't all Genesis and Marillion – It Bites also hit bit with Calling All The Heroes and their supremely confident second studio album, Once Around The World, has since become a lost classic… By Matt Phillips
The received critical wisdom about It Bites was that they were too pop to be heavy metal, too heavy to be pop, more interested in musical excellence than hit singles and driven by a reverence for quality progressive rock and jazz-fusion.
But in their relatively short recording history (at least with the original line-up of Francis Dunnery on guitar/vocals, keyboardist John Beck, bassist Dick Nolan and Bob Dalton on drums) between 1986 and 1989, they nonetheless managed one huge hit, Calling All The Heroes, several other near-hits and three well-received studio albums.
Emerging from Cumbria in the early 80s, after an initiation period as a covers band playing songs by the likes of Haircut One Hundred and Level 42, they knuckled down to writing their own material and were signed by Virgin Records in 1985, releasing their debut collection, The Big Lad In The Windmill, on the label the following autumn.
It reached No.35 in the UK and spawned that famous one-hit wonder.
Expectations were high for the follow-up album. Virgin MD Richard Branson was taking an interest and offering up his Manor studio. This was the era of the superstar producer, though, and one such helmer loomed large as It Bites tried out a few potential collaborators.
"Nick Froome was part of Trevor Horn's camp. Everyone who had ever walked past Horn was given a record to produce. I think Trevor's milkman produced Then Jerico and had a hit!" Dunnery joked to Prog magazine in 2015, referencing Gary Langan.
As for Froome, he may not have emerged from the Once Around The World experience with a producer credit but did end up engineering most of the album.
Arriving at the bucolic Manor in Oxfordshire, the band embarked on self-producing the challenging compositions on Side Two, but not before some initial demob hijinks: "We chose our rooms and then drank the wine cellars dry," Dunnery recalled to Prog.
"It was like heaven. All the drink you wanted, all the food you wanted, all the pot you wanted. And an amazing studio just outside the front door where we could record songs that were over 10 minutes long. I was hungover for six weeks." 
The extraordinary 14-minute title track was put together with the assistance of U2/The Smiths/Talking Heads collaborator Mark Wallis and filmed for Channel Four's Equinox programme, which is available to watch on YouTube.
But this epic was no tuneless, indulgent musical mess – each section earned its keep with memorable, catchy moments and brilliant ensemble playing.
Elsewhere, the barmy Hunting The Whale made good use of the Manor swimming pool and John Beck's accordion, Plastic Dreamer was pomp-pop at its best (and, lyrically, a sort of prototype Toy Story) while Old Man And The Angel added an audacious middle section and new coda to the single version that had failed to chart in the autumn of 1987.
But the record company, while generally supportive, stepped in after they heard the first fruits of the band's labours. Early recording sessions at The Manor were deemed chaotic by Virgin who were desperate for a hit single to promote the album.
With that in mind, they turned to producer Steve Hillage to sculpt a chart-friendly 7″.
Hillage, once a member of acclaimed prog rockers Gong and a Virgin solo artist to boot, emerged as a stabilising influence and fine arranger of their material, producing Side One's five shorter tracks: Kiss Like Judas was almost Calling All The Heroes part 2, with a lyric that updated Victor Hugo's Hunchback Of Notre-Dame; Midnight, with its brutal funk-rock riff and lyrical reference to Japan's Art Of Parties.
Kiss Like Judas, Rose Marie, Yellow Christian and Black December all featured soaring melodies, rock-solid grooves and distinctive lyrics.
The former two were later released as singles but missed the UK Top 40. Commercial concerns seemed of little interest to the band, though. It Bites were more than content playing 20-minute jams and smoking marijuana.
Finally, Once Around The World was in the can, and the album was a triumph. Dunnery's vocal melodies were memorable and original, reflecting influences as disparate as Paddy McAloon, David Sylvian and Peter Gabriel.
Beck's use of major-seventh chords smacked of a misspent youth playing easy listening and light jazz standards in Cumbrian working men's clubs, and there was a touch of 80s R&B in the mix too with the band's use of recurring motifs. 
But essentially it was very 'English' music, with barely a blues lick or concession to US rock: "I once slagged Once Around The World off as being pretentious, but I think it was honest of It Bites to write that music," Dunnery told Guitarist magazine in 1989.
"We weren't pretending to be anything. We don't write songs about being rebels from the streets or pretending we come from L.A. – it's OK for Bon Jovi or Guns 'N Roses, because they were brought up with it, but when these English bands try to be American…"
Once Around The World was unleashed at the end of March 1988 but stalled at No.43 in the UK, a big surprise and disappointment to all concerned.
It was derided by Melody Maker and NME, ignored by Q, tolerated by Sounds but loved by heavy metal magazine Kerrang! ("flowing, delicate melodies, sophisticated arrangements and superb musical performances").
"We were too good for them to understand," an unrepentant Dunnery volunteered years later to Prog. "The so-called music press were so incredibly unmusical that we went over their heads."
However, It Bites remained a major live draw. They headlined a sold-out UK tour (during which Dunnery occasionally attacked the press from the stage, especially at a memorable London Astoria gig) throughout April and May 1988, supported Robert Plant and played some major summer European festivals.
And as hard rock made a return onto the British pop radar at the end of the 80s with the emergence of The Quireboys, Thunder, Gun and Little Angels et al, their heavier 1989 album Eat Me In St Louis was a strong seller. 
But it was also the swansong for It Bites' original line-up – Dunnery quit the band in the summer of 1990 for a solo career.
Once Around The World would stand as their crowning glory, a career peak for one of the most gifted British bands of the 80s.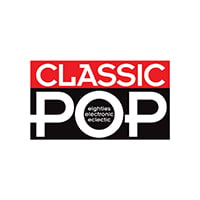 Classic Pop
Classic Pop magazine is the ultimate celebration of great pop and chart music across the decades with in-depth interviews with top artists, features, news and reviews. From pop to indie and new wave to electronic music – it's all here...