Vuromantics 2018 UK tour dates revealed
By Classic Pop | December 20, 2017
Vuromantics are embarking on a headline tour of the UK in March 2018, in association with Classic Pop Magazine.
The band – Sam Christie (vocals), Jake Christie (guitar, keyboard), Callum Hall (bass, synth), Ben Rooker (synth), Daniel Battye (drums) – released their new EP 'In The Night' in October 2017 via Alya Records and we've been hooked ever since.
Only 9 months in, Vuromantics in their infancy as a band have attracted the attention of BBC Introducing, with York Calling saying: "pure party songs about love's power sung with the conviction and charm of a gospel preacher," and Reyt Good Music Magazine saying: "One sleekly bombastic anthem after another, baiting the crowd into a frenzy."
Full tour dates and ticket links below. More info: www.vuromantics.com
THU 1 MARCH – SNEAKY PETE'S, EDINBURGH (BUY TICKETS)
FRI 2 MARCH – THE 13TH NOTE, GLASGOW (BUY TICKETS)
SAT 3 MARCH – LITTLE BUILDINGS, NEWCASTLE (BUY TICKETS)
WED 7 MARCH – BODEGA, NOTTINGHAM (BUY TICKETS)
SAT 10 MARCH – YELLOW ARCH, SHEFFIELD (BUY TICKETS)
WED 14 MARCH – NIGHT N DAY CAFÉ, MANCHESTER (BUY TICKETS)
THU 15 MARCH – EXCHANGE, BRISTOL (BUY TICKETS)
FRI 16 MARCH – O2 ACADEMY2 ISLINGTON, LONDON (BUY TICKETS)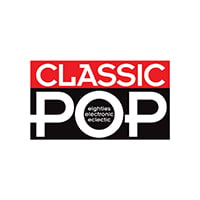 Classic Pop
Classic Pop magazine is the ultimate celebration of great pop and chart music across the decades with in-depth interviews with top artists, features, news and reviews. From pop to indie and new wave to electronic music – it's all here...