Propaganda – A Secret Wish review
By Classic Pop | March 22, 2018
We've already had the 20th (CD, DVD plus SACD) and 25th (Element Series Edition) anniversary reissues of Propaganda's A Secret Wish, now here's a brand new version, just in time for its 33rd birthday…
The album may not have been greeted with excessive warmth on its original release in the summer of 1985, but those who had been following the 80s plot, from new pop to ZTT, could immediately tell it was a late addition to the shiny electronic pop canon that reached back to Dare and Penthouse And Pavement.
Like those other 1985 long- players – A-ha's Hunting High & Low, Yello's Stella, Associates' Perhaps, New Order's Low-Life, Prefab Sprout's Steve McQueen and Grace Jones' Slave To The Rhythm – A Secret Wish was a culmination of sorts, as well as a kind of sad farewell, to the golden age of synth-pop, before the shift to acid house, Madchester, indie and all that was to follow.
It was an epic goodbye: A Secret Wish was a triumph of pomp and bombast, producer Stephen Lipson – Trevor Horn's keenest protege at Sarm Studios – using his Synclavier digital synthesiser and sampling system to full, overwhelming effect. If you want a definitive example of 80s techno wizardry used in the services of great songwriting, look no further.
Propaganda may have come from Düsseldorf, Germany's Beat Central, home of Kraftwerk and Deutsch Amerikanische Freundschaft (DAF), but they sure knew how to create a catchy tune.
"The sonics here are both brutal and beautiful, the melodies gem-like: not for nothing was this two-female (Claudia Brücken and Susanne Freytag)/two-male (Michael Mertens and Ralf Dörper) line-up described by a journalist at Time Out as like "Abba in hell"." – Paul Lester
Propaganda had one foot in the charts, the other in the arty avant-garde: they arrived in 1984 with Dr Mabuse, shrouded in Fritz Lang strangeness. By June 1985, on the back of the success of the single Duel, which took the group on to Top Of The Pops, that sinister/pretty duality was fully in place.
Yes, the opening nine-minute song featured Freytag's haunting recitation of Edgar Allen Poe's A Dream Within A Dream over rippling electro-percussion and wistful trumpet, but it was never less than sumptuously inviting. If the music balanced the harsh with the heavenly, the musicians employed came from pop (The Police's Stewart Copeland, Heaven 17's Glenn Gregory), post-punk (Magazine's John McGeoch) and prog: that's Steve Howe of Yes providing the superb jazzy guitar solo for The Murder Of Love. Some of the latter is almost mellifluous.
But Propaganda also offered a pop version of the then au courant metal-bashing (indeed, the demo that sparked ZTT's interest was a version of industrial anti-heroes Throbbing Gristle's Discipline), and Jewel is a jarring take on Duel. Having both back to back neatly demonstrated how production could change the shape of a song.
Elsewhere there's Frozen Faces, featuring Freytag's brilliantly distracted intonations counterpointing Brücken's more conventional (albeit Teutonic- tinted) singing; the power-force- motion-drive of p:Machinery (with a topline melody courtesy of David Sylvian); a cover of Josef K's Sorry For Laughing (about the only inessential track on the album); and the delicate, divine The Chase. The album now comes with a 32-page booklet, including new sleevenotes penned by Classic Pop's Ian Peel. The Wish is Secret no more.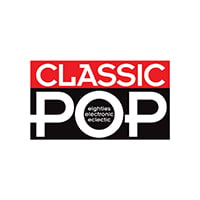 Classic Pop
Classic Pop magazine is the ultimate celebration of great pop and chart music across the decades with in-depth interviews with top artists, features, news and reviews. From pop to indie and new wave to electronic music – it's all here...