The Godfathers of Pop: Justin Currie inteview
By Classic Pop | July 18, 2018
Justin Currie formed Del Amitri while still at school in Glasgow. The band signed to Chrysalis and released their eponymous debut album in 1985 but it was not until a switch to A&M at the end of the decade that they achieved their commercial breakthrough with second album Waking Hours and radio hit, Nothing Ever Happens, which reached No.11 in 1990. Further success followed with Kiss This Thing Goodbye, Always The Last To Know and Roll To Me, their biggest US hit. The band went on hiatus in 2002. Since then, Currie has released four solo albums, beginning with What Is Love For. Del Amitri reformed for a tour in 2014. Written by Douglas McPherson.
What do you remember about writing Nothing Ever Happens?
I had the title for about a year before I wrote it and it was one of those songs where you end up writing it subconsciously, so when you sit down to sketch it out it all comes out in one lump. I was living in a shared flat on the Great Western Road in London and it was written late at night, staring out of the window at the buses and taxis and people walking along, so that's where that contemplative vibe comes from.
Did you have the accordion in the band before that song?
No. We were trying to be a rock band playing pop tunes, like T.Rex or Tom Petty. So when I wrote Nothing Ever Happens we thought it was quite good but it didn't really fit in with what we were doing. We made the demo with just an acoustic guitar and vocal. We were working with a keyboard player called Blair Cowan, who used to play with Lloyd Cole And The Commotions. He'd got really into the accordion with them and bought an expensive Italian accordion, so it was him that brought the instrument to the song. Mick Slaven, our guitarist at the time, added a bit of mandolin. After that, we used the accordion quite a lot.
Some of your other songs like Kiss This Thing Goodbye and Always The Last To Know have a very American rock sound. Did people think you were an American band?
Lots of Americans thought we were. It was kind of deliberate in that we'd gone to the US in 1986 without any money. We drove around the whole country in 12 weeks, basically busking, begging and living with fans' parents. We had a very unique experience of America, so felt able to sing and write in that vernacular because we'd really immersed ourselves in the States. Also, our producer Gil Norton saw it as his job to make some of these things we had radio-friendly, so he brought some very commercial ideas.
How do your solo albums differ from a Del Amitri record?
For a while, I thought there wasn't much difference and then I realised there was quite a big one. When I made my first solo album, I set out to do everything as differently as possible, from the way I made the record to the type of songs I selected. I thought the onus was on me to be more autobiographical. When I'm writing for Del Amitri, I'm writing from a kind of collective point of view. I like the idea that a love song that's ostensibly sung from one person to another can evolve into a group mentality, so it sounds like the band are singing about them and singing about the audience.
Do you prefer being a solo artist or part of a band?
Apart from Bob Dylan, all my favourite records were made by bands and I always saw myself as being in a band. I'm not a big fan of singers from bands making solo records and avoided doing it for years. Most solo records are enormously inferior to whatever an artist has done in a band, because when you make a solo record there's only one voice. I don't mean the singing voice, but the voice of the record. A band record always comes from at least two people, if not three or four. I wouldn't say the guitar on any of my solo records is a counter-voice to the song, whereas with Del Amitri what Iain Harvie is doing is often a counter-voice to what I'm doing.
Do you think there will ever be another Del Amitri album?
There might be. We've started writing songs again. Whether it's financially feasible to make a record is a bridge we've yet to cross. And we could easily record half a Del Amitri record and realise it's nowhere near as good as Twisted, and give up. So who knows?
Del Amitri's UK tour begins on 20 July at Newcastle City Hall and ends at Barrowland, Glasgow, on 28-29 July.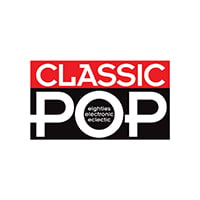 Classic Pop
Classic Pop magazine is the ultimate celebration of great pop and chart music across the decades with in-depth interviews with top artists, features, news and reviews. From pop to indie and new wave to electronic music – it's all here...