Duran Duran Superfan – Vicky Papa
By Classic Pop | March 25, 2021
When did you first become a Superfan of your favourite artist and why do you like them?
I became interested in Duran Duran in about 1982 and have followed them ever since. I love the catchy songs, exotic videos and the band members themselves. I've always found Duran Duran have been able to keep up and still put out great music. Their concerts are always fun and they make me feel like I'm 12 years old again!  
What do you have in your collection?
I grew up wanting to create a museum of my collection and last year I was finally able to set it up after more than 30 years of collecting. I have over 1,200 LPs, 12″ singles and 45s. I have every record player I've ever owned as well as cassettes and 8-tracks. In addition, I have all my concert tickets, T-shirts, programmes etc. I have a massive pop culture book collection and a stand displaying all my posters. 
How much have you spent on your collection?
Ha! I've spent thousands of dollars but it was all worth it. I collect mostly what I like, but occasionally buy things that I will possibly sell later. I even got my sister to invest in some items. It's mostly 60s, 70s and 80s stuff.
What's your favourite item in your collection?
My most prized possession is Duran Duran's Astronaut LP. I actually have one sealed copy and the other is signed by all five original band members. Once I got that, I knew my collection was complete.
Have you ever met your favourite artist?
I have been fortunate enough to have met all five original members of Duran Duran at a record signing. I met Simon Le Bon at a radio station as well. I've seen John Taylor twice, at his book signing and at Bloomingdale's for a Juicy Couture event. Roger Taylor was my favourite and I met him before a concert in New York City. Each time still makes me smile.
If you could ask your favourite artist/band one question, what would it be?
I would like to know which songs have the most significance to the band personally.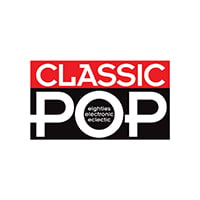 Classic Pop
Classic Pop magazine is the ultimate celebration of great pop and chart music across the decades with in-depth interviews with top artists, features, news and reviews. From pop to indie and new wave to electronic music – it's all here...