One-Hit Wonders – Best Of The 80s
By Matthew Rudd | January 31, 2022
One-hit wonders are like love affairs – intense, but alas, all-too-brief. Here's Classic Pop's rundown of the greatest one-shots ever to earworm their way into the charts and the public's consciousness, only for their makers to abruptly disappear in a puff of dry ice…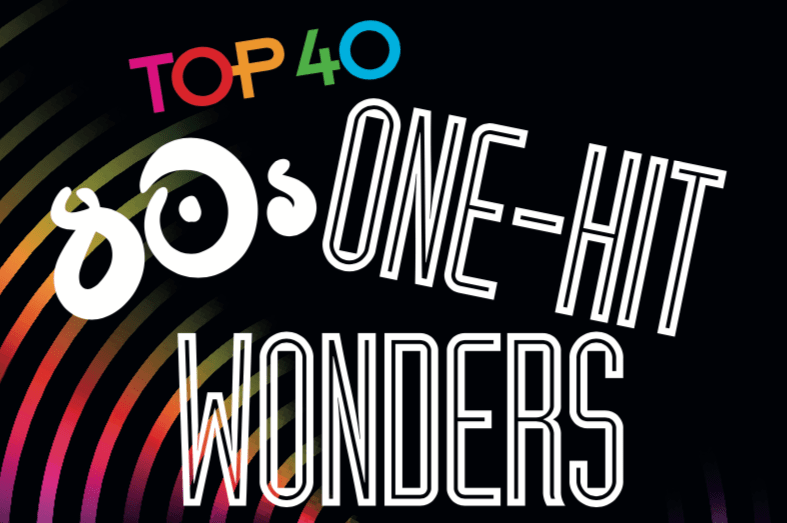 One-hit wonders; at the time, a horrible thing to be, as it suggests an artist or band doesn't have the backing or the ability to showcase more than one single good record.
But later, it becomes a badge of honour, as the fascination with one of chart music's favourite statistical quirks means the protagonists in question – and their songs – are remembered for longer, and more fondly, than any contemporary who may have been mildly luckier at the time and had two, or even three, Top 40 hits.
The 1980s had more than 200 one-hit wonders – ie, acts who made the UK's Top 40 once only in their careers.
Leaving out any whose members prominently scored successes with other 80s bands (so no Colour Field, Nick Straker Band or Hipsway here), we've picked our choices, with some difficulty, as there are at least 40 more that we could have selected on another day. Anyway, we look forward to starting a lot of arguments…
Our countdown on the best one-hit wonders of the 80s…
---
40. Orange Juice
Rip It Up

A very strong start to our list of one-hit wonders. Revered Glaswegian post-punks, initially part of the early Postcard stable, who issued a quartet of much-loved LPs from which the only single to make the Top 40 was the title track to the second.
Edwyn Collins' comical warble, alongside a cartoonish synth backing track (the first hit to use of a Roland TB-303) and less reliance on guitars, made for a distinctive and eccentric record that made No.8 in 1983.
---
39. Fresh 4 (Children Of The Ghetto) featuring Lizz. E
Wishing On A Star

No.39 in our list of one-hit wonders, this Bristol downtempo mixing gang's cover of Rose Royce's classic blended a groovy respite beat with endearingly inattentive vocals from the mysterious Lizz.E. Initially a local floorfiller, it was picked up by radio and became one of the most accidental Top 10 hits of the decade, at the end of 1989.
An album was pulped due to record company disputes and they returned to Bristol's club scene.
---
38. Timbuk 3
The Future's So Bright, I Gotta Wear Shades

Written after Barbara MacDonald's throwaway comment to husband Pat about their busy schedule, this oft-misinterpreted hit of the 80s made No.21 in 1987.
Listeners imbued optimism for life to the title of what was a melodic and memorable record, with fetching harmonica solos; in fact, the song's nuclear scientist was under orders to begin the holocaust feared at the height of the Cold War.
Want more from Classic Pop? Try a print or digital subscription for just 99p and access our exclusive perks and benefits. Find out more here.
---
37. The Passions
I'm In Love With A German Film Star

A shimmering, minimalist slab of post-punk, written by singer Barbara Gogan about a roadie who supplemented his income by appearing as an extra in German flicks.
The erotic confidence of Gogan's vocal, describing her craving for the titular character, contrasted sharply with the fragile guitar work of Clive Timperley, and it was revered by the press and championed on radio.
It got to No.25 in 1981.
---
36. Black Slate
Amigo

This multi-national London reggae six-piece, backers to stars like Ken Boothe in the 70s, issued a Rastafarian rallying call that  made the Top 10 in 1980, aided by a melodic chorus that was both genteel and flag-waving.
They'd been making their own music between tours, but their breakthrough came after Ensign, the label behind Eddy Grant, took an interest in promoting the new single. One follow-up song, Boom Boom, just missed the Top 50.
---
35. Men Without Hats
The Safety Dance

A gleeful, anti-establishment and only part-serious slice of Canadian synth-pop which was a worldwide smash in 1983. The classically trained vocal of Ivan Doroschuk somehow managed to combine perfect baritone with disinterested monologue, and it was instantly magnificent.
It got to No.6 and, inspired as it was by Doroschuk's ban from a club for pogo-dancing, earned extra marks for ending the second verse with: "I can act like an imbecile."
Want more from Classic Pop? Try a print or digital subscription for just 99p and access our exclusive perks and benefits. Find out more here.
---
34. Bourgeois Tagg
I Don't Mind At All

A simple bit of Beatlesque guitar pop that could have fallen by the wayside, until MTV saw the clever mirror- effect video and playlisted it. It only just made the Top 40 in 1988, but by now, sound had eclipsed vision, with much praise for the sharp, tight string arrangement and a sincere vocal.
---
33. Re-Flex
The Politics Of Dancing

Vibrant, cosmic synth-pop likening the widening influence of ambitious politicians to the irresistible beats in a club. The song showcases vocalist John Baxter's admirable range and, after a reissue and a brief drop from No.41, the song peaked at No.28 in the early part of 1984.
---
32. Blue Zoo
Cry Boy Cry

No.32 on our list of one-hit wonders. Led by the semi-operatic Andy Overall, this ecstatic pop-rock track stormed into the Top 20 in 1982, earning a coveted opening spot on Top Of The Pops, with the charismatic lead singer showing off a remarkable bright-orange bouffant 'do. They split in 1985, but toured recently.
---
31. Bobby McFerrin
Don't Worry, Be Happy

Years of locking himself away to perfect as many unique voices as possible paid off handsomely for the New York jazz singer in 1988, when his joyful, semi-improvised nursery rhyme for adults appeared on the Cocktail soundtrack and went to No.1 in the US, picking up three Grammy Awards in 1989.
It reached No.2 in the UK, behind Whitney's One Moment In Time. An a cappella anthem for appreciating life, the "late/litigate" rhyme borders on genius.
---
30. The Look
I Am The Beat

Unique for its lack of run-out groove, a shrewd gimmick that allowed the word "beat" to be chanted endlessly until someone removed the stylus, it made No.6 in 1981.
It daftly extolled the life-enhancing virtues of music to pensioners, martians and zombies.
---
29. Yarbrough & Peoples
Don't Stop The Music

Cavin Yarbrough and Alisa Peoples met as children at piano lessons and went on to form a funky electro-soul act, launching the Total Experience label, and straight away scoring their only hit.
Its programmed rhythmical goodness defied the US disco backlash; it made No.7 in the UK in 1981.
---
28. Breathe
Hands To Heaven

At the hunky, heart-throb end of sophisti-pop were this gifted, well-scrubbed young Hampshire triumvirate who found themselves in the Top Five on both sides of the Atlantic with a sensual lite-jazz ballad which gave gravelly voiced David Glasper room to croon and rasp the verses before firing up a big, emotional, wibbly chorus.
They dodged the house boom to get to No.4 in 1988, but that was their biggest success.
---
27. Fern Kinney
Together We Are Beautiful

Struggling American backing singer Kinney, back after time away with family, recorded this track initially as a B-side but it was then flipped by DJs who found it more melodic and relatable.
The public agreed, taking it to No.1 in 1980. Kinney's cute, child-like vocal somehow managed to make the song both sultry and innocent, and when follow-ups had little impact, her diary became full of session bookings.
---
26. Sly Fox
Let's Go All The Way

This was a ballsy, unambiguous crossover anthem, with rock-centric lyrical sentiments over booming programmed rhythms and a chorus demanding to be turned up to 10.
While there's social commentary on US politics of the 80s, the sexual metaphors form the basis of the song's appeal, and with that muscular backing it was made to flood the radio dial, helping the American funk duo to No.3 in the UK in 1986. Follow-ups failed to chart.
---
25. Cock Robin
The Promise You Made

Californian foursome Cock Robin had success with this pleasant song, oddly unadventurous thanks to the subtle humming intro and quaint, unaccented vocals from the two singers. They were seemingly not allowed to stray from their hiding places until right at the end, when Peter Kingsbery spat the title out one last time in a desperate rage.
Nothing else charted in the UK after it peaked at No.28 in 1986, but they were huge on the continent.
---
24. Fiction Factory
(Feels Like) Heaven

One of the best pop songs of 1984, thanks to an instantly recognisable electronic intro and a brilliant, varied vocal from Kevin Patterson, who smouldered in the lyrics before hitting semi-falsetto heights in a marvellous chorus.
The six-piece from Perth flew into the Top 10 but struggled afterwards.
---
23. Ashford & Simpson
Solid

This sugarsweet duo had been together for 20 years by the time this anthem for strong union appeared at the end of 1984, getting to No.3.
Their true vocation was in writing for others – Diana Ross has much to thank them for – but the industry warmed to this moment of success.
Want more from Classic Pop? Try a print or digital subscription for just 99p and access our exclusive perks and benefits. Find out more here.
---
22. Department S
Is Vic There?

An anthem with one of the earliest answering-machine effects in pop music, its melodic drive and intriguing title got it to No.22 in 1981.
Their first three releases were on three different labels and their much- anticipated debut album wasn't released until 2002, two decades after the group disintegrated.
---
21. Furniture
Brilliant Mind

Electronic New Wavers on Stiff Records, with an understated song that just missed the Top 20 in 1986, made almost entirely by the dark, resonant vocal of Jim Irvin. It subverted traditional songcraft by giving the bells and whistles to the verses before a withdrawn, slightly spooky chorus.
The "shame on you" refrain from Irvin towards the end is superb and the track was universally praised, but Stiff's subsequent implosion ruined their prospects.
---
20. It Bites
Calling All The Heroes

With an intro to make you jump out of your skin and one of the most complicated pathways from verse to chorus ever, this funky, musically ambitious and complex Cumbrian prog-pop song that hit No.6 in 1986 should have been the start of bigger and better things for Francis Dunnery and co, but the follow-ups didn't catch on.
Contains one of pop's biggest gaps of silence ever, catching out many a DJ at the time.
---
19. Kim Carnes
Bette Davis Eyes

Originally an unremarkable honky-tonk tune, it came to life when rearranged with an irresistible, laid-back synth intro that complemented Carnes' raspy vocal impeccably.
It got to No.10 here with nothing to follow, but as the biggest-seller of the year in the States, it earned Carnes a Grammy and a thank you from the titular Hollywood legend for introducing her to youth culture. In return, Carnes sent her Gold and Platinum discs.
---
18. Martha And The Muffins
Echo Beach

Another track made by a distinctive, instantly lovable intro, these Canadian New-Wavers rhymed 'work' with 'clerk' in a way previously unheard by British ears while packing together a delightful, sunny lyric with a tremendous hook, ecstatic sax solo and singalong outro.
Made No.10 in the summer of 1980 and the lack of follow-up success was soothed by the many acts that either covered or sampled it.
---
17. Classix Nouveaux
Is It A Dream
Early 80s synth-pop was a haven of the briefly famous, though Sal Solo as lead singer made this lot memorable, even after this catchy bit of growly electronica reached No.11 in 1982 and then vanished again.
Sal was a one-hit wonder twice; solo Solo made the Top 20 again with San Damiano (Heart And Soul) in 1985.
---
16. Matthew Wilder
Break My Stride

This moustachioed US pop singer with an adolescent voice wrote and sang one of the best choruses of the whole 1980s on a song promoting escapism and self-sufficiency. It's really just a great, unfussy, unprecious pop record, and its No.4 peak in 1984 proves it.
He couldn't follow it up, but went on to produce No Doubt's 90s breakthrough album, Tragic Kingdom.
---
15. Rosie Vela
Magic Smile

This music graduate turned model returned to her first love in her 30s to record just one album, from which just one unforgettable, colourful hit was sired.
Vela's suggestive tones over a funky pop backing freestyled from deep to flighty, as she gasped a seductive lyric full of personal code words that brazenly added real filth. Vela shelved the follow-up LP to go into acting.
---
14. Owen Paul
My Favourite Waste Of Time

A Glaswegian who nearly chose football over music, singer Owen McGee reached No.3 with a cover of a singalong Marshall Crenshaw track.
Attained heart-throb status for a few months, but the follow-up singles didn't work (and nor did the Pebble Mill speakers). Back performing now and happy to send up his heyday.
---
13. Sheila E.
The Belle Of St Mark

From the double bill of church and sleigh bells into a rhythmical intro befitting of friend, writer and producer Prince, this tale of an androgynous, enigmatic hero combines sweet, almost clingy verse vocals from Sheila Escovedo, which then go into carefree roar mode within one of the funkiest ecstatic choruses Prince ever wrote.
It broke into the UK Top 20 in 1985, but over in the US, Sheila was already a star.
---
12. The Icicle Works
Love Is A Wonderful Colour

Led by the pitch-perfect Ian McNabb, the crowning glory of this at times outstanding but troubled alternative trio from Merseyside was a guitar-heavy track with a snaking melody and a beseeching lyric that almost passed for archetypal power pop.
The song made No.15 in 1984; stacks of singles preceded and followed it into the lower reaches of the charts, but they remained esoteric and should have been appreciated far more.
---
11. Big Sound Authority
This House (Is Where Your Love Stands)

The line "paid her up in your dirty sex" raised the bar substantially in a brass-dominated, bouncy, feisty bit of singalong pop that briefly made stars of Tony Burke and black-gloved Sandie Shaw-lookalike Julie Hadwen, who sang the game-changing words.
After opening Top Of The Pops with it, they reached No.21 in 1985 but despite a lot of promo, more singles and an album failed, and they split in 1986.
---
10. Will Powers
Kissing With Confidence

Qualifying due to guest singer Carly Simon going uncredited, this bit of satirical pop patter from photographer Lynn Goldsmith used the latest vocal technology to switch genders and ape an insincere, flippant self-help sage exploiting people's insecurities, removing all the allure from the act of kissing in doing so.
Simon sang a hilarious, sad lyric in playing the reluctant-kisser-turned-willing-stooge, and it made the Top 20 in 1983.
---
9. Double
The Captain Of Her Heart

In 1985, this Swiss duo presented some gorgeous, easy-listening balladry with prominent piano and immaculate saxophone break that had style and class written right through it.
The touching lyric about a woman who gives up on seeing her missing lover again is thoughtfully delivered by Kurt Maloo, and it was a welcome surprise to see it rise to No.8 in 1986. Follow-ups had minimal effect and they split after their second album.
---
8. The Rainmakers
Let My People Go-Go

With a ferocious chorus based loosely on an African-American spiritual song, this humorous, semi-satirical record made the Top 20 in 1987 for a conscientious American roots-rock band made distinctive by the flamboyant, provocative vocals of frontman Bob Walkenhorst.
The track took key figures from the Bible and modernised their words, concluding with Jesus asking: "Why is everybody always picking on me?"
---
7. Nena
99 Red Balloons

An English version was non-negotiable to our record-buying public in 1984 (dispiriting, as the German-language original did very well in the US), but this remains a true classic: earnest, beautiful vocals, a chilling intro and outro on a spooky synthesised hum and one of the most relatable anti-nuclear messages in a year jammed with them.
An effortless No.1, but the jingoistic tabloids wouldn't wear it, and the follow-up barely registered.
---
6. Boy Meets Girl
Waiting For A Star To Fall

An absolutely joyful record, written by the duo responsible for some of Whitney Houston's biggest hits. It follows the recipe for upbeat youthful slush – big saxophone lead, doting face-to-face vocal, enormous chorus and charmingly impressionable lyric, with the lovely line: "Who says I should let a wild one go free?".
Inclusion on the Three Men And A Little Lady soundtrack helped it into the Top 10 in 1989.
---
5. Flash And The Pan
Waiting For A Train

Veteran Aussies with a tremendous poetic chant on what to do, think and say when your train hasn't yet arrived. Drug metaphors are rife, via evocative images of old brown shoes and stew 'n' beans, but the use of the synthesiser – steam-engine beat, icy melody line, staccato chords – elevates everything else on this record.
Its rise to No.7 in 1983 took everyone, including the band, by surprise.
Want more from Classic Pop? Try a print or digital subscription for just 99p and access our exclusive perks and benefits. Find out more here.
---
4. The Adventures
Broken Land

With its strident piano-led intro and imploring chorus, this mighty song about the effect of the Troubles on The Adventures' homeland was the Belfast act's long-awaited breakthrough, reaching No.20 in 1988.
A talented and thoughtful band that never got the breaks they deserved, they appeared in the lower reaches of the chart for eight years – seven others peaked outside the Top 40. They split in 1993.
One of the best one-hit wonders ever.
---
3. Alphaville
Big In Japan

Barnstorming synth-pop anthem from a German band who had phenomenal success on the European mainland, but only this dark confessional on heroin addiction, with impressive imagery and lyrical dexterity, made an impact in the UK when it reached the Top 10 in 1984.
Standard pop recipes bubble away, via stripped back verses and bigger rhythms in the brilliant chorus: this was truly one group we allowed to get away.
---
2. Susan Fassbender
Twilight Cafe

With a familiar chord sequence, a pounding, dominant bassline, a handful of well-placed synth arpeggios and an introspective lyric fantasising about the titular nightspot as an ideal place to forget the world's problems and find relief, this was an amazing record, rendered more so by the unlikely looking pop star making it, an incredibly gifted young Yorkshirewoman in secretarial glasses.
It got to No.21 in 1981.
---
1. The Lotus Eaters
The First Picture Of You

No.1 on our list of one-hit wonders.
It has always helped the cause of this song's supporters that it is perpetually happy, using images of art and nature in a positive, heartening way. Such is the confidence shown in the song from the off: three-quarters of the long opening verse are gone before the first ecstatic flourish of drums kicks in, ready for one of the decade's most rousing and definitive choruses.
Lines such as: "Flood the world deep in sunlight, break into the peaceful wild" are beautifully poetic, and the payoff ("See the flowers scream their joy") is both poignant and cute. The Liverpudlian band, led by Peter Coyle, took the track to No.15 in the summer of 1983.
A favourite pop song of the kind of supposedly cool 'muso' types who claim such music is synthetic and frivolous, it remains a radio staple, a frequent addition to 80s compilation albums and irrefutably, unquestionably, the best.
Matthew Rudd
Matthew began his career as a newspaper journalist but his life's passion has been making radio programmes, starting at his local hospital radio station in Hull aged 16. He has presented for more than 30 local commercial stations across the north of England prior to joining Absolute 80s in 2013 to produce and host Forgotten 80s, a cult programme of lost 80s gems with a huge social media following. A columnist and reviewer for Classic Pop since 2016, he still resides in East Yorkshire where he has a second career as a swimming teacher and is said to be "pushing 50".